During the pandemic, companies experienced an unprecedented shift to remote work. The decentralized workforce upended critical scheduling operations that can no longer be held together by tape and string. Administrators need better visibility over their team's activities, to monitor productivity and optimize their sales pipeline.
Gartner's annual press release on cloud-spending reported that companies are spending 15% more on SaaS products each year, up from $152M in 2021 to $176M in 2022 (source). This rising cost is attributed to growth in product adoption as well as a higher premium for paid services.
Cloud scheduling services like Calendly are no exception to this rule. Calendly introduced a $15 and $20 tier on top of their standard free and $10 plans. This corresponded to a near 18% growth in revenue from $70M in 2020 to $85M in 2021 (source).
Appointlet: Calendly's Best Team Features at Half the Price
As of 2023, Appointlet has served over 220,000 organizations and facilitated more than 15 million bookings. We've been voted best online appointment scheduling app by Zapier for several years in a row. With state of the art tech, data privacy, and many of the core scheduling features offered by Calendly, companies may be able to support their team at half the price.
To illustrate this point, we've created a chart comparing Appointlet's $10 premium plan to Calendly's $10 Essentials plan. Both companies offer a 20% discount for annual subscriptions, bringing the cost down to $8/member/month.
| FEATURE LIST | Calendly Essentials ($10/member/mo) | Appointlet Premium ($10/member/mo) |
| --- | --- | --- |
| Calendar connections per person | 2 | Unlimited |
| Manage user permissions | No | Yes |
| Round Robin (Pooled Availibility) | No | Yes |
| Collective Hosting (2+ hosts) | No | Yes |
| Webhooks for custom integrations | No | Yes |
| Integrate with 700+ Apps with Zapier | No | Yes |
| Remove Scheduling App Branding | No | Yes |
| Collect payment for bookings | No | Yes |
| Site Redirect after Booking | No | Yes |
| Customize Scheduling Page Colors | No | Yes |
| Connect to email calendar | yes | yes |
| Event / Meeting Types | Unlimited | Unlimited |
| Group Events | Yes | Yes |
| Reminder Notifications | Yes | Yes |
| Add your company brand | Yes | Yes |
| Connect web conferencing apps | Yes | Yes |
| Customer Support | Yes | Yes |
| Add scheduler to your website | Yes | Yes |
Onboard your team without the paywall
Calendly requires that teams begin paying as soon as a second user is added to the workspace. They also limit their free plan to a single meeting type. Paradoxically, most teams need to evaluate the software and run some tests before they can get permission to add their credit card. This policy also alienates teams that are exploring scheduling for the first time or want some confidence that the solution will work for them.
Appointlet understands this pain and supports the option to add up to 5 meeting types, with unlimited members on the free plan. This ensures that team administrators can set up the scheduler and validate the tool before committing to the paid plan. Both tools support the ability to connect web conferencing apps like Zoom, MS Teams, Google Meet, GoToMeeting, WebEx, and more.
Here's a comparison of the free plans for each tool respectively.
| | | |
| --- | --- | --- |
|   | Calendly (Free) | Appointlet (Free) |
| Connect web conferencing apps | Yes | Yes |
| Add scheduler to your website | Yes | Yes |
| Workspace users (Members) | 1 | Unlimited |
| Event / Meeting Types | 1 | 5 |
| Round Robin (Pooled Availability) | No | 2 per meeting type |
| Collective (2+ hosts on a meeting) | No | Yes |
| Calendar connections per person | 1 | Unlimited |
| Group Events | No | 5 Attendees |
| Custom Cancellation Policy | No | Yes |
| Chat with Customer Support | No | Yes |
| Manage User Roles | No | Yes |
Tips for reducing your Calendly bill
As the global economy slides into a recession, you might be feeling the pressure to cut expenses where possible. If scheduling automation is a core part of your operations, switching to a new solution may seem intimidating. So to begin, let's take a look at how your team might be able to save money while staying on Calendly's platform.
Tip #1. Start with the monthly plan before committing to annual.
If you're just getting started, Calendly's free plan is limited to one member and one event type. Their no-refund policy is strictly enforced, which has led some new users to regret their impulse to commit to the annual plan for the discount. So before you jump in the deep end, start with a single month and the minimum number of users to test the desired features.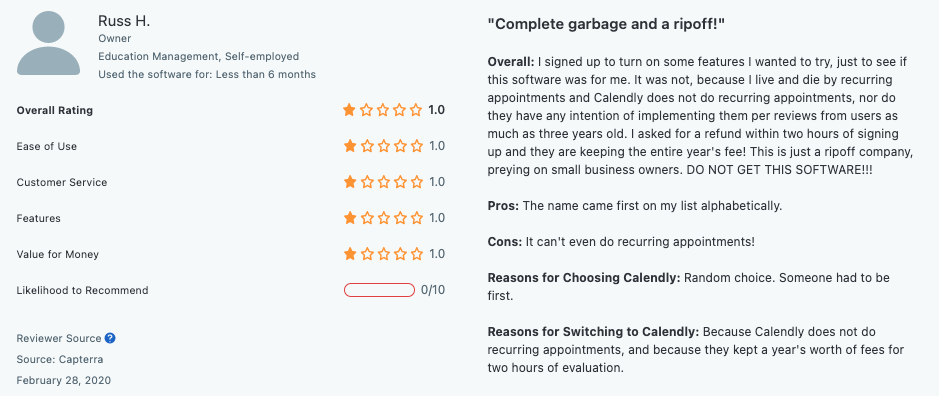 Tip #2. Check and confirm that you're actually using the higher tier premium features.
Administrators may anticipate the need for features that don't end up being used. If you're on the $15 or $20 tiers, it might not hurt to audit your workspace. See if you really need all the bells and whistles. Calendly's cost is per user, so be sure that your team is actively being booked or that administrators log in regularly. Remove users that rarely or never use the software.
Tip #3: Find scheduling software with the same features at a lower price
They say that you get what you pay for, but that doesn't mean the expensive option is always the best choice. Evaluate other well established companies in the online scheduling space, to see if they offer the same features at a better price.
Try Appointlet for Free
Appointlet provides a variety of onboarding resources to make sure you have an easy time getting set up. No credit card is required to register a new account. Our award winning customer support is available to free users during business hours, with fast turnaround times and highly customized feedback to answer any questions you have.
If you prefer to find the answers yourself, we offer a deep knowledge base and blog articles with tips & tricks on how to create your dream scheduling page.
Appointlet understands how important your customer data is. That's why our team has made it a priority to achieve GDPR-compliance. In the history of our company, there has never been a privacy breach and our developers work hard to ensure that we maintain this impeccable service.
We appreciate you taking the time to read through this article and look forward to serving your organization in the near future!