Before jumping into calendar apps, let's get real for a minute.
For people who work from home, the concept of work-life balance can feel like a myth. Juggling work conversations during dinner or before bed is a sure fire way to burn yourself out. That's why setting healthy boundaries with job related tasks is important, so you can reclaim some of that much needed personal time.
Research says that spending 10 to 12 minutes on average planning your day can save up to 2 hours that would otherwise go to waste. One of the best ways to do that is with a smart calendar app. Because the time you spend entering your schedule will keep you organized and help make sure that all your tasks are done, without last minute scrambling.
Let's dive into some of these brilliant calendar apps and see how each one of them could help you break any bad habits of overworking.
What are the best calendar apps and online calendars? 
With thousands of free calendar apps on the market, it may seem tricky to choose the best option. We saved you the trouble and put together a list of our favorite ones, all of which are proven to increase your productivity. Each of these has essential characteristics like ease-of-use, synchronization with other apps, and is reasonably priced (or free!).
Here are the best calendar apps for 2021
Google Calendar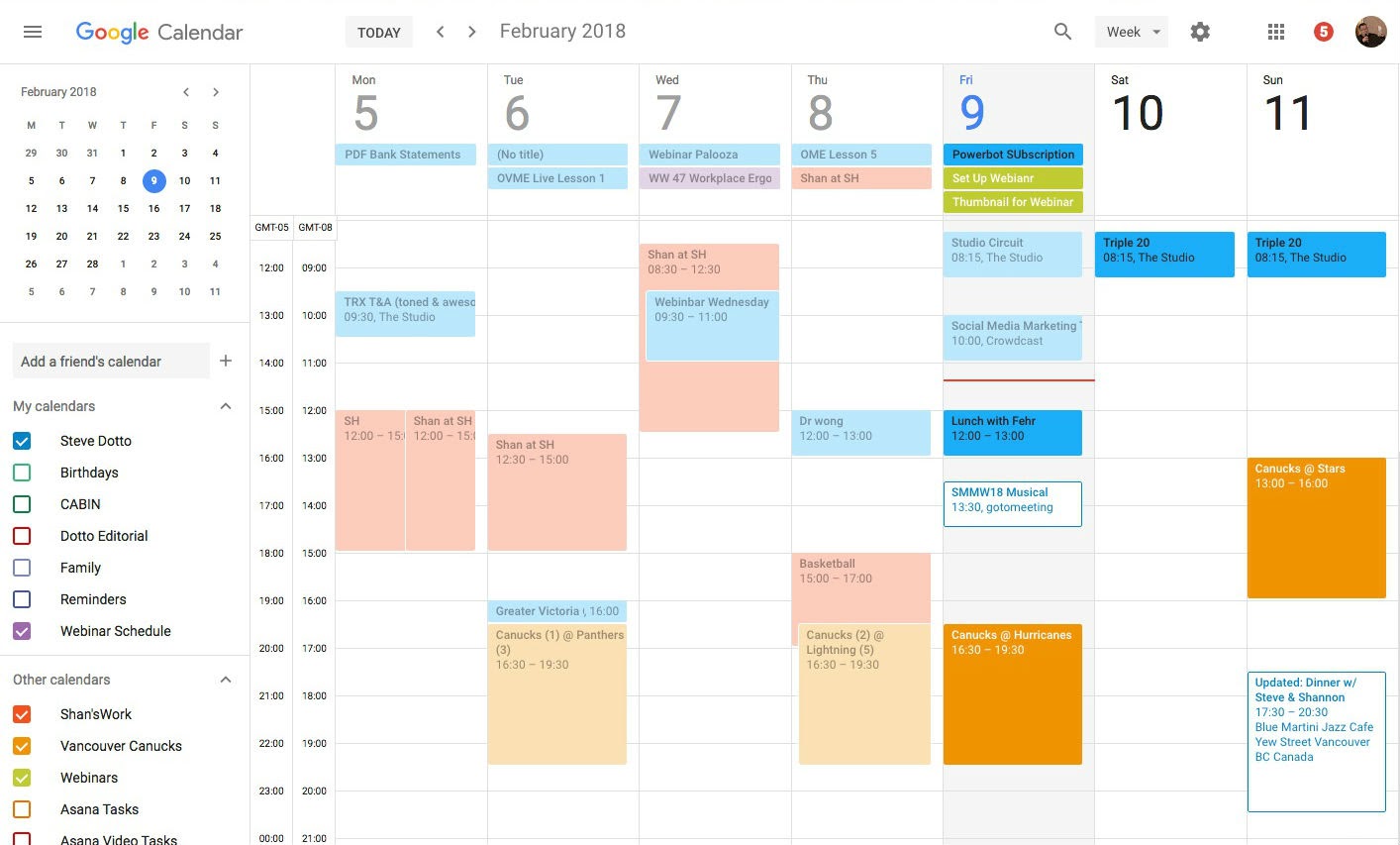 Google Calendar is one of the most popular calendar management tools available. It's equally useful for both professional and personal use. You can create to-do lists, schedule tasks, and get automated reminders when things are due. Besides, the calendar can synchronize with Gmail to automatically update event invitations on your schedule and send reminders via email.
You can add Appointment Slots on the calendar, letting your employees and co-workers know when you'll be free to attend to them. You may also view their calendars side-by-side in the Schedule View and figure out slots for meetings or other tasks that require mutual collaboration. The best part is that the time slots get automatically synced across time zones, so if you are someone who travels a lot or has a team spread across the world, you don't have to do the calculations manually every time.
The Out of Office features allows you to automatically block appointments and reject invitations in a certain time slot. This way, you can prevent your coworkers from scheduling meetings that you can't attend. Additionally, there are added security and disaster-recovery features that make it safer to access and share confidential calendars.
There are many additional features that people use often. You can easily search for any events that happened in the past or view national and international holidays in any country. Sports schedules, TV show release dates, and weather forecasts can also be added through several third-party apps.
The Google calendar app also allows cross-platform integration with a number of CRM, marketing, and productivity apps. Data can be moved across platforms, and tasks can be automated. All these features make Google one of the best free calendar apps and a comprehensive productivity hub for all businesses.
Pricing:
Basic Version – Free
Google Apps for Business – $5/month per user
Microsoft Outlook Calendar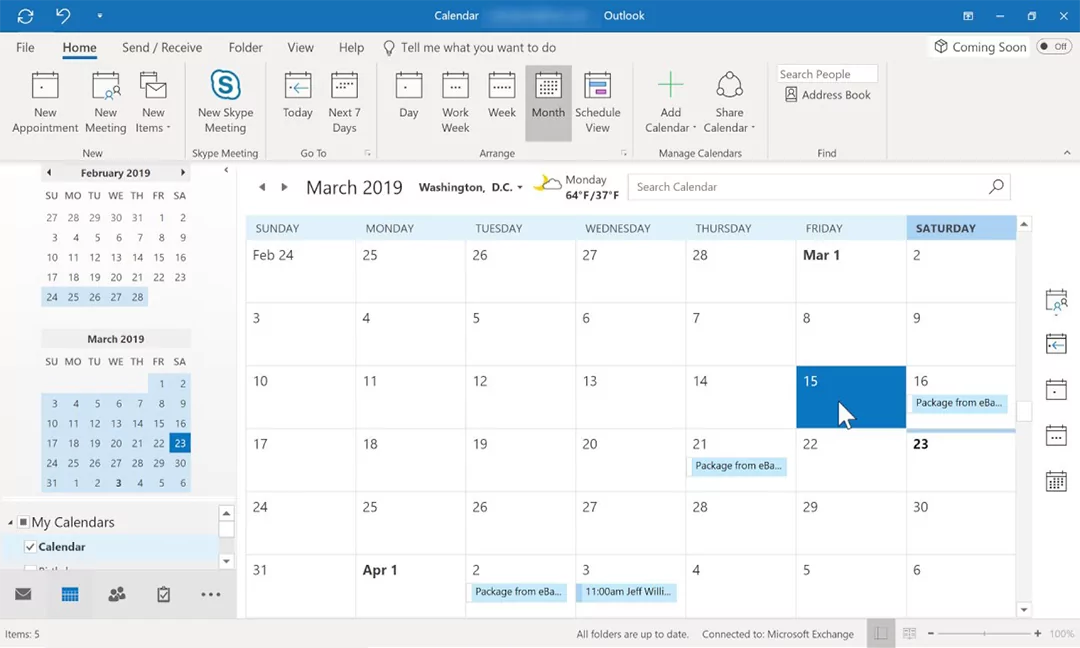 Among many other productivity and communication apps that Outlook provides, the Calendar has its distinct place. The Microsoft Outlook Calendar is an online calendar management and scheduling app guaranteed to boost your productivity at work. 
The tool operates primarily via a desktop app; however, Android and iOS versions are also quite popular. Major features include creating appointments and events, managing group schedules, organizing meetings, and a lot more.
Creating appointments and events with the Microsoft Outlook Calendar is as easy as it gets. You simply need to click on an available time slot and start typing in the details. You can color code these events for quick identification and set up reminders for the bookings.
Create calendars that show the schedules of a group of people or even resources such as conference rooms. Personal, professional, and shared calendars live together in a dedicated list of checkboxes, to hide and show them as needed. Plus appointments can be moved via drag and drop from one calendar to another. You may also use the Overlay view to view calendars on top of one another to quickly identify conflicts and view free slots.
The Outlook Calendar allows you to share your calendar via email, with complete control over how much information is shared. The calendar is attached in the body of the email as an Internet Calendar attachment which can be easily opened and viewed in Outlook. You can use the Delegate Access feature to allow a virtual administrative assistant to manage your schedule. The assistant may create, move, or delete appointments on your behalf.
The basic features offered by the free version do the job just fine, but additional app purchases and the full Office 365 Suite get you access to premium features. The paid version also gives access to several and other Microsoft tools for your personal or business use.
Pricing:
Basic Version – Free
Office 365 Suite – $69.99/year
Apple Calendar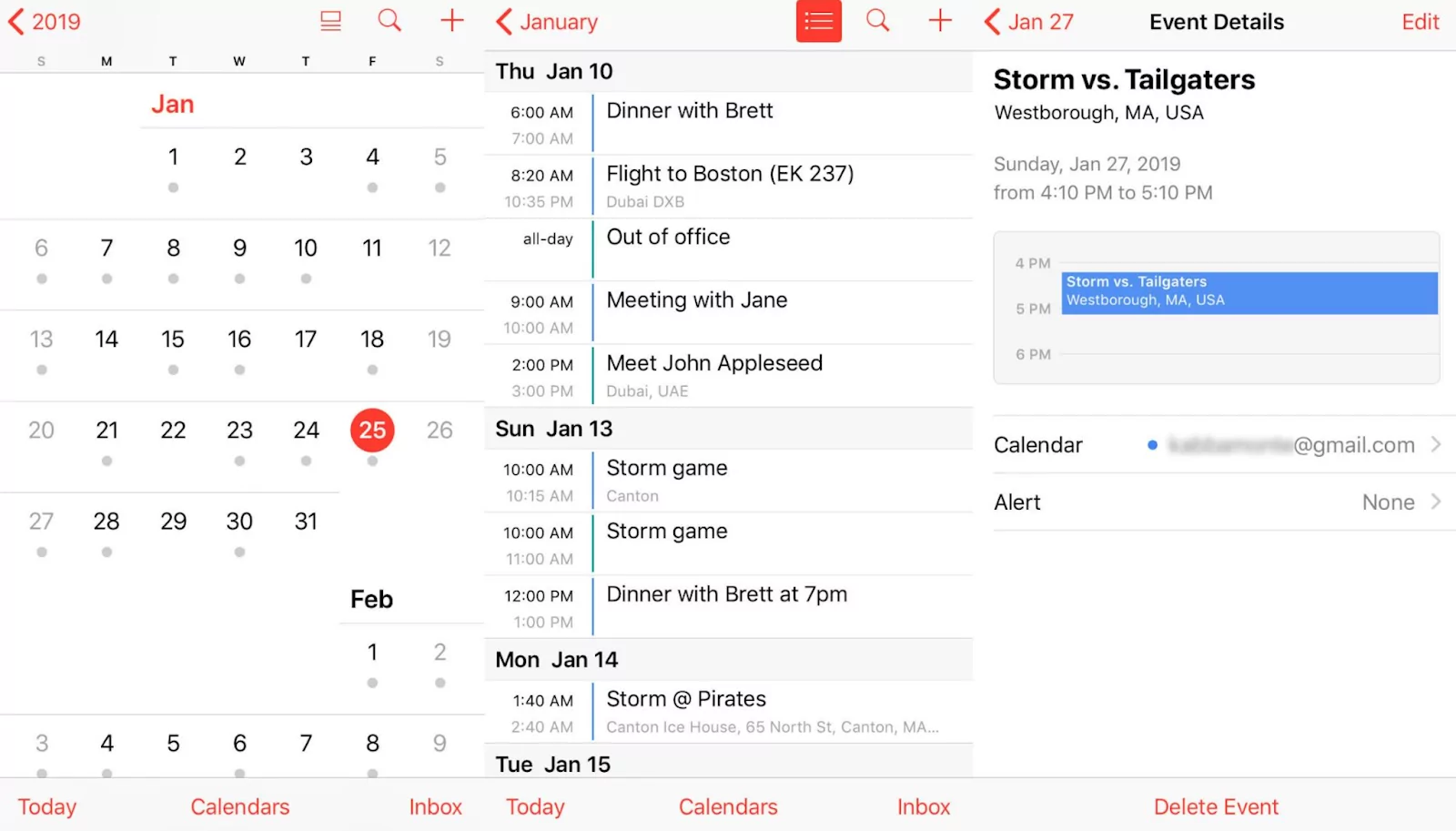 Apple Calendar is popular for iPhone users, because it comes out of the box with your mobile device. The basic features are similar to what an average calendar app would offer, except this one keeps your events and appointments synced across your iPhone, iPad, Apple Watch, Mac, and whatever fancy device Apple will cook up next. 
The software leverages Apple's Siri to enable voice recognition and commands. Add to that the iCloud synchronization, and you can speak into literally any Apple device to schedule your appointments or move around already booked slots. Syncing it to Siri is super easy and takes a few clicks only.
The Apple Calendar can also act as a calendar client app, which means that you may connect it to calendars you've created elsewhere, such as Google Calendar or Microsoft Exchange. You can easily share your calendars in a read-only mode or use the Delegate feature to let someone else manage your schedule. 
One unique feature that Apple Calendar offers is that it automatically opens certain files for you right before an event. You can specify what files need to be opened, and they will be ready for you on time. This can be done via the Custom Reminder feature.
The calendar and appointment data at Apple Calendar is much safer as compared to some other apps since Apple offers end-to-end encryption. This feature is of great help if you are someone who works with sensitive information or can't afford to share your calendar events with anyone.
To be honest, one of the problems with Apple Calendar is that it does not offer the same kind of API services that Google and Office 365 do. As a result, it doesn't integrate well with third party apps. Additionally, if you try to sync iCal with Google or Office as a workaround, there tend to be delays and it can take upwards of 30 minutes for data to sync properly. Sometimes longer.
Since the app comes installed on Apple devices by default and provides an excellent user experience, it is rated as the best free calendar app on the App store. If you are an Android user who is impressed by the Apple Calendar, sadly, you won't be able to use it unless you shift to an Apple or MacOS device.
Pricing:
Free Unlimited
Appointlet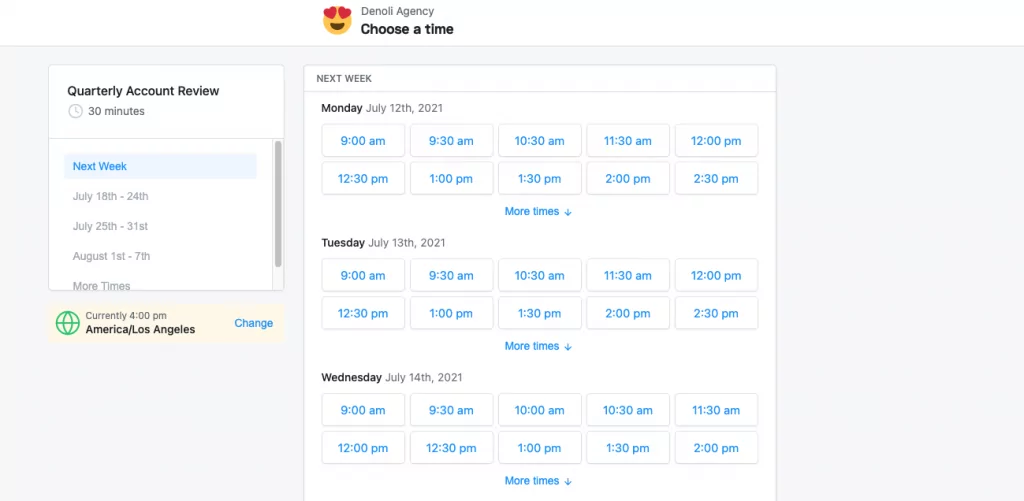 Appointlet is the way to go if you're using digital calendars to monitor your schedule and are the type of person that schedules meetings regularly. You'll receive an excellent appointment scheduling solution that allows users to book appointments directly into your email calendar. Appointlet is best for businesses that want to facilitate their clients in booking appointments with them, without a lot of to and fro confirmations.
To get started, you can set up and personalize your bookings page, which your customer will be using to book appointments. Here you may specify your available slots, set breaks between bookings, and approve or decline meeting requests. The software automatically collects customer information when booking the appointment and puts it right on your calendar for quick reference.
Appointlet lets you control whether you want the bookings to be approved automatically or manually. Similarly, you may set rules for automatic cancellation and rescheduling or handle all of this manually. Reminders and other alerts are sent via email; you can customize these emails with personalized notes, links, or instructions.
The software also syncs with other calendar apps such as Google Calendar or Microsoft Outlook Calendar. New events are automatically added to the free slots in your calendar, and clashes are sorted out without a lot of effort. Besides, Webhooks and Zapier integration allow Appointlet to connect with various other tools such as CRM, payment processing, marketing, and email automation platforms.
The scheduling pages can be set up on an organizational or a personal level. This means that you can choose to display your entire organization's availability on the same page or make separate pages for each member. You can also set up Pooled Availability where the prospects pick a time, and an available member is automatically assigned to them. These dedicated team features and multi-user support make Appointlet ideal for larger organizations.
Pricing:
Free Trial – Complete access to all features for 15 Days
Basic Version – Free
Premium – $8/month per user
Fantastical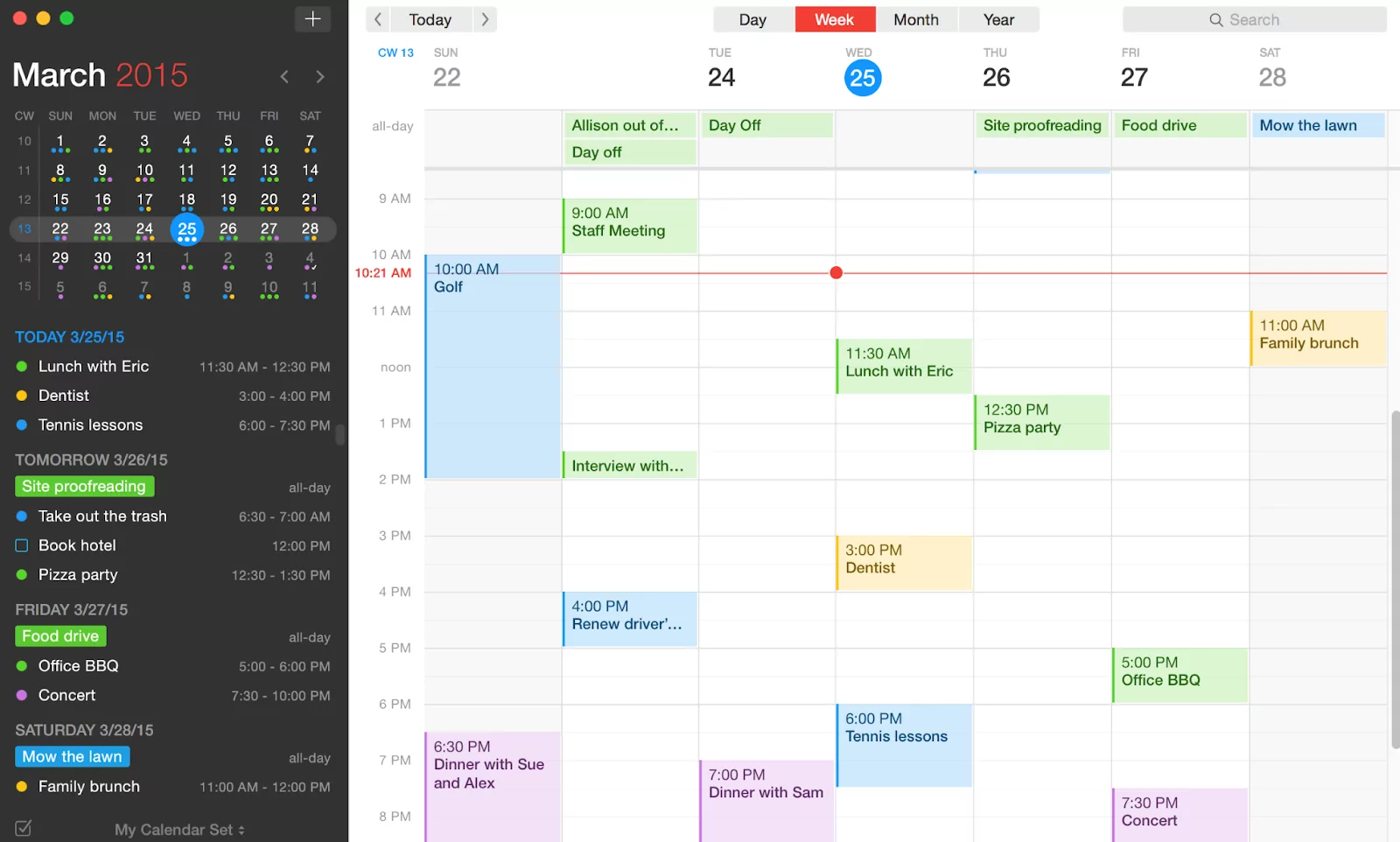 Fantastical by Flexibits is an amazing calendar management app for Apple devices. The app is not currently available for Android devices, but who knows what the future holds. 
The app interface is very simplistic and colorful, making it very comfortable to browse through the features that it has. You can search and create new calendars that automatically include information such as holidays, sports, TV shows, reminders, etc. Additionally, features like multiple language support, voice commands and audio notes make it even handier for everyday use. 
Fantastical has a reputation for two of its features in particular; geo-fenced reminders and natural language processing. Geo-fenced reminders allow you to set reminders that trigger only when you are in a particular location. At the same time, natural language input helps process commands in English, Frech, German, Italian, Spanish, and Japanese.
You can see the availability of your team before you schedule events for them. You may also send invitations for events with multiple time and date options, and the ones your invitees confirm will automatically be saved. 
Fantastical also allows you to mix and match from the 14 widgets it provides to create a personalized home screen. You can quickly see your upcoming events, conference calls, to-do lists, weather forecasts and a lot more. This helps save a lot of time as you immediately get all the information you need at a glance.
The integrations offered by Fantastical are also helpful. It connects with a number of online calendar services to help you keep track of everything from a single place. Some of these services include iCloud, Google Calendar, Exchange, Outlook 365, Todoist, and Yahoo. You may also connect with communication apps such as Google Meet, Zoom, Microsoft Teams, etc.
Pricing:
Free Trial – Complete access to premium features for 14 Days
For individuals – $3.33/month billed annually | $4.99/month billed monthly
For families up to 5 – $5.42/month billed annually | $7.99/month billed monthly
Timepage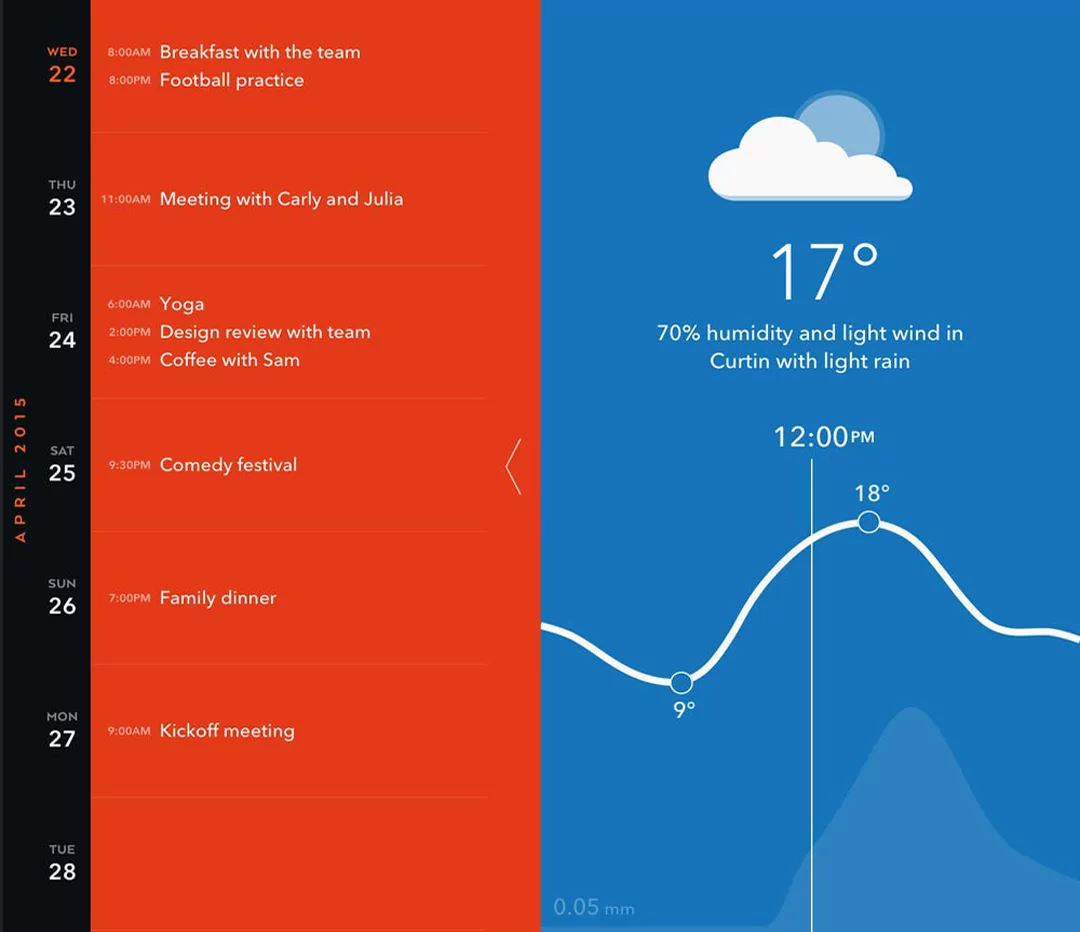 Timepage is an online calendar and day planner app developed by the Moleskine Studio. It is best known for its visually appealing design, along with a minimalistic look and feel, which makes it very comfortable to operate.
The app is designed specifically for iOS devices and is available for iPhone, iPad, and Apple Watch as of now. Besides its clutter-free and elegant look, the basic features include events and appointments, notifications and alerts, user timeline management, and integration with other platforms such as iCloud or your Google account.
The app provides vast customization options with different themes, gestures, fonts, and a lot more. The Timeline is the central location where you can see your complete schedule for the coming days and weeks. You can enter the Day View to look at all the scheduled events, to-do tasks, and weather information about a particular day.
The information you add to a scheduled event can also be fully customized. You may even include the time, location, people invited, and any additional notes about the event in the app. Moreover, natural language processing makes it easy to enter this information and speeds up the process.
One thing that makes Timepage stand out is its Heat Map feature. The Heat Map color codes the days on your calendar so you can easily see which one of your days is the busiest. You can also view the days that are relatively free and distribute your workload accordingly.
Pricing:
Free Trial – 7 Days
Full Version – $1.99/month or $11.99/year
You can avail a further 40% discount if you purchase the complete Moleskine Studio Subscription at $19.99/year.
Teamup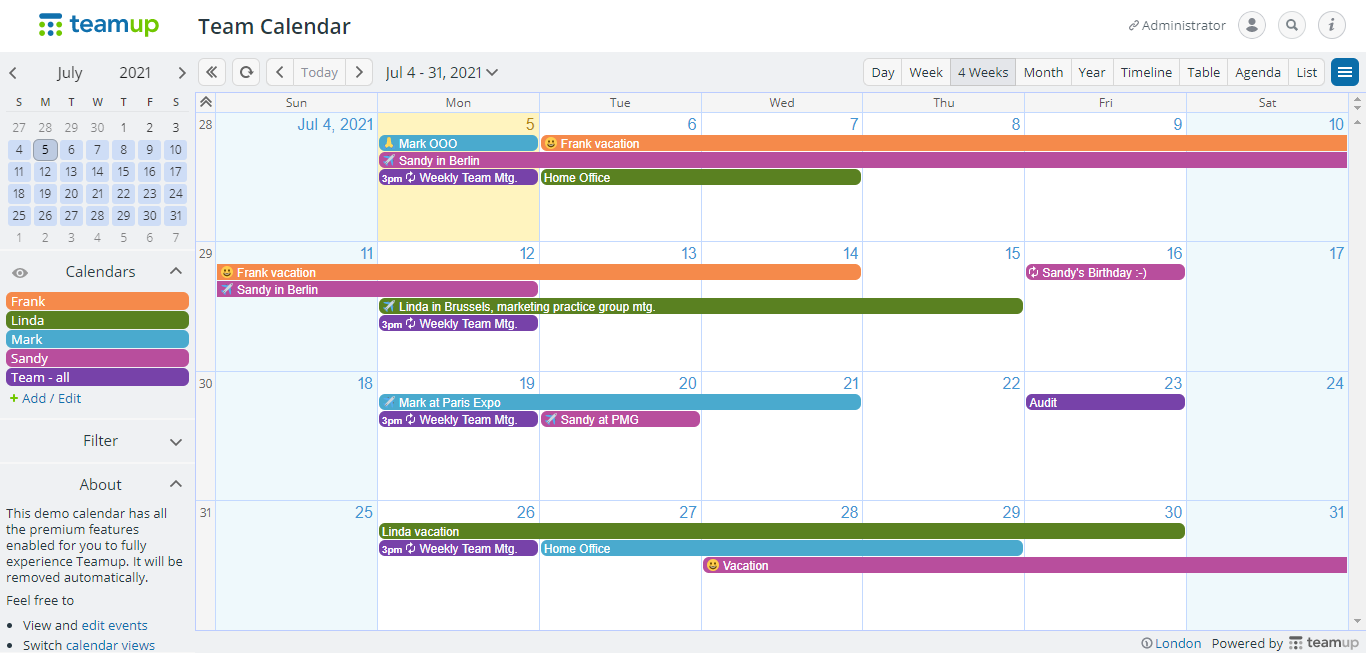 Teamup is a leading calendar management tool that enables efficient online scheduling along with dedicated features for team collaboration. Accessing Teamup is extremely simple; there aren't any user accounts needed – all you need to do is open a web link, and you're good to go.
The main idea behind Teamup is to create a shared calendar that contains all upcoming events and appointments. The calendar administrator can make edits and give access to other users in any combination of the nine permission levels. Events are organized neatly with color-coding and can be searched and filtered in many ways.
In addition to the Shared Calendar, you can create Team & Room Schedules along with Room Reservations. You may use these features to schedule the use of resources like physical meeting rooms. The yearly calendar view allows you to view all those bookings on a single page. 
Teamup is widely used for staff scheduling. You can create a whole table of staff schedules with their name, duty, date, and time to make sure you utilize them in an efficient manner. This creates a visual picture of when someone is available or unavailable.
The events you create on the Teamup calendar have a detailed itinerary. Here, you can add complete event details such as the name, timings, venue, participants, general notes, and even pictures. You can show or hide the details with one click. Anyone with access to the calendar will see the latest itinerary only as all changes are instantly accessible without re-sending email attachments or version confusions.
The Teamup website also has already set up calendar templates that you can play around with to understand the functionality of the calendar.
Pricing:
Free Trial – 3 Days
Basic Version – Free
Plus – $8/month billed annually | $10/month billed monthly
Premium – $20/month billed annually | $24/month billed monthly
Enterprise – $80/month billed annually | $99/month billed monthly
Frequently Asked Questions
Using an online calendar is one of the easiest steps you can take to boost your productivity and manage your time more efficiently. All of these apps let you plan everything in an organized manner, and no matter which one you choose, you will surely benefit from it. 
Here are some of our FAQs answered for you.
What are the best calendar apps for iPhone?
The Apple Calendar is easily the best calendar app for iPhone as it offers advanced online scheduling and task management features. The best part is that it syncs with the Apple ecosystem and lets you manage your calendar from any iOS device. It is also the top-rated calendar app on the App Store.
What are the best Android calendar apps?
The Google Calendar is undoubtedly the best Android calendar app as it automatically syncs with Gmail and GSuite and updates appointments. The software is completely free of cost and offers integrations with other CRM, marketing, and productivity software as well.
Is there a better calendar than Google?
Apple, Google and Office 365 are the best calendars. But if you want something with even more features, try finding third party apps that augment your core calendar. Appointlet can be an excellent supplement to the Google Calendar, as it efficiently manages appointment bookings and automates most manual tasks. Similar to Google, the basic version of the app is entirely free, while the pro version is only $8 a month per user.
What are the best free calendar apps for iPhone?
The Apple Calendar is the best free calendar app for iPhone as it is developed officially by Apple and has the highest rating on the App Store. It offers all major features that an online calendar does, along with iCloud connectivity and Siri-enabled commands.
Is there a good calendar app for Windows?
Appointlet is a great calendar app for Windows systems and desktop computers. The app books and updates appointments directly from emails, landing pages, and conversion funnels, greatly automating your bookings and schedule management. The app has a basic free version and offers a 15-day free trial for all the premium features.
With online calendars, you are only as productive as you want to be.
Once you dive in and see how easy calendar management can be, you'll never look back. These tools not only help you and your teams stay on track but also allow for a mutually collaborative environment where you can easily share schedules and delegate tasks efficiently.
Finding the right tool that naturally sits well with your workflow and allows for a comfortable user experience can be challenging. We hope that this list of the 7 best calendar apps help you select the right one. 
Don't forget to comment below and let us know what app suits you and your team best.