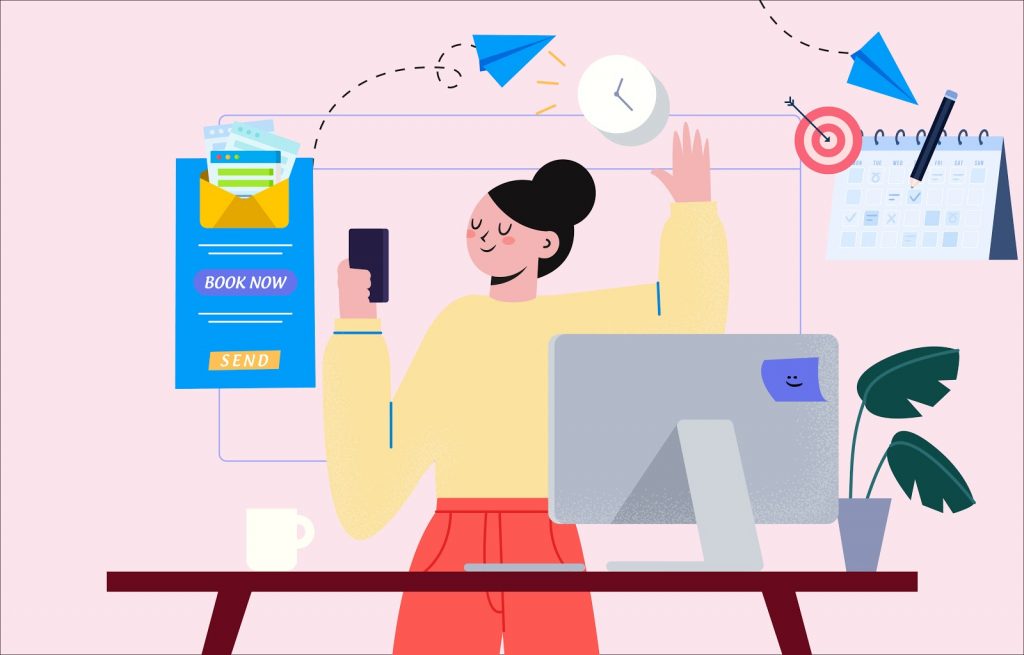 Scheduling a time to meet with clients can be frustrating, due to the high volume of back-and-forth emails required. Appointlet solves this problem with an automated, customer-friendly booking page. You can now communicate your availability with a single hyperlink, so it's important that your email is well written and easy to understand.
Tip #1: Know your audience
When reaching out to a customer with a booking link, it's important to have a grasp on their expectations ahead of time. Here are a few customer types that require extra care:
Low-Tech clients: For clients who struggle with using computers, the idea of a scheduling tool may be foreign. Don't be afraid to add a sentence or two letting them know what to expect from your booking page.
High-touch clients: Customers who pay top dollar for your services may be surprised to see the automated scheduling solution. Preface the booking link with a warm and friendly tone of voice. Be sure to communicate that the booking tool will save them time.
Customer Support: When sending your booking link to a customer who's expecting support, it may be helpful to add a few sentences with an initial diagnosis. Let them know that you will be going into greater detail during your scheduled meeting.
Sales Prospects: This booking invitation represents an important stage in the conversion funnel, so your email copy should continue to educate and drive the prospect towards your end goal.
Tip #2: The essential elements
Regardless of who you are speaking with, these core features should always be present in your booking email:
Email subject: Keep the email subject simple and to the point, with a length of 2-7 words indicating the type of meeting to be scheduled.
Opening: Be polite and professional. An opening like "Dear [name]" is appropriate for formal emails. Consider a time-based alternative like "Good morning [name]" or even "Hi [name]" for a casual professional tone.
Opening Paragraph: The message should open with a clear value proposition identifying the purpose of the appointment. Even if you spoke with them recently, it never hurts to offer a brief explanation.
Booking Link Preface (Optional): If you determine that the client / recipient may be unfamiliar with scheduling automation, you can let them know how it works and why you use Appointlet. Keep it to one or two sentences.
Booking Link: Use Appointlet's share feature to provide them with the appropriate booking link.
Closing: Offer a final statement and closing remark. The formality of the closing remark depends on your client.
Booking Email Demo for Design Agency
Here is an example of an email template that could be used for most use cases:
Subject: Book a time for our brand consultation

Opening: Hi Melissa,

Opening Paragraph: It was great speaking with you this afternoon. I would like to propose a one hour discovery call, at which time we can further unpack [Company]'s marketing goals.

Booking Link Preface: To schedule a time with me, please click the link below and find a time that works for you:

Booking Link: http://company-name.www.appointlet.com/s/12345

Closing: If you have any questions prior to booking, just reply to this email and let me know!

Warm regards,

Mark Johnson, Sr Brand Consultant

Company Name
Tip #3: Timing is of the essence
Having invested time into preparing the booking page and email templates, it would be a shame to rush the final step in this process. Here are a couple of important considerations for timing your email:
The best time to send a booking email is after a conversation. You are fresh in the client's mind and the message will provide continuity. Prepare the email ahead of time to avoid delays.
Find out what their work schedule is. Once you know, you can avoid the end caps. People who work a standard Monday – Friday shift tend to be most responsive to booking emails midweek and midday.
Avoid public holidays and vacations. It can be helpful to ask clients for their vacation schedule in advance. Take note of their availability to ensure that the messages don't get lost in their inbox.