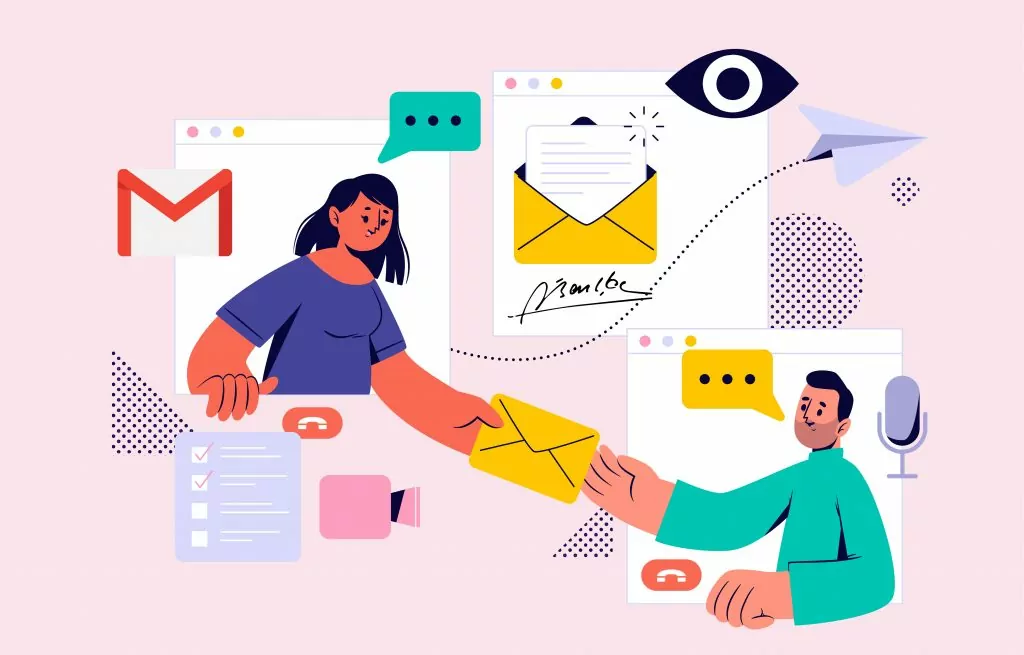 If you work in a customer facing position at a company using Gmail, setting up a Gmail signature could save you lots of time. You will be able to include information like your name, position at the company, phone number and a link to your online scheduling page. This text is automatically loaded at the end of each email and ensures that your customers always know who they're speaking with.
Scroll down to the Signature Defaults section for quick access to the solution.
Why Gmail hides your signature
There is one setting in particular that will cause your email signature to disappear on reply emails. In this article we're going to show you how to set up a Gmail signature so that it always shows up in your email correspondence.
Here's what the hidden email signature looks like when you send a reply: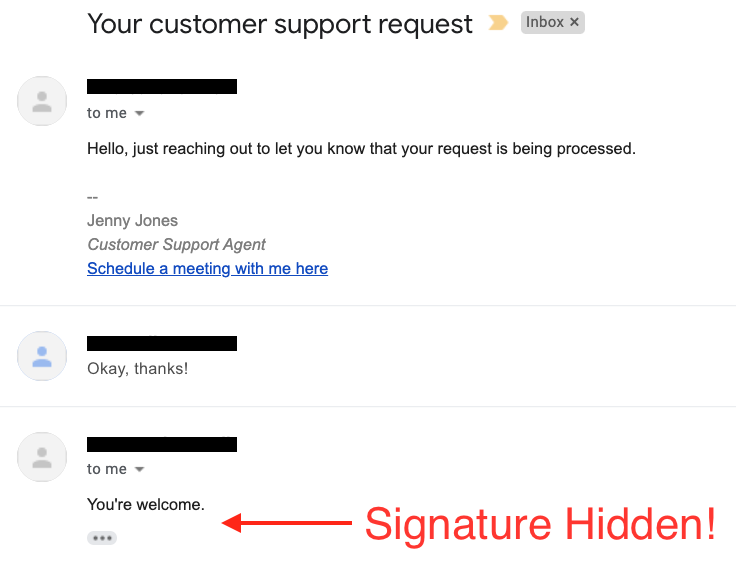 When Gmail sees the same text go out twice, it assumes that the recipient wants that data removed. In their effort to keep emails clean, they sometimes do professionals a disservice. By cutting off duplicate text, they remove email signatures that include important contact information!
Don't worry about it though. We're going to show you how to fix this so that your customers see your Gmail signature every time you send an email.
Setting up your Gmail signature
If you're using your domain email on free Gmail, log into your Gmail account and in the upper right corner of the dashboard, click on the Settings gear. When you do, a Quick Settings sidebar will appear. At the top is a button that you will need to click, labeled See all settings. Here is a screenshot of these two steps: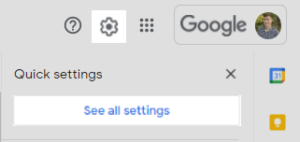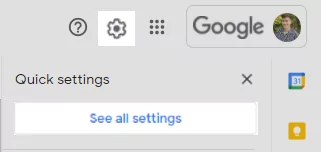 Upon clicking the See all settings button, a new screen will open labeled Settings. You will find that the General tab is open by default. Scroll down to the signature section and click on the Create New button. Doing so will allow you to generate a new email signature for your outbound emails:

In the new signature text area, share the information that should be included at the end of each email. This usually includes a minimum of your name, position, and contact information. You can share a virtual phone number or a link to your scheduling page.
Optional: Add your Appointlet scheduling link
To link to your scheduling page, highlight the appropriate text (e.g. Schedule a meeting with me here) and then use the hyperlink icon to attach your booking page URL.
Don't have a scheduling page yet? Appointlet was rated the best free online scheduling app and may be a great place for you to start. Customers have reported up to a 300% increase in sales and up to 80% time savings from eliminating the back-and-forth, manual reminders and appointment administrative tasks.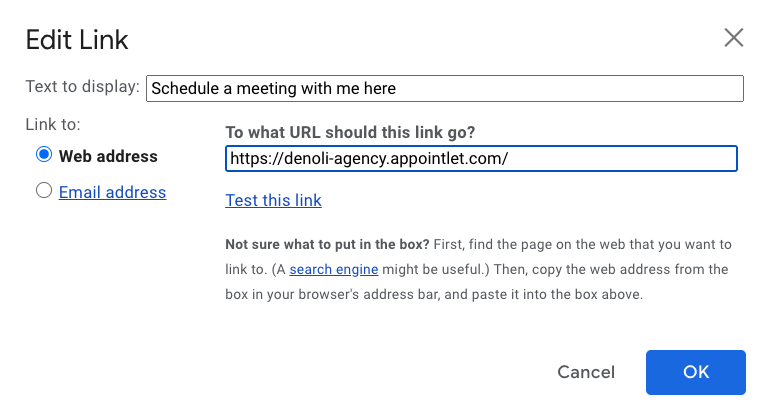 How to ensure your signature is always visible: Gmail Signature defaults
Now that you have a signature created, the final (and most important) thing you'll need to do is configure the Gmail Signature defaults. To ensure that it's always available, select your signature name from the dropdown menu for new emails and reply/forwarded emails. Then click on the checkbox that says "insert signature before quoted text in replies and remove the — line that precedes it."

When you've configured the Signature defaults, scroll down to the bottom of the page and hit Save Changes: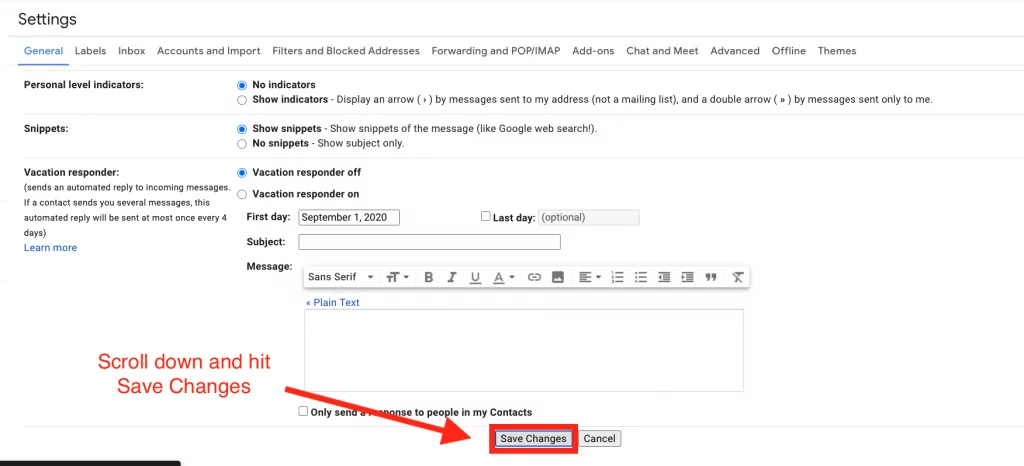 Confirm that your Gmail Signature works as expected
The final step is to test your signature. If you have a second email that you can test with, try emailing back and forth. When you respond to the email as shown below, the signature should now persist. Gmail will still render the text purple to imply that it is repeat content, however all of the signature content should show as expected.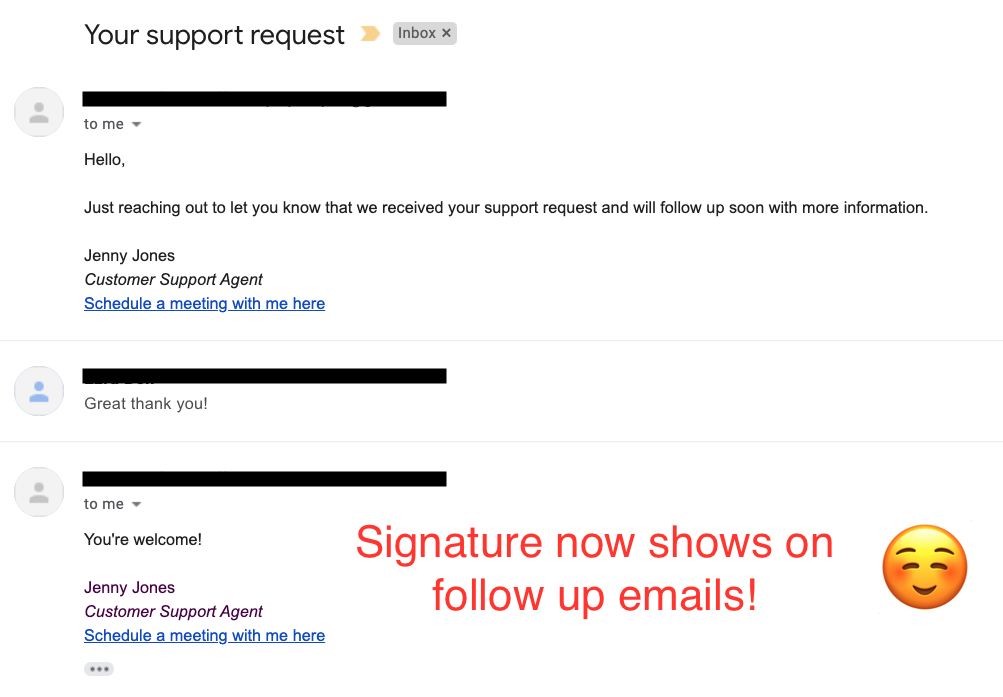 Bonus: How to write winning email subjects and body content to increase conversions
While you're here, we have a few other goodies to share. Check out our guide on how to write email subjects that convert along with our recommended sales email templates. We collaborated with industry leaders G2 and ActiveCampaign to produce both of these articles. They lay out the core expectations for professional email etiquette in 2020.
If you need to grab specific meeting links and drop them into your emails, rather than relying on the email signature exclusively, then Appointlet for Chrome and Appointlet for Firefox might be a good fit for you.
We hope this article was helpful — drop a comment below if you have any questions or requests for future articles!