There are several reasons to collect meeting feedback with Appointlet, ranging from improved customer support to product development and research. When attendees vent frustrations about a meeting, your support team can be notified to step in. On the other hand, positive feedback can help to boost team morale. Your marketing team can use this voice of customer data to understand the words and concepts that define their experience, lending to the creation of more effective advertising campaigns. Appointlet makes it easy to integrate with third party survey software, so you can automate the process and save time as a company.
Follow-up surveys for online scheduling
Let's start with a quick overview on the attendee's experience and where the meeting feedback survey fits into it. When someone navigates to your booking page and picks a time to meet, an automated confirmation email arrives. The email includes all of their booking details and you have the option of sending additional reminder emails to make sure that they show up on time. Once the meeting is completed, our app will send a signal to Zapier that triggers a follow-up email, requesting that they fill out a quick survey. It's that simple.
The solution outlined in this article is based on three apps: Appointlet, Zapier, and Delighted. We tested several options and went with Delighted because of their clean user interface. The custom form builder was easy to use and their customer-response interface is embedded straight into your email body. Any time you generate a survey in Delighted, it becomes available as part of the existing Appointlet-Delighted Zapier integration.
Familiar with Delighted and want to explore a second alternative? Viral marketer Neil Patel increased lead capture by 500% with surveys hosted by LeadQuizzes. They do have a working Zapier endpoint, which means you can use the same method described in this article with LeadQuizzes in place of Delighted.
Collect your meeting feedback with Delighted
If this sounds like a fit for your company and you're ready to get started, the first thing you'll need to do is sign up for a free Delighted account. As a logged in user, you will have the option to create a new survey from the home screen.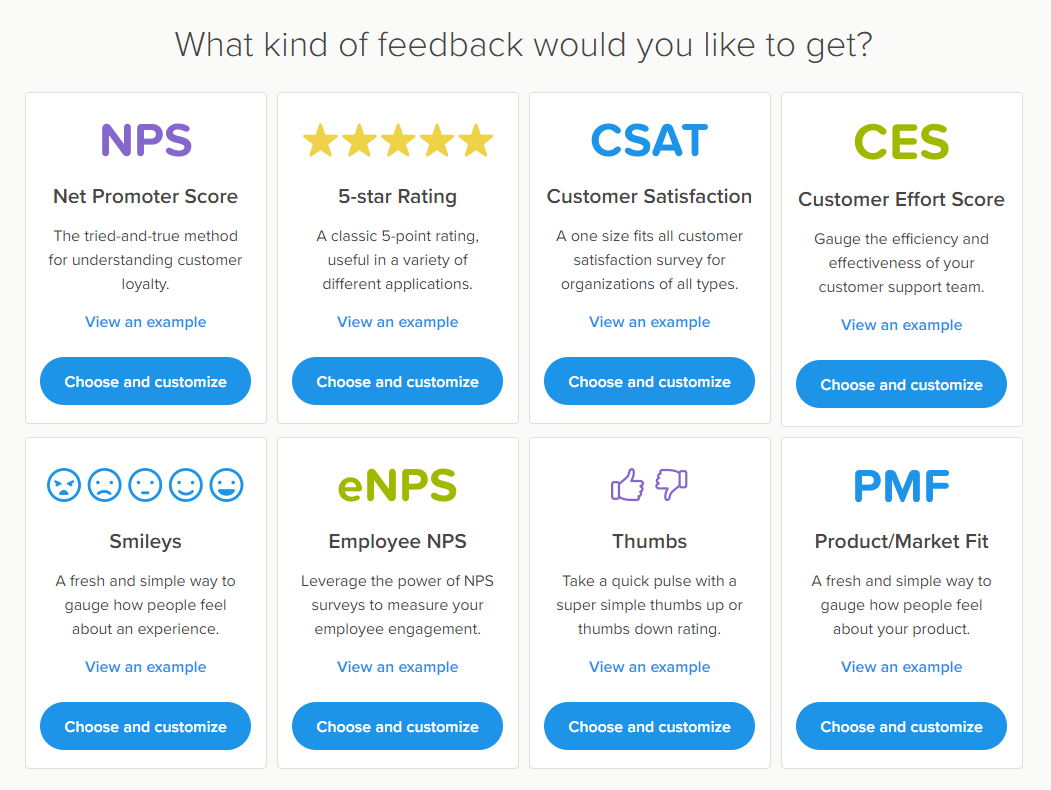 Follow-up surveys of this kind usually include an NPS (net promoter score) so the attendee can rate their experience from 1 to 10. Delighted offers a variety of other options that you can choose, depending on what you're trying to measure. For this example we'll go with their NPS score generator and select Email as our platform of choice.
With your survey platform selected, the setup wizard will move you forward to a customization screen. This is where a lot of the personalization will happen. You can add details like your company name, brand colors, and reply-to email. Even the body of the email can be updated if you prefer to phrase your NPS question differently.
You may notice that the next step is labeled People. You won't need to import your full customer list in this example, because your attendees will be flowing into Delighted in real time. Just add one person (it can be you) in order to complete the setup wizard and you're finished. Your NPS survey is ready to go!
From here, you'll need to click on the integrations tab in the upper navigation menu. Delighted offers a variety of options, but we're after the Zapier integration specifically. Click on their logo (near the bottom of the page) and you'll be taken to a screen that looks like this. Keep this tab open, because you're going to need the Delighted API Key for the next phase of setup.
Connecting Appointlet to Delighted with Zapier
Now that you have your Delighted API Key for Zapier, go ahead and open a new tab in your browser. You can visit the Appointlet Delighted Zapier page and use the suggested Zap or simply create a new Zap from scratch. Either way, this will require a bit of customization because we have to introduce a delay step.
To send a survey each time someone completes a meeting, you'll need to set up the correct triggers and actions in Zapier. We will be using a technique called Delay Until so that emails only go out after a meeting is complete:
Zapier's delay action will wait until the End Time has been reached and then fire the final action using Delighted. The action should be set to Add Person / Schedule Survey. Then you can plug in your Appointlet booking data as shown below.
Note: If your company books meetings more than one month in advance, you cannot use the new booking trigger. Instead, you will need to turn on email reminders in Appointlet. Then in Zapier, assign the trigger to your final reminder event. As long as your final reminder goes out less than thirty days prior to the meeting (which it always should), then you can use that trigger to grab the same End Datetime property.
Generate reports from meeting feedback to measure customer satisfaction
With Zapier's email automation turned on and your Delighted survey activated, you're ready to start running some tests. Open your Appointlet booking page and schedule a same-day meeting with your organization to expedite the testing process. Once the scheduled meeting has passed, a post-meeting email will arrive in the attendee's email inbox. Click on the survey link inside, fill it out and save your response. From the Delighted dashboard, you should be able to refresh the screen and view your survey response:
As your meeting feedback comes in, the responses will accumulate here and you will see an aggregate NPS score across all of your customers. Over time these reports will help you to track changes in voice of customer data. If your survey responses were consistently negative on a topic and your team made improvements, survey reports will measure the effectiveness of those changes. Be sure to check out Delighted Reports and Metrics sections for additional insights.
Depending on your company's total meeting volume, it could make sense to generate new reports bi-weekly or monthly. Mid-sized companies are advised to have a customer support manager review the survey responses daily and look for leading indicators of poor customer health. The sooner you follow up with frustrated customers and console them, the better chance you have of retaining them. If you have a CRM, you may want to explore connecting your Appointlet meeting responses to their customer records as part of your meeting notes.
Follow-up surveys will help to prevent customer churn and plug up some of the holes in your marketing funnel. You'll get nuanced insights from this feedback that help you understand whether your sales team is underperforming or if customers prefer a different demo format. These kind of details can be difficult to capture during a sales or support call. That's why we suggest that signing up for a survey app and connecting with your attendees at a deeper level — you'd be amazed by how much you can learn from their feedback!