Parent-teacher conferences are a cornerstone of the k12 experience typically held 2-4 times per year. For a brief window of time, parents meet one-on-one with instructors to discuss their child's performance. The two parties are encouraged to use this time to coordinate solutions to any struggles the student is having. 
When covid hit, it suddenly became much harder to coordinate meetings with parents. Instead of attending a classroom at a given time, teachers set up remote video conferences, with services like Zoom, to meet with parents remotely. 
Scheduling parent teacher conferences in this new climate doesn't have to be hard. Many teachers use their email calendar with a spreadsheet, but inevitably hit some road bumps along the way. Anything can happen; accidental double bookings, time wasted going back and forth with parents to pick a time, or parents misplacing their meeting instructions. 
Preventing Parent Teacher Conflict
To bypass the hassle of missed meetings and wasted time, we recommend using a scheduling tool like Appointlet. This ensures that parents have a simple, streamlined way to book conferences with the correct teacher, at the correct time. No more email ping pong. Just a simple scheduling link.
Best part is, you can set the meeting location to a physical location, phone number, or a web conference app like Zoom, MS Teams, and Google Meet. When you integrate with a conference call service, each meeting gets its own unique ID so that parents don't show up early and accidentally interrupt an unfinished meeting.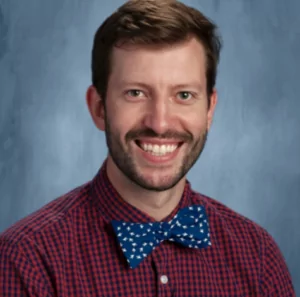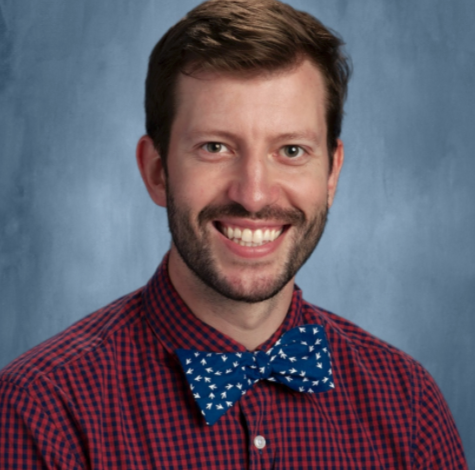 Lincoln High School started its Appointlet journey in November 2021. Within 30 days, they successfully scheduled and completed 3,400+ parent-teacher conferences across 98 teachers – all on the free plan. We were elated to hear Christopher's comments:
"Appointlet's free plan gave us unlimited meeting types, so we could have one for each teacher. Meetings were easy to create, but the best part was a unique Google Meet link each time. We love Appointlet and how easy it was for us to set up, how manageable it was for our staff and how much parents appreciated the user experience."
Lincoln used Appointlet to cut out the exhausting scheduling routine and enable parents to quickly arrange conferences to ask important questions about their young learners.
PTC Scheduling Made Easy
Let's pop the hood and glimpse into the Appointlet experience. This section will discuss what you should expect when scheduling your first parent-teacher conference on the platform. By the end, you'll have a solid understanding of the Appointlet workflow and an appreciation for its simplicity.
You can get started for free at any time and follow along with our walkthrough here.
Creating Your First Conference
If you're just signing up for the first time, you'll be taken through a setup wizard and asked to define your first meeting type. Otherwise, if you already have an account we're going to show you how to create a new PTC meeting type from scratch.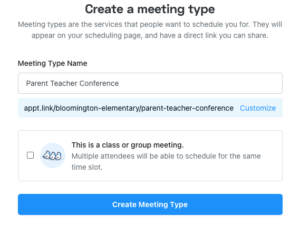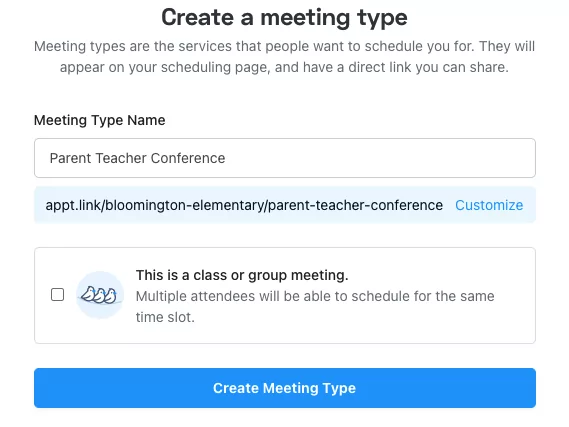 To begin, navigate to the top of the page and select Scheduling Pages. Then, select New Meeting Type. Here we'll name our conference. It can be anything you want but I'll call it "Parent-Teacher Conference") After that, you'll need to indicate whether this meeting type will be group or 1:1. Either option is fine, but we'll indicate 1:1 by leaving the group selection unchecked here.
You can also customize your link here as you see fit. Just make sure to get it right – future changes will break the old link!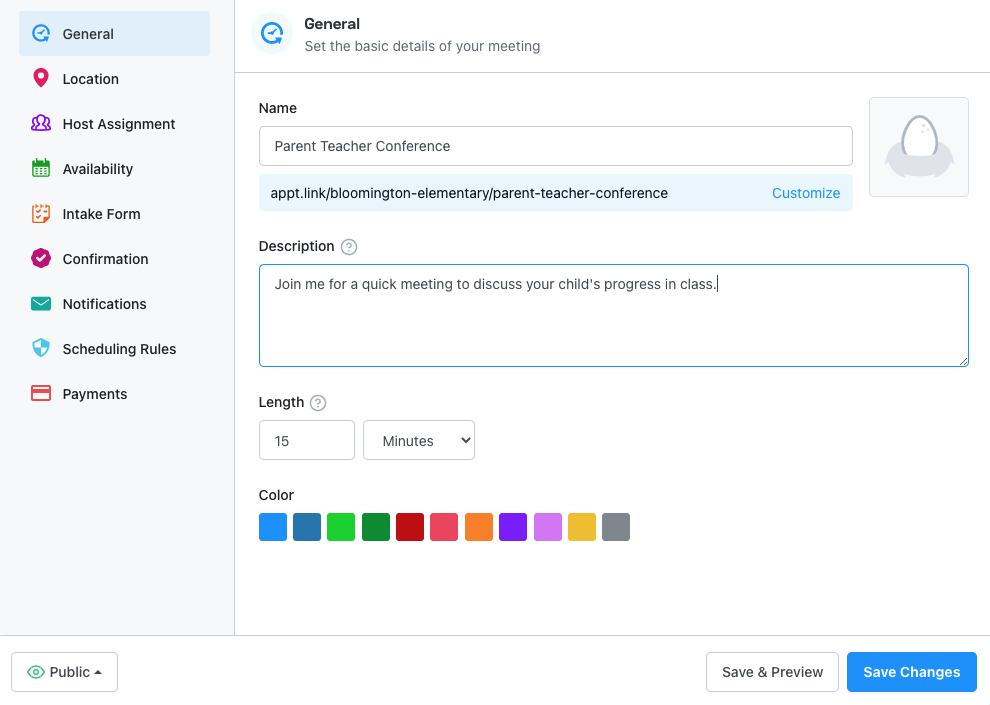 Now it's time to customize our meeting as we see fit. While we do this, you'll quickly understand how comprehensive of a scheduling platform Appointlet is and why our customers can't imagine life without it.
Continuing, let's start by choosing our meeting's location. It can be at a physical location, a phone call, a web conference, or unspecified.
Below, we'll choose a web conference and show off our six third-party integrations – including Zoom, Teams, and Google Meet.
Next, let's create meeting instructions, so our parents know what to do. They'll see these whenever they confirm the appointment and in subsequent reminders.
You'll need to know each parent's name and email; let's configure that in our Intake Form settings.
Now that we're ready to go let's share your meeting's custom link and get the party started. Under Scheduling Pages, find your parent-teacher meeting type and click on Share.
While you're welcome to go the traditional route and share your link by email, you can also embed it directly into your website or share it on social media.
Congrats, you created your parent-teacher conference and shared it with parents! We hope you noticed how easy, intuitive, and remarkably customizable the Appointlet scheduling platform is. 
Parents Love Appointlet Too
Appointlet isn't just popular with teachers; parents love it too. Our platform only requires a few clicks to get them face-to-face with the right teacher. This makes their lives easier and keeps the conversation focused on their child instead of logistical hassles.
Compare this with traditional methods where parents were forced to attend the school at some time chosen by the school. During peak covid, teachers had to invent solutions to coordinate virtual meetings with dozens of parents at once.
With Appointlet, Teachers can now provide parents with a secure scheduling page accessible on desktop, tablet, and mobile. In less than a minute, they receive a confirmation email with meeting instructions and a one-click link to access a web conference (for virtual meetings).
The best part is, parents won't forget about their appointment times anymore. Appointlet lets you send automated reminder emails that go out at scheduled times, leading up to the conference. 
By turning the scheduling ordeal into a 30-second process, both parties are freed up to focus on the what actually mattersl — the student!