Companies offer phone and/or email support with varying degrees of success. Long wait times can create friction for customers, especially when support fails to resolve their issue. In contrast, current research shows that 92% of customers enjoy instant messaging experiences, due to the fast response times. Quick support helps people feel more confident in a product.
We use Intercom to respond quickly to customers.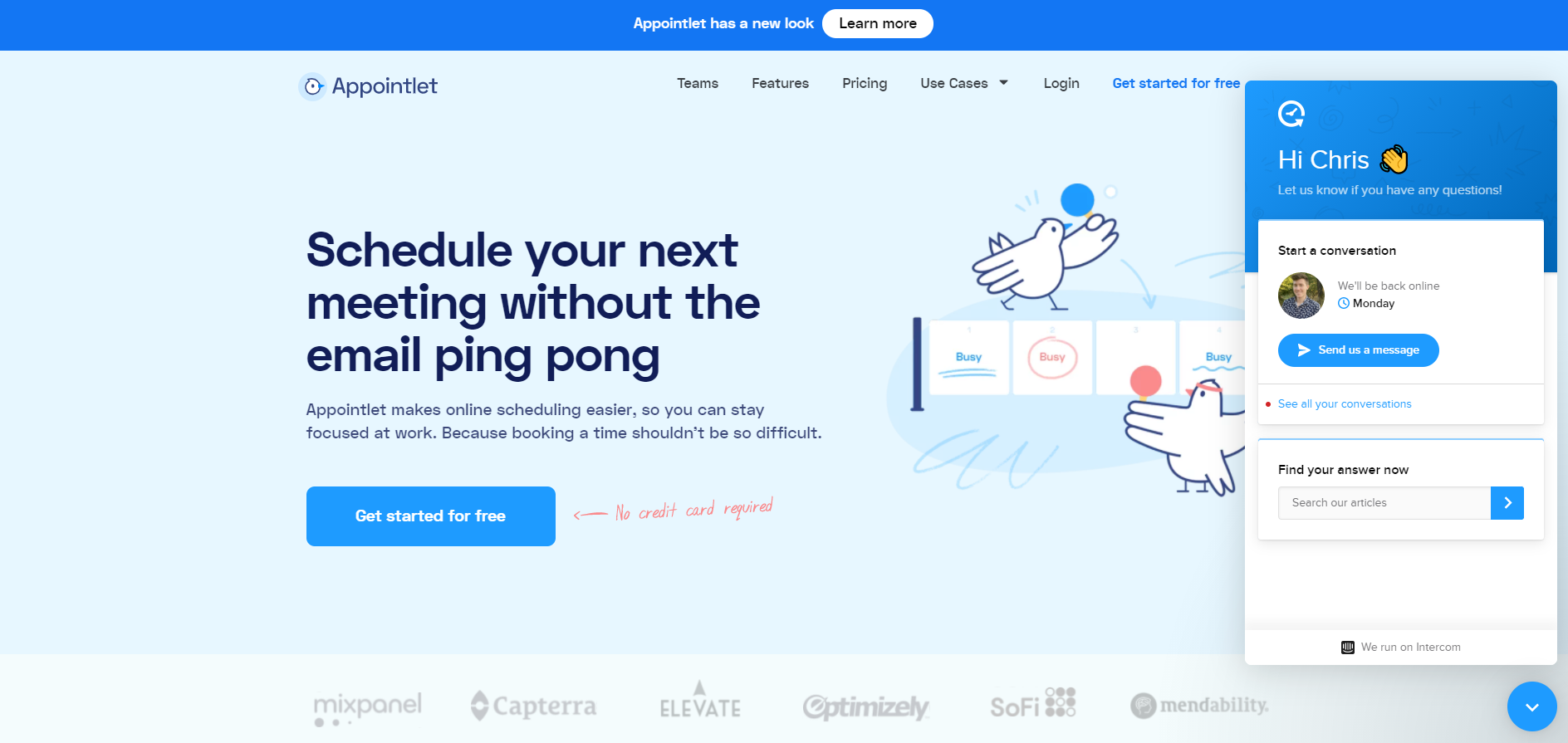 Years of daily interactions with our customers has taught us how valuable the live chat software can be. That's why we went ahead and created a Chrome extension and Firefox extension, ensuring that your team has convenient access to booking links in every live chat context.
Identifying your live chat toolset
Live chat can take place in a variety of locations, including but not limited to your website. Other options include social media, SMS and email. Businesses either have an in-house team or outsource live chat services and choose their tools accordingly. We will walk you through each of these options and offer some tips on how to use the browser extension.
Live chat apps that live on your website
Live chat apps tend to be used in two ways; public-facing websites and user-facing web apps. The tool is usually located at the bottom right corner of a site and stands out as a unique page element, so it's easy for site visitors to spot and engage with. I mentioned Intercom earlier as our service provider, however there are a number of other solutions out there.
Chatra provides a simplified live chat solution that I personally found easy to set up and install on a website in just a few minutes. For small businesses that don't need all the bells and whistles, Chatra is a good option to explore.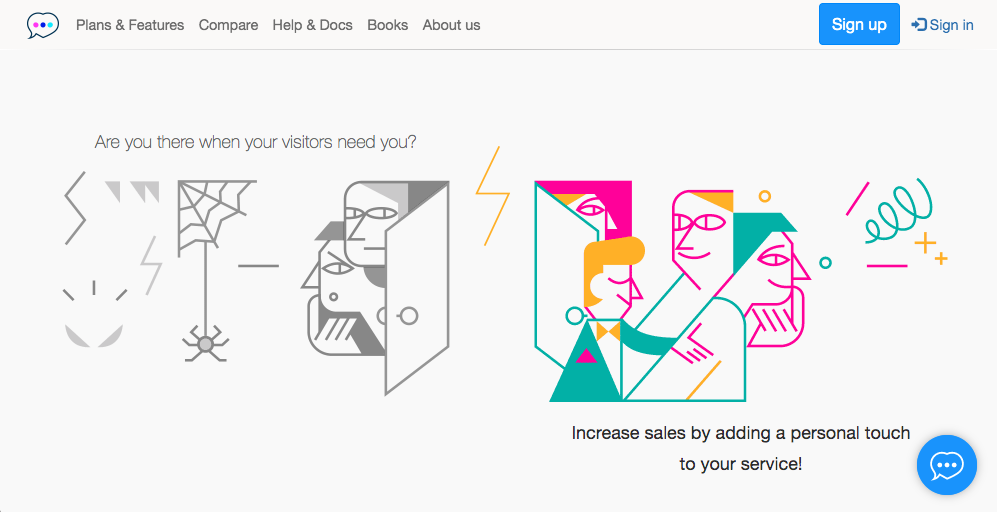 When visitors navigate through your website, the chat icon persists. They can open the chat tool and send your team a message. Any time they do, your support agents are notified via the Chatra dashboard. The chat tool makes it possible to answer questions and maintain conversation in real time.
As visitors go through your sales qualification process, you may want to offer product demos or consultations. Whenever the support agent decides it's time to book a meeting, they can grab a link from the browser extension as showed in the image below: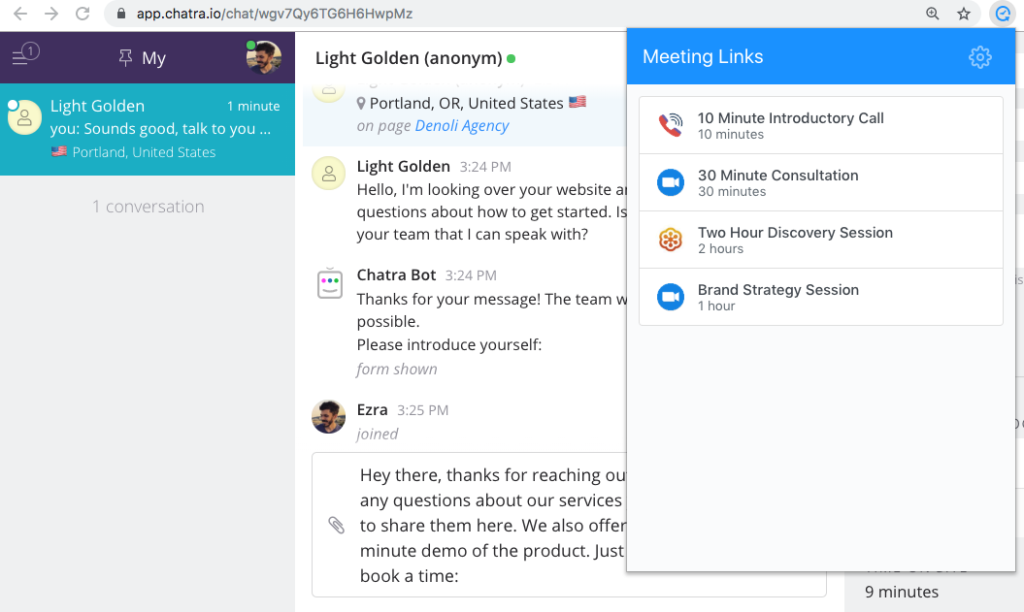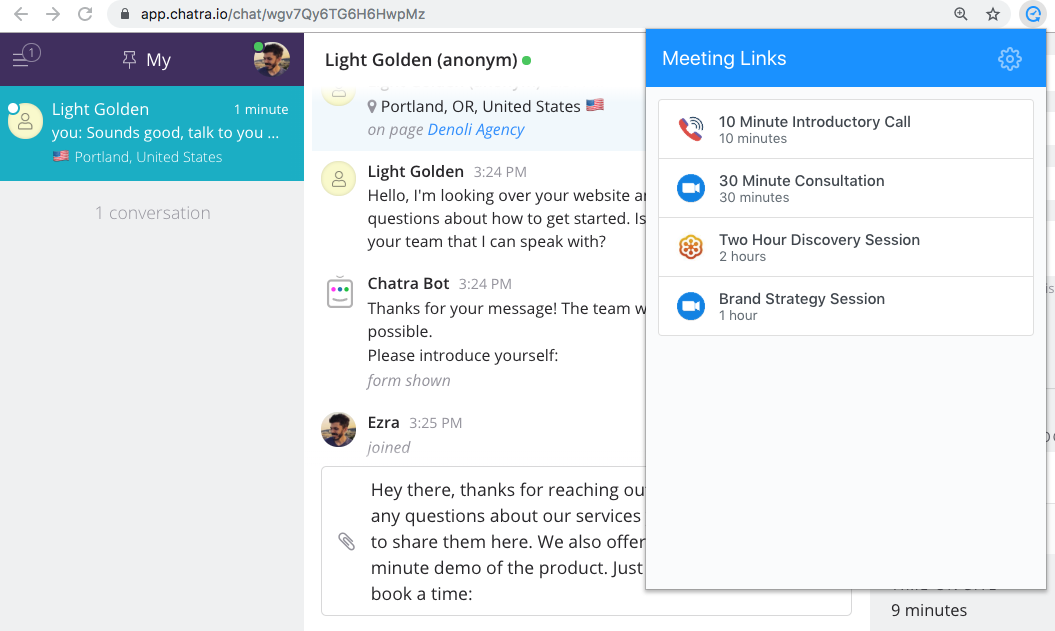 Once your support agent sends the booking link, the site visitor simply clicks it to open your Appointlet scheduler. Everything else is automated. If you're wondering what Chatra's live chat interface looks like from the visitor's perspective, we've created this sandbox agency account as a demonstration: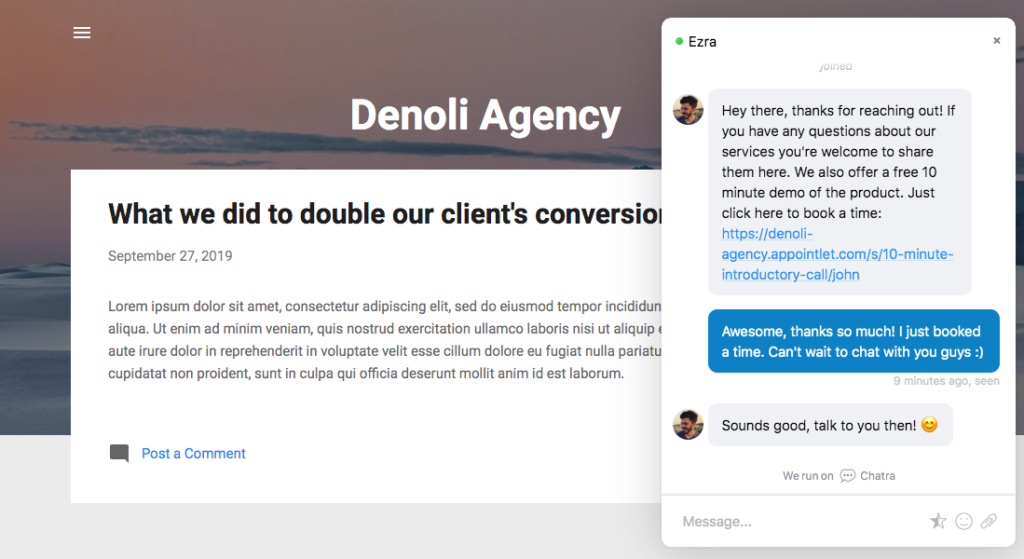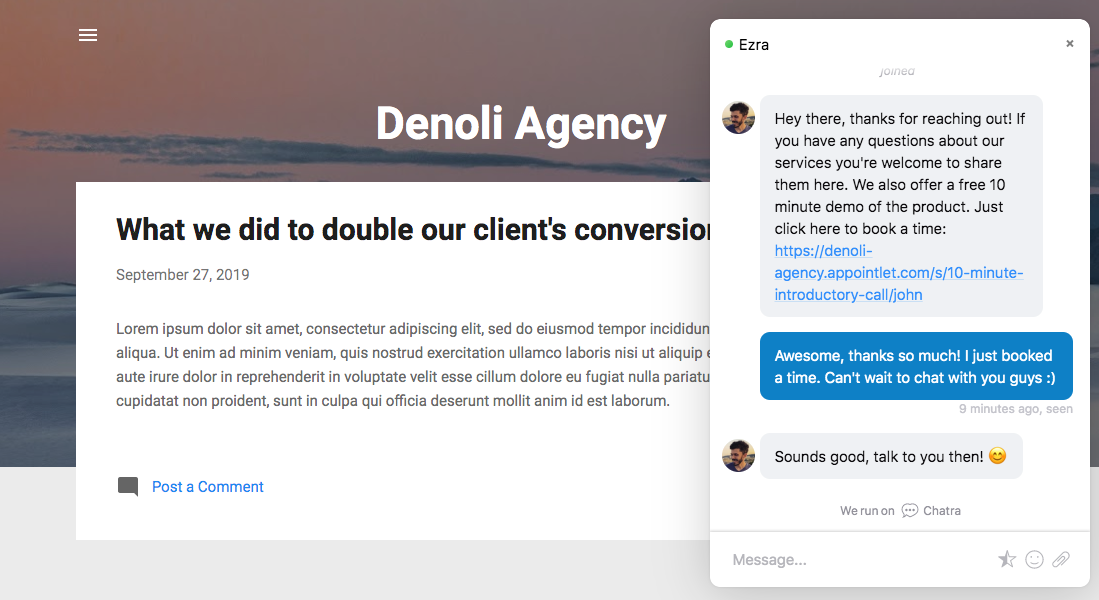 The image above shows the Chatra dialogue from a site visitor's perspective. Now that they have scheduled a meeting, they will receive email notifications to help them show up on time. Your own team members will also receive an event in their email calendar, with the option for email notifications. This ensures that meeting details are easily accessible to both parties.
Direct messages on social media
Social media is another powerful way to promote your brand. Not only can it be used to drive traffic to your site, but with the right content you can attract public conversation. Keep an eye on social media channels to make sure you're not missing any prospects.
The comment section of a social media post can be the perfect place to speak with your audience. If someone needs extra help, it's good to send a direct message and let them know to look out for it. If you are using Instagram and someone needs extra help, it's good to send Instagram messages to your followers and let them know to look out for them.  This keeps down clutter, helps with privacy, and segues nicely into a meeting invitation. Here's an example of what the Appointlet browser extension could look like inside of Twitter: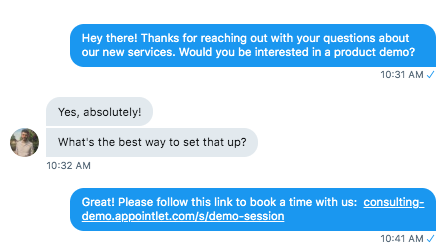 SMS support for mobile users
Can you think of a way that most people "live chat" every day?
That's right, it's our phones. If your company is going to offer live SMS support, be sure to set up a web app service like Twilio. This will keep your messaging centralized in a single, easy-to-access location. Typing is easier on a keyboard than a mobile device. Plus you can easily grab a link from Appointlet and drop it into the text message. Our mobile responsive design makes it easy for leads and customers to schedule meetings from their smart phones.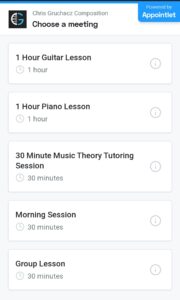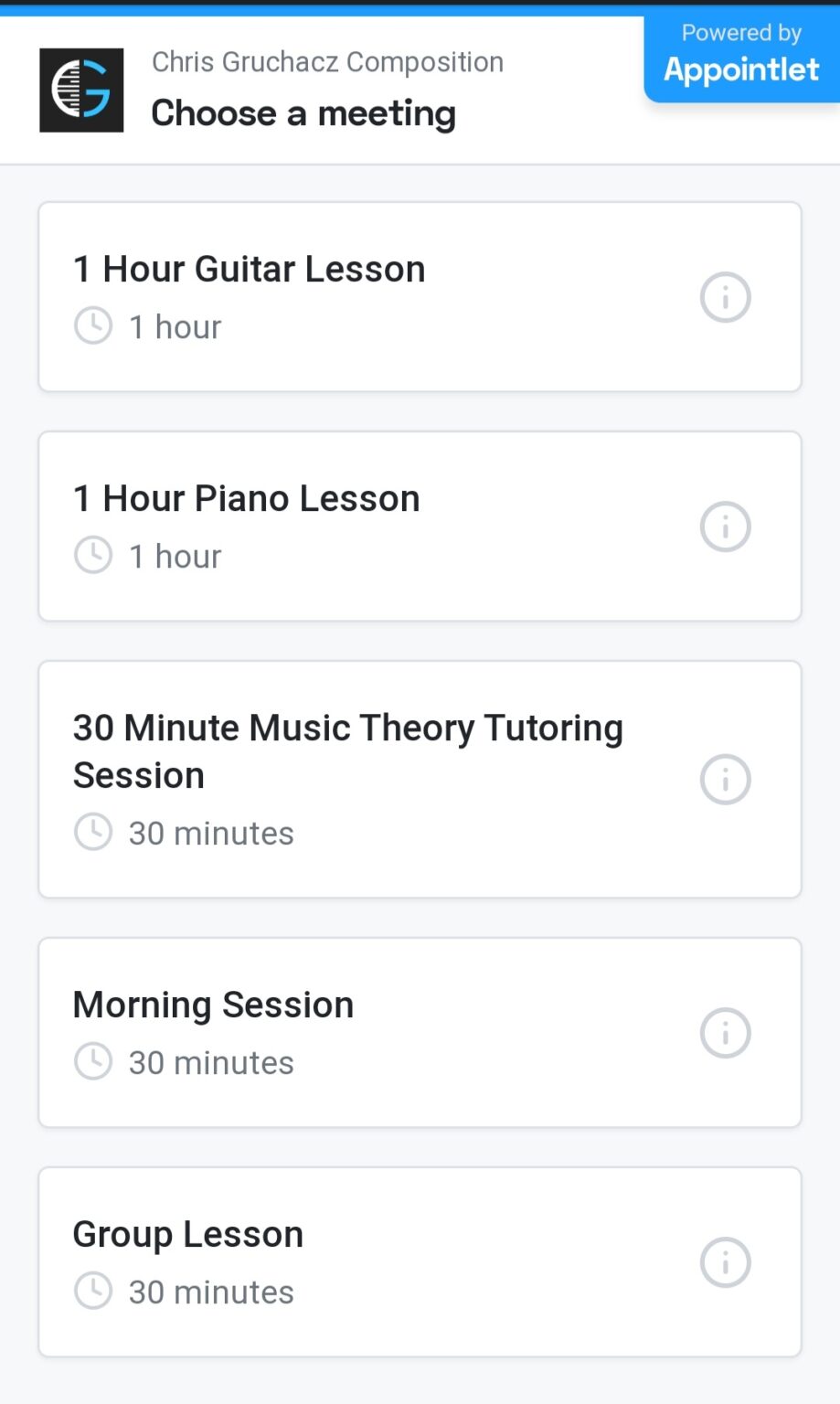 Sharing your links in an email
Email might not seem like a live chat environment, but who hasn't used it to fire off some quick messages back and forth? If your team is using email to dialogue with leads and customers, they can click the Appointlet browser extension to grab meeting links as needed: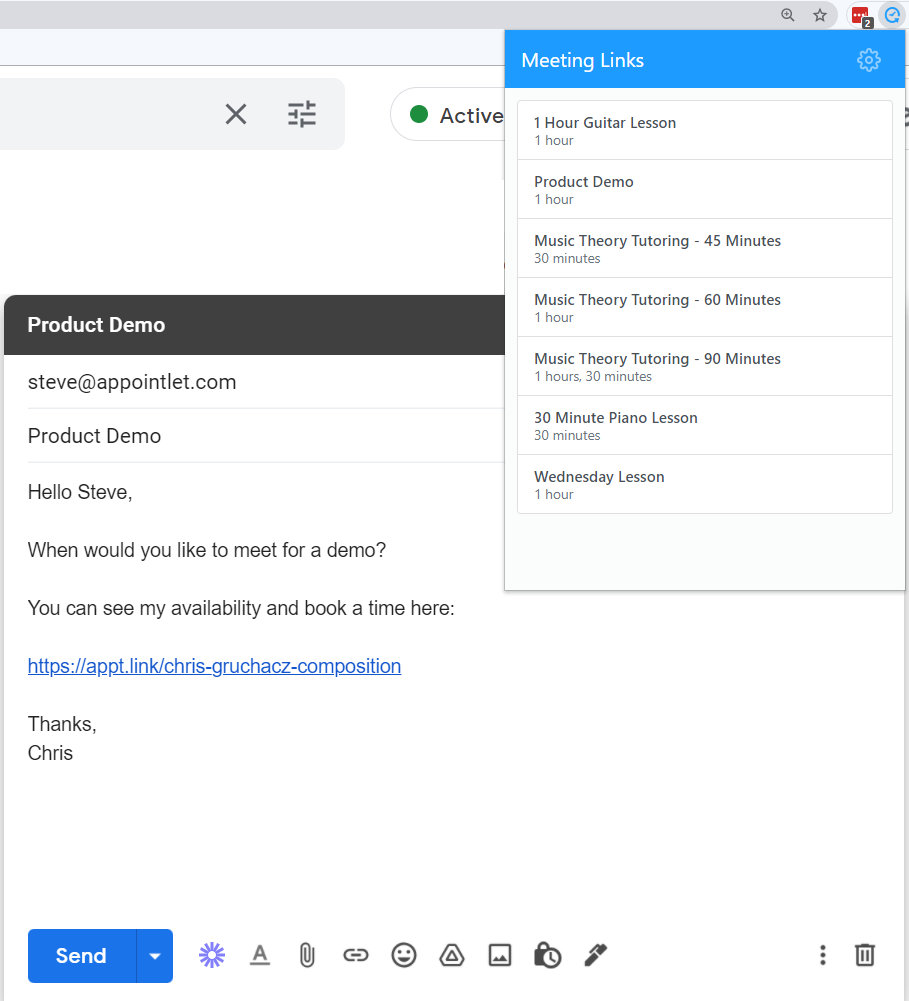 Appointlet lets you match these fast-paced live chat environments with an easy-to-book scheduler. You can count on this reducing scheduling friction and keeping your customers satisfied through the full lifecycle. We hope that you'll take a moment to install one of the browser extensions on your computer and try it for yourself.
You can download Appointlet's Chrome extension and Firefox extension for free and use it with our free plan, available on our landing page.