If there's one thing in the world that can help you in lead generation and achieving a good lead conversion rate, it's the sales funnel.
A good sales funnel can provide great insights to sales teams about the thought processes, challenges, and decisions of potential customers. It is why creating an efficient sales funnel is a top priority for many businesses that want to boost sales performance.
By visualizing your B2B business sales funnel as a baseline, you can save your business from making numerous costly mistakes such as lead dropout. If you want to grow your sales revenue over time, glossing over your sales funnel isn't an option. 
In this post, we'll take an in-depth look at the B2B sales funnel and its relation to the AIDA concept. Also, we'll discuss how you can create a B2B sales funnel that can help you get more leads and a high conversion rate.
Understanding The B2B Sales Funnel
Your prospects follow a journey from the first point of contact to the completion of the purchase. The visual representation of this journey is called a sales funnel. Your sales team can use it to understand where they need to follow up by looking at the changes throughout the journey.
Visually, a sales funnel is wide from the top, and as you go down, the width becomes narrower. At every stage of your sales funnel, your prospects will be filtered. The best fits will be sent to the next stage, and those who do not qualify for your offer will be dropped off. As businesses expand their digital offerings, many opt to hire quality assurance testers to ensure a seamless user experience.
You have to bring customers through five stages to win them. They start from being Untouched > Leads > Qualified > Proposal Presented > and Negotiation.
Understanding the sales funnel can be beneficial for your business to determine where exactly sales reps are going wrong with prospecting. For example, what are the exact reasons your customers drift off, and what can you do to stop them from leaving? 
When you know more about your funnel for B2B sales, you can better understand the reasons why successful customers picked you over other choices. Also, you can optimize your sales product strategy to emphasize the things that deliver good output for you. Sales reps who are good at what they do know their sales funnel inside out, from reaching out to completing a purchase. There are two major reasons behind this. 
First, they find it easy to address customer needs at the right time. And more importantly, they scale their sales processes to hit their goals efficiently. 
When your sales funnel is defined clearly, you not only improve your customer journey but the health of your company too.
Sales Funnel Based On AIDA Concept
The foundation of a successful sales funnel is based entirely on the AIDA concept: Awareness, Interest, Decision, and Action. These four stages represent four different mindsets of customers. The leads are poured into the topmost stage, where customers gain awareness of your brand. 
Now, let's look at the four stages in more detail.
Awareness
This is the first stage of any sales funnel. Some people also refer to it as "attention" as this stage aims to get potential leads attention. Companies use strategies like content marketing in this stage to attract relevant leads by having an in-house team for lead generation or by hiring content marketing agencies.
Since this is the early stage, potential customers are still trying to figure out the challenges and queries they want to be solved. In this stage, you need to be on point with research and conversation to determine how you can tailor yourself as a solution. Additionally, having a distinctive and memorable logo created with a professional logo maker can contribute to establishing a strong and recognizable brand identity, further aiding in the differentiation of your solution in the minds of your potential customers.
Interest
In this stage, brands start forming deeper and more meaningful relationships with visitors. It helps them learn more about the problems and goals of their potential leads.  
By now, the people you are dealing with are no longer nameless and faceless. Their names and problems are defined, and they know your product. Also, they know that your product/service can be the solution to their problems.
The best way to move forward in this stage is by providing preliminary solutions to your potential customers and ensuring they know everything about your product/service. This is particularly true for B2B SaaS businesses that need to demonstrate the value and benefits of their software solutions effectively.
Decision
People only do business with those they know, like, and trust. The first two stages of the AIDA concept ensure that potential customers know and like you.
This step aims to change "I like it" to "I want it". In the decision stage, trust is built. When customers reach this stage, they are convinced that your product/service is exactly what they need.
Ultimately, this is the stage where brands show how they can be a solution, and the customers go for the purchase. 
Action
After passing awareness, interest, and decision, you will reach the final step of the sales funnel. In the action stage, prospects decide whether they are going to purchase/subscribe for the product/service or not.
You get the most qualified leads in this stage, and the decision of these leads will ultimately depend on your strategies.
Pro Tip: Each stage has its importance and requires a specific approach. You, as a marketer, have to ensure that you don't send the wrong message at the wrong time.
How To Get More Leads For Your B2B Sales Funnel?
It is quite challenging to generate high-quality marketing qualified B2B leads that actually convert. However, if you can somehow find a way to do it efficiently, you'll be able to beat your competitors and grow significantly.
So, below are a few tips that can help you plan your B2B lead generation plans.
Have as many conversations as possible: Sales is about building relationships, and relying entirely on content marketing as a way to connect with your audience can be dangerous for your business. However, visualizing your content in the form of graphs, charts, or infographics by using an infographic template is a better way of attracting customers to your business.
To prevent miscommunication, it's best to have as many personal conversations as possible with your customers. For example, if a lead wants to know something about a specific feature, you can simply guide them through the features on a call.
Send cold emails and cold calls: It is essential to personalize your cold emails as much as possible. You can use merge tags which allow users to change the company name and first name in each email. Such email personalization techniques can help get an 80% better open rate and boost customer engagement up to 74%.
On the other hand, cold calls are when you call someone who might be interested in your product/service. It can do wonders if you pull it off correctly.
Set up live chat: Various studies show that more than 40% of customers prefer live chat for customer support questions. Many live chat tools are available in the market that can help you connect and engage with customers. You can even use live chat tools to collect emails and nurture leads.

Update your email signature: Use email signature management software to add and manage your email signatures. You can add promotional links to a landing page, social media buttons, etc. in your email signature. It can help you improve user engagement without any extra investment.

Utilize SEO to increase traffic: Everyone knows how beneficial search engine optimization can be for any business. A great brand who utilized SEO to increased traffic is Split My Fare. They've increased their traffic from 20k to 150k by focusing their marketing purely on SEO.
With the help of SEO, high quality backlinks and strong link building services, try to bring your website to the top of the Google SERPs on relevant keywords. Set up a lead capture form on the website; with the increase in traffic through SEO, the number of form fills hence leads will also increase.
Journey From B2B Leads To Successful Appointment Booking
A lead that isn't converted can't give any revenue to the business. The source of income for companies can only be from converted leads. You might be running the best lead generation campaign in the world, but it will be pointless if those leads don't convert into customers.
So, the question is how to convince your website visitors to fill out the form or book an appointment? How to convert more leads? Here is the answer:
The Art of the Follow-up
Marketers and sales teams are often blamed for lower conversion rates in many companies. Following up with leads is one of the most essential parts of the B2B sales funnel. The quicker you engage and the better their experience is, the better your conversion rate will be.
Following up doesn't always mean sitting idle and waiting for leads to book meetings. You can use tools like Appointlet that can schedule your sales meetings seamlessly, without the back and forth.
Using a scheduling tool can help provide a better customer experience and save time coordinating schedules. It can even reduce no-shows because of its automated reminder feature.
Practice Lead Nurturing
With the help of a lead nurturing program, you can filter out leads that are likely to convert and coax them to convert throughout the buying stages. If you send untested leads to sales, they might never convert. 
It's better to use list segmentation and targeted content to qualify them further and send them to sales only when you're sure that they'll convert. You can use any automation software for the same; lead nurturing is one of the most basic features of any marketing automation software. You can also use any automated contact center solution for the same; lead nurturing is one of the most basic features of any marketing automation software.
High-Quality Leads
Increasing the quality of leads is one of the top priorities of B2B marketers. It indicates that businesses are now shifting their focus from higher lead quantity to higher lead quality. 
To make this happen in your organization, you need to bring together marketing and sales teams for better lead nurturing. It's important for marketers to improve the quality of leads because they are the ones who have to demonstrate ROI to their superiors.
Run Data Verification
As per an estimation by KoMarketing, 40% of B2B leads in companies are suffering from poor data quality.
Common data issues include: 
Missing fields
Invalid formatting
Duplicate data
Lack of email verification 
You are going to have a pretty hard time connecting with leads if you are working off of an inaccurate database. You can utilize data verification to save your time and sanity.
5 Tools That Can Help Maximize Your Sales Funnel
There's no shortage of tools to help you with your sales funnel, but here we'll share only four that are a must for any business.
Appointlet lets your clients use the applet to see your calendar and schedule an appointment with you. They can look at the times you are available, and with a couple of clicks, add their name to your schedule.
The best thing about Appointlet is, it integrates with Google Calendar. So, when a client books an appointment with you, it will automatically show up in your calendar. This feature makes it impossible for you to forget any appointment booking.
It even has a built-in reminder system, so if having it in your calendar is not enough, you will be alerted. Customers can simply go to the applet and make the appointment; all they have to do is show up.
This tool is a document builder and electronic signature software that is responsible for workflow management. PandaDoc streamlines and accelerates the user's document process. With PandaDoc, you can easily create, track, and process documents. Your process will be greatly efficient if you use eSignature apps to add a signature to a documents such as sales contracts.
PandaDoc supports various integrations that you can use to generate leads like Salesforce Sales Cloud, HubSpot Marketing Hub, Pipedrive, Pipeliner CRM, etc.
PandaDoc comes with a free trial. When billed monthly, it costs $19 per user per month and comes with a custom pricing option.
If you are one of those who use LinkedIn for B2B  lead generation, this tool is custom-made for you. With the help of LinkedIn Sales Navigator, you can connect with a specific set of audiences and communities, build a solid network, track leads, and engage with prospects. It takes you to the most advanced version of LinkedIn with a similar interface.
With LinkedIn Sales Navigator you can even get suggestions based on your leads. You can also export lists from LinkedIn Sales Navigator if you'd like to connect with specific individuals.
There's a free trial available for a month and then it costs $65/mo for annual plans. There are two options — Sales Navigator Professional and Sales Navigator Team ($103/mo for annual). Use LinkedIn automation software to send contact requests and messages on LinkedIn more efficiently.)
LeadPages is one of the best landing page builders. It offers a very convenient way to capture leads from your website from customized and personalized landing pages for a specific set of audiences.
With Leadpages, you don't have to worry about doing it all from scratch, as there are numerous high-converting templates to select from. You can make changes in the templates like colors, add your logo, and design changes.
The cost for LeadPages is $27/mo for standard, which will work for you if you have only one website. But if you have more than one, then opt for the $59/mo pro plan for three websites. Or, if you're an agency, then you can go to the advanced plan for $239/mo for up to 50 sites. You can also opt for the 14-day free trial.
Geckoboard is a KPI dashboard tool that integrates with over 80 different data sources. It makes it easy to create live dashboards that visualize your most important sales funnel metrics. What's more, with sharing options for email, Slack, and TV dashboards, your team will never miss a beat. 
If you need some inspiration, we recommend taking a look at Geckoboard's library of sales dashboard examples on their website.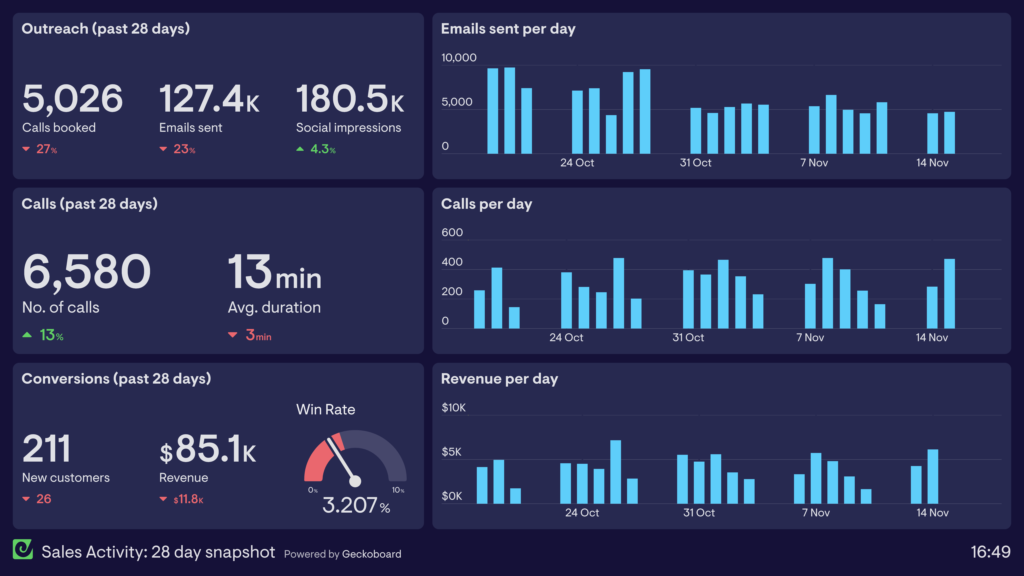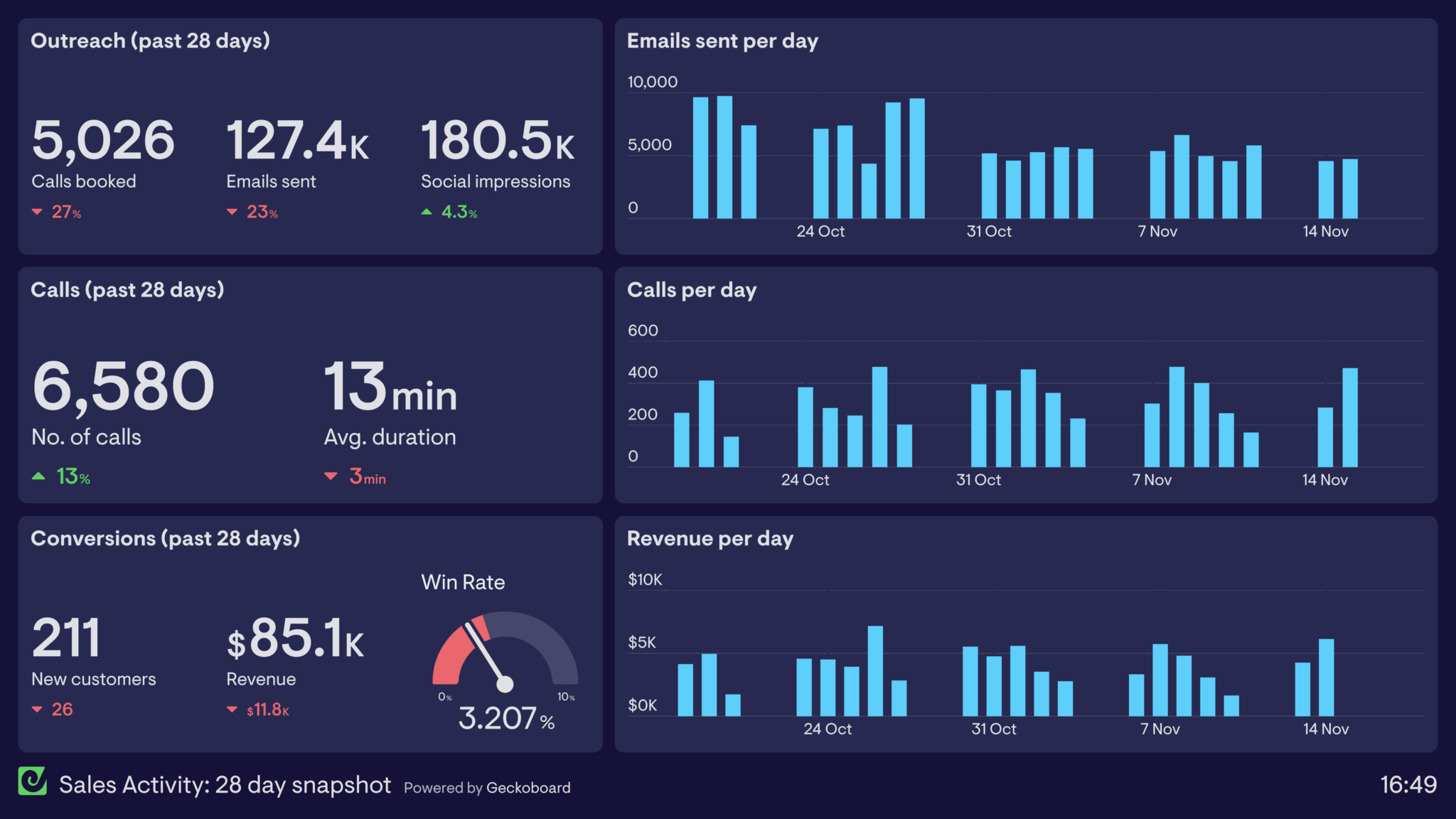 Ready to Get Started With Your Own B2B Sales Funnel?
Now that you are all aware of how to create a B2B sales funnel, let's understand how you proceed with creating one for your company.
Analyze your competitors' sales funnel strategy.

Choose platforms to start with.

Divide your budget for each platform.

Use a tool for tracking your sales funnel.

Execute!
Once you create and execute your sales funnel, you will need to work on finding ways to ensure that it goes as planned.
For example, there can be lead dropouts due to improper follow-up strategy. Follow the below points to ensure that such issues get avoided.