Wondering how online scheduling can help you attract more prospects and convert qualified leads into paying customers? If so, you're in luck — this article will reveal three core concepts:
How to advertise your sales calls to attract qualified prospects
Where to position you scheduler in the sales funnel for high impact
How to write booking confirmation and reminder emails that convert
If this sounds like something you could use help with, then we invite you to join our most successful teams and start optimizing your sales funnel today.
More than a scheduler — it's a growth tool for marketing
As we reach the end of 2021, it's good to know that back-and-forth emails are almost behind us. Working professionals can now create and share links to an online booking page that reflects their scheduled availability. These booking pages have made it easier than ever for people to schedule meetings.
However, many companies lack a comprehensive strategy for coordinating the booking page with their marketing team. Administrators often overlook that the booking pages are a growth tool as much as they are a logistical solution. If you have only been thinking of Appointlet as a scheduling optimization tool, you've been missing out on a major piece of the puzzle.
In this guide, I'm going to show you precisely how marketing teams are building their high-performance sales scheduling funnels.

You show a targeted ad on your preferred platform (Google, Facebook, etc)
Your ad goes to a landing page that requests their email address. The thank you page displays a "book now" button for a sales demo
The prospect's email address is entered into a drip marketing campaign with a booking link at the end of each message
Prospects schedule a time and receive email notifications to keep them engaged as the meeting approaches
On the call, your sales team tells them about the service in detail and drives them toward a purchasing decision
Customers are passed from the sales team to a success manager who can provide support services and ensure that you retain their business
This approach to sales scheduling has been tested and proven to convert well for companies that aim upmarket. Sounds like a fit and ready to dive in? Let's do this…
The Setup (Phase 1)
The landing page should reiterate your trade — you offer a downloadable asset in exchange for their email address. Make email capture the focal point of your lander, with supporting imagery and text. This ensures that you can retain contact with them, even if they're in a rush and don't have time to go further at the moment. Once you have their email, you can present the option to schedule a sales call immediately and continue to present the option through your email marketing drip campaign.


Step 1: Facebook and Google ads
The wording and design of your advertisement should be tuned around your value proposition. In this scenario, you offer a free digital asset that begins to solve a core problem, while still leaving something to be desired. The asset should be a taste of what's to come when they buy into your company's services. If you already know who your ideal customers are and have a great product that meets their needs, it will be easier to write the ads.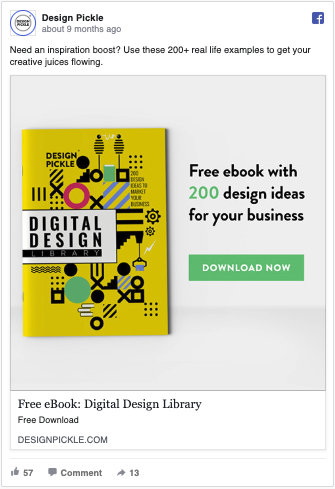 The screenshot above showcases what a Facebook ad might look like for one of these free digital assets. The value proposition (improved creativity) is identified and the imagery is visually stimulating, but the ad fails to speak to the target's feelings of frustration that the free ebook will solve.
Your ad copy should accomplish the following pre-requisites:
Quick and accurate identification of the problem your audience has
Expose the full impact and repercussions of their failure to solve it
Offer to share a free, downloadable asset that will help them out
Here are some of the biggest digital marketing mistakes made by digital marketers:
Not writing enough ad copy. If you have a real solution, people won't mind reading to learn more about it.
You need to do more than passively mention the free asset in your advertising copy. Let the reader know exactly what it is and how it will solve their problems.
Be careful of assuming your audience has more awareness than they do. Try to avoid using industry terminology unless you are certain that they will already be familiar with the concepts.
If your copy addresses the person conversationally, be sure that it feels relatable. Try reading the content out loud for a sanity check. How does it sound?
Don't use a dull image that people are going to scroll past. Use high quality images that catch their eye and get them to pause!
Losing track of your marketing materials and their revisions. Using a digital assets management system allows you to quickly find and maintain your assets (images, videos, etc.), saving you a lot of time in the process.
Good ads attract the right people because they convey a feeling that resonates with that target market. You want to have qualified prospects to work with later on. Failure to find the right product market fit and convey it through your ad copy will make it difficult to convert leads to customers, no matter how talented your sales reps are.
Step 2: The advertised landing page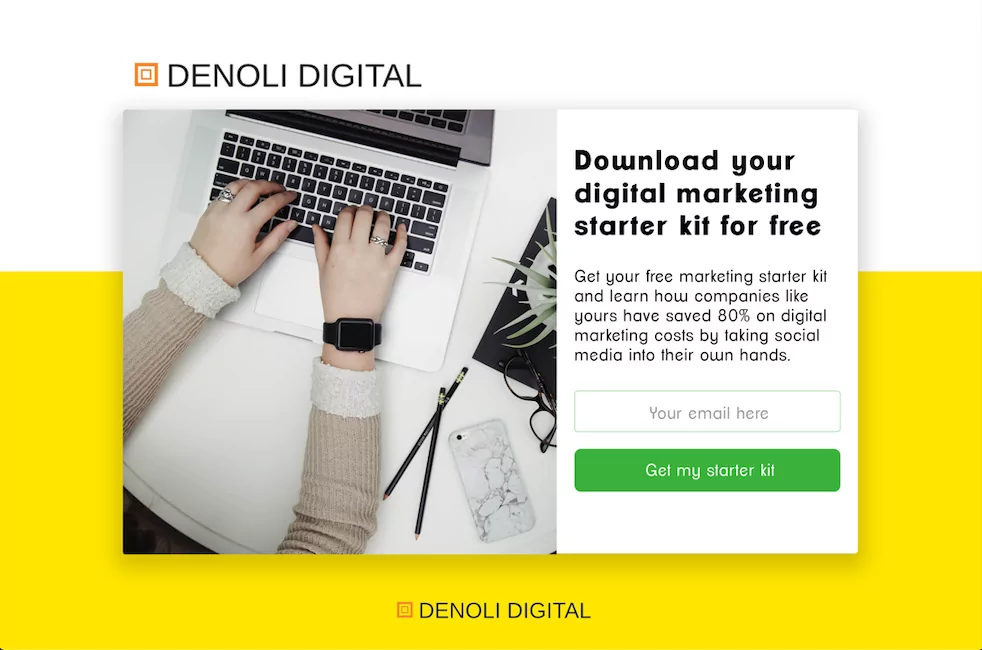 The prospect should be able to flow through your sales funnel effortlessly. For this reason, when designing your landing page, you should think about keeping content to a minimum and driving them toward the email field as quickly as possible. Here are the essentials:
The lander should function as an opt-in page with a visually engaging design. The email collection form field can be framed in a few sentences that reiterate the value proposition of the digital asset.
When the prospect submits their email, redirect them to a thank you page with the same visual design. Confirm that the email was received and present them with a Book Now button linked to your sales demo.

This will be the first time your prospect has had the chance to schedule a demo with your sales team. They might jump on the opportunity or wait for the digital asset to see how you deliver on the promised value. If your content is good, people will stay engaged, read your email campaigns, and eventually book a sales demo.
Remember, your landing page should be a simple opt-in page. Don't turn the lander into a full length article. That's what the downloadable asset is for.
Step 3: Email Campaign with booking links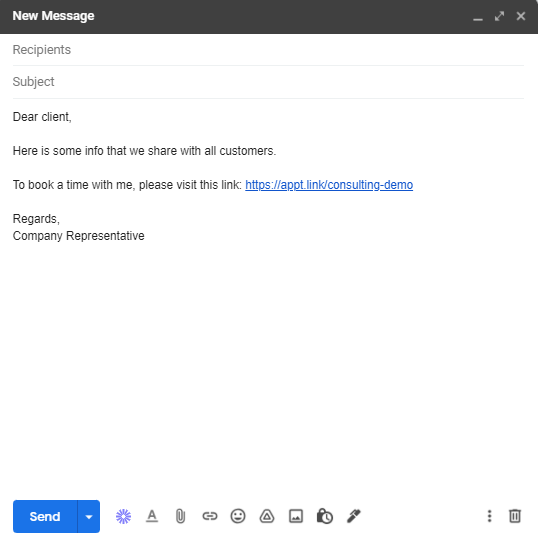 You will need an email marketing platform to collect prospects' email addresses and deliver a drip campaign. The first message in the sequence should be configured to fire off immediately with a link to the downloadable asset. Here are some suggestions on what to include in that initial email:
Take advantage of the email real estate to do more than deliver the asset. Engage your prospect with some compelling thoughts and offer further assistance with a live phone call or web conference.
Use a clear call to action with a direct link to your booking page. Don't refer to the sales demo as a "sales demo". Keep the language geared towards resolving their needs. The link might say "Schedule your [solution] call" and highlight the solution you'll be providing.
It goes without saying that the email should include your downloadable asset. Be sure to use formats that everyone will be able to access, like a .pdf or .csv file.
Work with your marketing team to create an email sequence that continues to engage the prospect over the coming weeks. Continue inviting them to schedule a sales call.
Summary: Your prospect opens the email to access their downloadable asset, but you should focused on driving them towards scheduling a sales demo.
Want more ideas on connecting to your client with automated messaging? We wrote a collection of five sales email scheduling templates and published them over at ActiveCampaign. Have a look!
The Booking Page (Phase 2)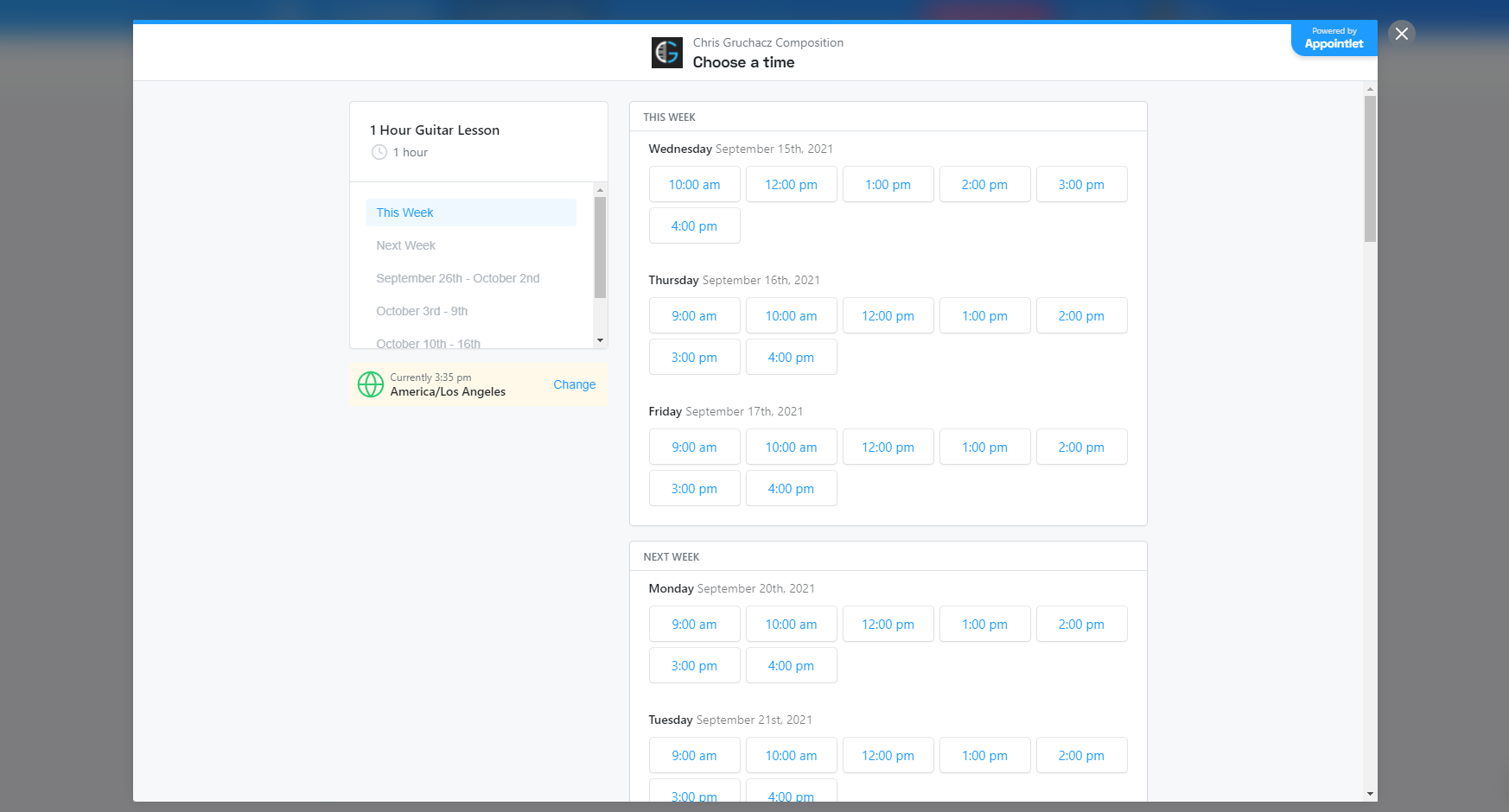 The scheduling page presents your prospect with a time picker that's configured to reflect your team members' availability. After choosing a time, they fill out a custom form with the information that you request prior to the call. We allow them to review all of the information before confirming. When they do complete the booking, you have the option of redirecting them to a landing page, to thank them and offer additional learning resources. We do provide a default thank you page in-app, if you prefer that user experience.
When the booking is completed, a calendar event is automatically created for your sales representative, including their booking form data. Appointlet will send confirmation emails to both parties. If your team uses web conferencing tools like Zoom, GoToMeeting or Google Hangouts, each calendar event will include a custom URL. These same links are provided to your prospect. Appointlet translates the time zones for both parties automatically, so you both show up at the right place and time!
Do you want to distribute your sales calls evenly across the team? Check out our Round Robin host assignment feature to combine your team's availability on a single scheduling page. We'll make sure reps are never double booked and meetings are distributed as fairly as possible.
Want to pass your prospect's booking data into a CRM? If you are using a major CRM like Salesforce or Hubspot, odds are that we can integrate with it. Our Zapier integration has been used by many organizations to take better meeting notes. 
Closing the Deal (Phase 3)
Once your prospect has locked in their meeting time, all of your focus should be on carrying them through to completion. Appointlet will help them out by providing confirmation and reminder emails, including an .ics file that they can use to generate a calendar event. Gmail recognizes these files and paints a calendar event suggestion as part of the confirmation email, which they can add with the click of a button.

Step 4: Confirmation and Reminder emails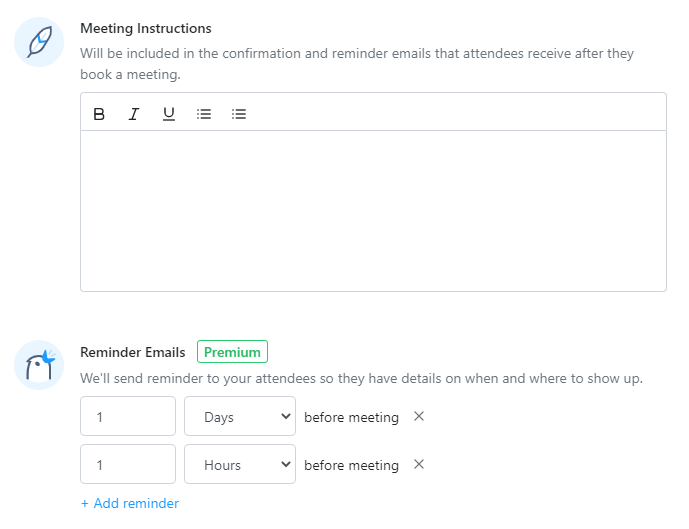 Appointlet lets you write custom reminder emails based on the kind of meetings that you're holding. Confirmation messages go out immediately, but you can control when and how many reminders you send out. It's generally a good idea to remind prospects of the meeting twice; one day in advance and a second time, one hour in advance, as shown above.
Step 5: The Sales Call
Once the sales funnel is set up correctly, you can count on it delivering qualified prospects to your sales team. Not only are they showing up to talk to you, but they've decided to do so based on value that they already received. This means that they have a legitimate interest in your services. At this point, the primary goal should be to listen to the prospect and translate your company's solution into their language.
At the end of each sales call, your representatives should have a place to take notes and keep track of progress. You may end up having several meeting types for sales calls, ranging from initial demos to longform discovery calls. Eventually, for the leads that convert into paying customers, you will want to have some way to log the stages of their journey.
This is why we recommend setting up a CRM (customer relationship management) solution that's compatible with Zapier. With a CRM in place, you can pass the booking data from these sales demos into a centralized database. Later, as the meetings happen, your sales rep will have a place to take detailed notes and account managers will have an easy way to review customer history.
Step 6: Customer Success and Retention
Congrats — your sales team has started converting leads into customers!
Now you need to make sure you keep them around. High ticket customers typically have dedicated customer success managers. These staff can live in the same Appointlet account and simply be assigned to a different set of meetings types. For example, you may set up quarterly business reviews as a service. With direct meeting links, your team can bypass the sales funnel content we've discussed and invite customers directly to a meeting with their CSM.
I hope that this has been an enlightening foray into the fundamentals of a high ticket sales funnel. If you want to learn more about Appointlet, sign up for a free 15-day trial and contact us with any questions you have about your scheduling scenario. Text support is available Monday through Friday during business hours. We look forward to connecting and doing what we can to get you on board!