We've all had those days at work where we tried to stay productive but only managed to stay busy. This is especially common when our to-do lists are overloaded and poorly organized. We end up bouncing from one task to the next and accomplishing a whole lot of nothing. 
Improving productivity isn't just a perk for companies. Clinical studies have shown that multi-tasking takes a toll on mental health and impacts work performance. It's hard to remain focused or happy when you're juggling several things at once. 
Fortunately, we've an inside scoop on the best productivity apps out there to help you get more done with less effort. Cutting out busy work frees up mental energy and improves your quality of life. 
Oh, and did we mention that productive employees earn higher wages?
Choosing the best productivity apps
The first step to recovering your wasted time is admitting that you have a problem.
No, this doesn't mean beating yourself up. You just need to get honest about where you should be spending less time. What workflows are the most costly to your productivity? Where is your company using outdated manual processes that could be improved by automation? 
Here are twelve productivity snags that companies often overlook:
Clumsy project management workflows
Difficulty with getting employees to practice effective time management
Taking notes on pen and paper, only lose them or have to transcribe them digitally
Scheduling meetings with back-and-forth emails or phone calls
Commuting to physical locations when a virtual meeting would be fine
Losing or forgetting passwords and wasting time in retrieval/support processes
Lack of integrations between existing software infrastructure
Sending emails manually when they could be automated with powerful templates
Using high touch customer support in places where auto-responses would more effective
Failing to use a social media inbox tool or schedule social media posts, and instead, sharing content and responding to messages manually
Wasting time building slideshows and designs with outdated tools
Doing tasks yourself that a contracted freelancer could do at a fraction of the cost
We've hand-selected over three dozen web and mobile apps to solve these very problems. In the following software overview, you'll get detailed descriptions on how each service works and the benefits they can deliver. Most of them offer both free and paid plans, so you can choose whatever works best for you.
Best productivity apps for scheduling meetings online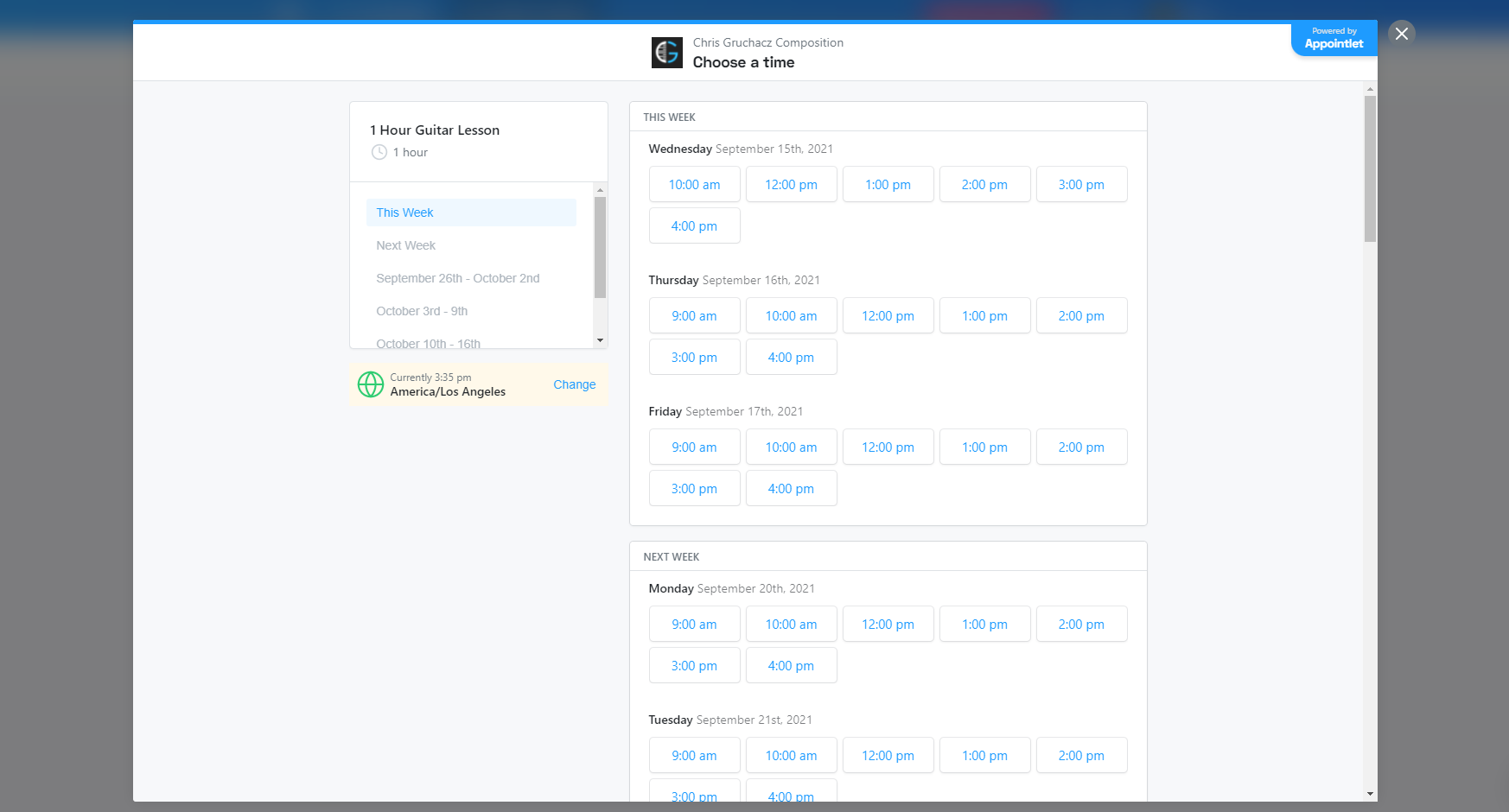 There comes a time in every business lifecycle where the number of meetings you want to take exceeds your ability to easily coordinate them. If you are someone who books meetings manually by asking people what times works for them, only to go back and forth several times trying to lock it in, then it's time to consider a more streamlined scheduling solution. 
Appointlet is the number one online scheduling tool for small and medium sized businesses who book meetings with clients. The web app makes it easy to set up your available hours, configure the types of meetings that you want to host, and share that with others. You'll get a simple link to email customers along with a scheduling page you can embed directly on your website. No more playing email ping pong with prospects, losing valuable leads, and frustrating your existing customers. 
People simply choose a time that already works for you, fill out an intake form, and Appointlet automates the rest. Both parties will receive confirmation emails, Google calendar or Office 365 Outlook calendar events, and optional reminders. Plus you can auto-generate unique meeting rooms for virtual web conferences on Zoom, Microsoft Teams, Google Meet, and a variety of other services.
Appointlet can support one-on-one bookings as well as groups. Need multiple staff from your team to join in on certain meeting types? No problem. Want to invite groups of customers to attend the same call? That's an option as well. 
Your team will love the advanced features, from round robin scheduling (ensuring everyone gets their share of meetings) to the Zapier integration for third party apps. Send your meeting data to a CRM like Salesforce, email marketing automation service, or any number of other programs. With state of the art data security protocols in place, you can join the hundreds of thousands of other companies that trust Appointlet to deliver safe and reliable service.
Rated best free online scheduling app, Appointlet offers a very generous free plan. You can try out the premium subscription with a 15 day trial and find feature comparisons on the pricing page. 
Best productivity apps for project management
As companies continue to move toward remote and digital work environments, classic collaboration tools like white boards are becoming less viable. Employees need access to a centralized space where roadmaps and project boards are visible to everyone on the team. 
Trello is an excellent project management tool for getting things done, especially with small groups that need more flexibility. You'll be able to implement a kanban board like a pro, without the physical sticky notes. You just identify the different development phases, from early ideas and backlogs to later stages of progress, completion and review. 
Each virtual sticky note can be loaded up with more information than a piece of paper ever could be. With Trello you can add photos, documents, and file attachments to each task. Your teammates can even add comments to existing tasks, to ask and answer questions as needed.
Best of all, Trello has a generous free plan so you can get started at no initial cost.  
Price: Free plan or $10/user/month
For mid-sized software teams looking for the best productivity apps to practice agile development, Clubhouse may be the perfect fit. This isn't your run of the mill to do list app. They offer a robust kanban style project management tool than Trello, with enterprise-grade features that still feel easy to configure and use.
With Clubhouse you'll gain the ability to organize your sprints into stories with better granularity than the single labels that you find on more entry level software. You can label stories based on point estimates, due dates, severity levels, etc. Plus you can organize the stories into greater sprints and epics to track progress as a team.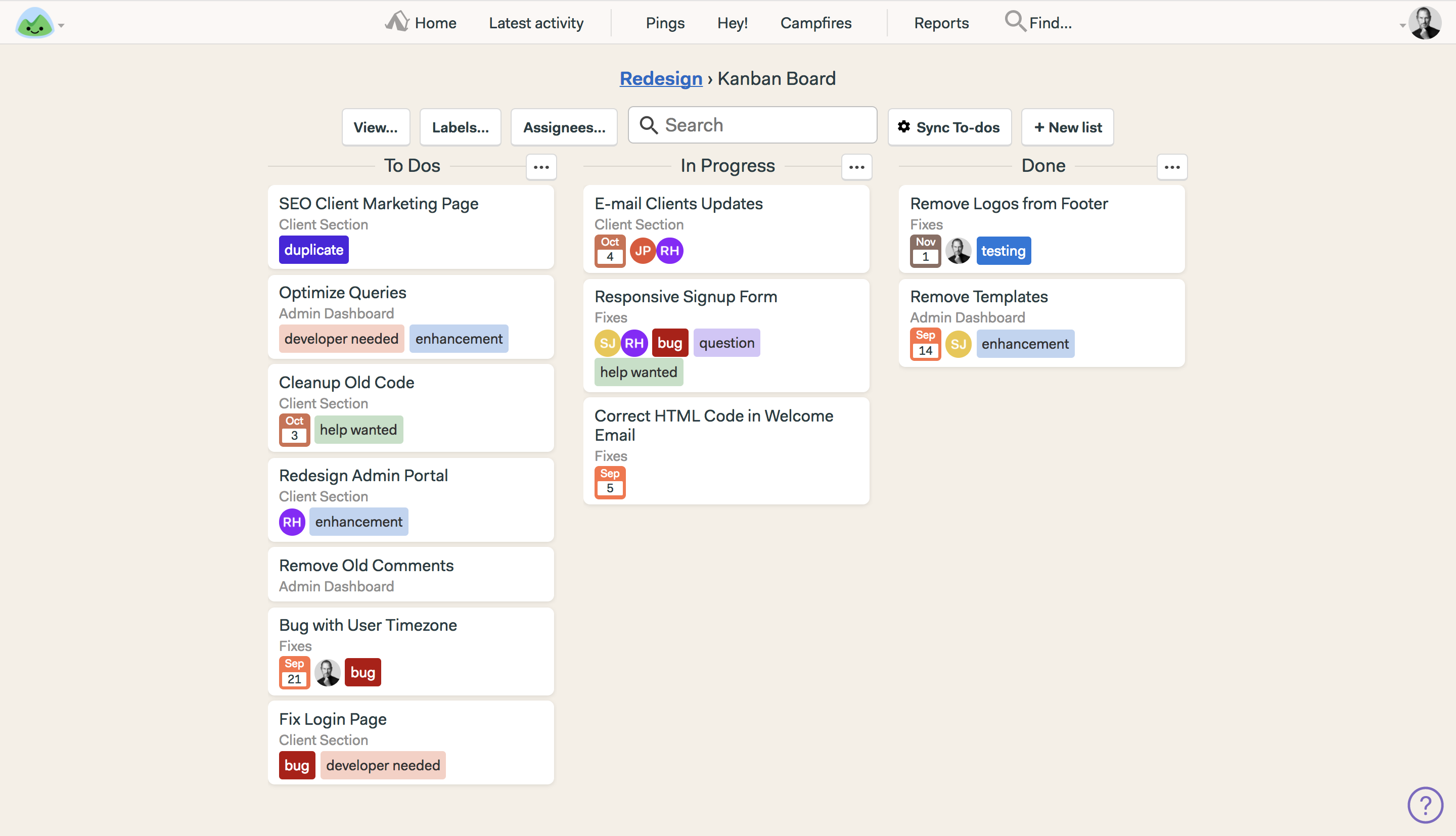 If your team has been trying to navigate projects through communication platforms like Slack or worse, through email chains, then you know how disorganized that can become.
As the company's name implies, BaseCamp is designed as a home based where your team can meet to organize disparate projects under one roof. Each of these projects contains all the information you need about the jobs to be done. That includes the team members involved, records of their conversations, important documents, file attachments, task boards, and so forth. 
It's easy to stay on top of project updates with BaseCamp thanks to their notification system. Team members can leave comments on tasks and tag you to improve visibility. But if those notifications are becoming a distraction, you can pause them or even schedule times during the day where you don't want to receive them. 
Project management can feel overwhelming in the sheer volume of tasks to be managed. So one of the first things we ever noticed from Todoist was their "zen" brand aesthetic. They make an effort to take a virtual environment and transform it from a place of stress to an opportunity for inner peace, with prompts like Start each day feeling calm and in control.
Unlike their competitors in the task management space, Todoist prioritizes the individual's experience. They provide time management tools that give you peace of mind and improve your quality of life at work. For example, you can schedule recurring events for yourself and identify subtasks to make sure that each step is completed. Set priority levels on everything, so you don't stress yourself out trying to cram everything in at once. 
Another way Todoist reduces stress in the work place is by making it easier to delegate tasks to other team members. You can leave comments and go back forth a bit within their platform to make sure the scope of the task is clear. 
Like most task management apps, Todoist includes a kanban board with adequate labeling and filter tools. They even provide productivity visualizers to gauge your team's progress at a glance. These optics are one of the main reasons we think it's one of the best productivity apps for small and midsized businesses.
If your team needs a series heavy-hitter for project management, look no further. Asana represents one of the gold standards in this space, with a feature set that goes way beyond kanban boards and simple todo lists. You'll find that their software takes special interest in productivity, with features like goal and sub-goal setting, a project timeline template, work request forms, integration with gantt chart software, and more . 
Product marketing managers can use Asana to monitor upcoming product launches with less need for an intermediary. Roadmaps and realtime progress provide a new degree of transparency that would be impossible if every department was compartmentalized in separate workspaces.  
Even HR departments, headcount planning teams, and hiring managers can use Asana to track recruiting workflows and onboarding stages for individual employees. As a highly scalable platform, we recommend Asana for bigger companies that need a unified solution. It works with all of the standard Windows and Microsoft tools that enterprise companies love. 
People want to tell their project's story, not just show its tasks. ProofHub is a modern online project management and team collaboration software that keeps teams organized, on track, and delivers projects on time. 
Boost your teamwork by using ProofHub's leading-edge features! With a wide range of innovative tools to make your projects super productive, this easy-to-use online collaboration software fosters teamwork and improves communication. Get planning, track time, and organize all the data in just a few clicks to boost your productivity. No long email threads and tiresome software installations.
It helps you manage projects, teams, and clients in one place. No need to search among different tools. It is simply an easy-to-use project management tool for everyone — no matter whether you are at the top or bottom of your organization.
ProofHub gives you the power of organization, planning, scheduling, discussions, and collaboration in a single platform. ProofHub not only gives you a safe space to organize your work but also helps you to keep it safe!
Best productivity apps for time management
Distractions and bad habits are two major factors that keep people from staying productive at work. They often come hand in hand. For example, social media notifications are a distraction and picking up your phone to check on them is a bad habit. RescueTime was designed to help you see just how much time you spend indulging those distractions. 
It's easy to set goals to break bad habits, but it's a lot harder to actually do it. That's why RescueTime introduced systems that not only monitor your use but also force you to reduce it. With FocusTime, you can actively block access to those distractions for a set period of time to make sure that it doesn't intrude on your workflow. 
Positive reinforcement is a great way to build new habits. RescueTime presents you with badges to let you know when you hit productivity milestones. It also deliver real time alerts on how much time you've continued to spend in places that you shouldn't. 
Tracking our own time can feel like a chore. When the goal is to save time, it feels counterintuitive to spend even more time watching the clock and measuring our own productivity. For companies that work in high touch relationships with clients, it's easy to let the human aspects of the relationship (like casual conversation) become a reason not to bill for work and value that's being delivered.
Toggl solves this problem with an app that makes time tracking fun and easy for your team. Companies have reported the recovery of thousands in revenue for billable hours that were otherwise being missed.
Here's how it works; whenever you start a new task in Toggl's time tracking app, you'll hit a record button to start the process. That task can be categorized using a tag system, so that it can be organized alongside the greater projects that it belongs to. When appropriate, you can attach the task to a specific client and mark it billable or non-billable. With the whole team onboard, you get improved optics on who's pulling their weight in terms of hours worked. That's why we consider Toggl one of the best productivity apps for companies that need help with time management. You can also check Toggl alternatives if you want to explore more options.
Hubstaff is a workforce management application that helps product owners track employee productivity and budget allocation. Unlike some of the more lightweight apps that focus on helping individuals overcome their bad habits, this software is designed to ensure productivity across an entire organization. A subscription will get you everything from employee time clocks for shift management, productivity calculators, payroll, and work hour limitations. 
With apps designed for web, desktop and mobile, Hubstaff is highly accessible for staff regardless of where they are. Individual tasks and projects are easily labeled and organized, with timing mechanisms that are easy for employees to use. 
Companies that have a vehicle delivery component will love the advanced features offered by Hubstaff. Employee routes can be tagged to include GPS tracking, so managers don't have to worry about lost or wasted time. Delivery destinations are geofenced and configured for flexibility, to accommodate situations outside the driver's control. This way your employees can be held accountable without being bound to excessively strict rulesets. 
Best Google Apps for Productivity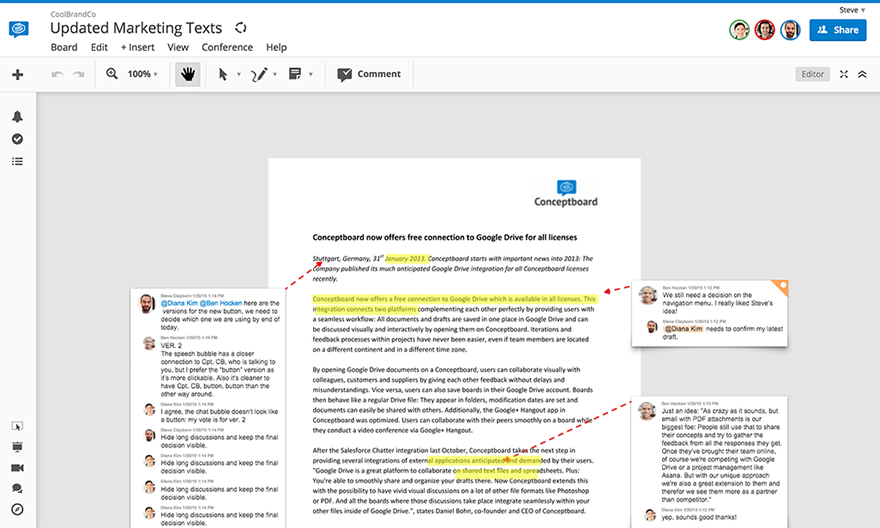 For those of us that grew up using word processors like Microsoft Word, it might not be obvious why someone would want to reinvent the wheel. But once you get a handle on the full range of features offered by Google Docs, it's hard to go back. From the convenience of cloud-based storage to options for team collaboration, this Gsuite product represents everything you could need in the modern business landscape. Plus it comes free when you sing up for a Gmail account.
Nothing kills productivity like sending document files back and forth with an editor. For professionals who specialize in the written word, Google Docs makes it possible to get instant real-time feedback from editors and coworkers. The app includes a comment feature, so people can highlight and give feedback on your content without awkward workarounds like color-coded text. 
Best of all, Google provides a Voice Typing feature so you can simply speak your ideas and let their state of the art voice recognition software do the heavy lifting. You'll save yourself time and the content will come out sounding more natural. Don't feel like reading the finished product? Google Docs provides a text-to-voice feature as well. It's like having a free secretary.
It's hard to overstate the value of Chrome Extensions in today's digital landscape. Software companies from every sector are building these browser extensions to augment their web applications and give people quick access to critical features. In some cases, companies are opting out of building a web app altogether in favor of an extension. You'll find some of the best productivity apps have created dedicated extensions like this.
From a productivity standpoint, you can save a lot of time when you don't have to log into an app. These small lightweight interfaces are designed to give you the bare essentials and nothing more. Located in the upper right corner of your browser, Chrome extensions can be pinned to remain visible or hidden as needed. You can turn them on or off and set permission scopes based on when you want them to be able to access your browsing data. 
For example, a scheduling app like Appointlet uses its Chrome extension to make scheduling links easily available to team members. This helps staff stay productive by providing resources with minimal effort. Meanwhile the advanced setup and configuration steps are left to the web app because they require more visual space and navigation.
As a Google product, you can use Chrome software on both Windows and Apple computers.
Best productivity apps for notetaking
If project management software is the essential productivity hack for teams, apps like Evernote are the equivalent for achieving personal goals. They give us a place to store everything from random thoughts to important meeting details. Rather than scribbling things down somewhere and losing them later (when you need them the most), you'll have a home base to keep your thoughts in one spot. 
The note taking space provided by Evernote resembles a card catalogue system. Everything you put in your notes is searchable. Even words that appear on images can be scanned by Evernote's machine vision components, so you can take screenshots and add them to your account for future retrieval. Browsing the web and taking notes is easier than ever with their web clipper features. Just highlight the sections of a webpage that you want to store and Evernote will annotate it for you. 
Available on Windows and MacOS devices, including iPhone and Android.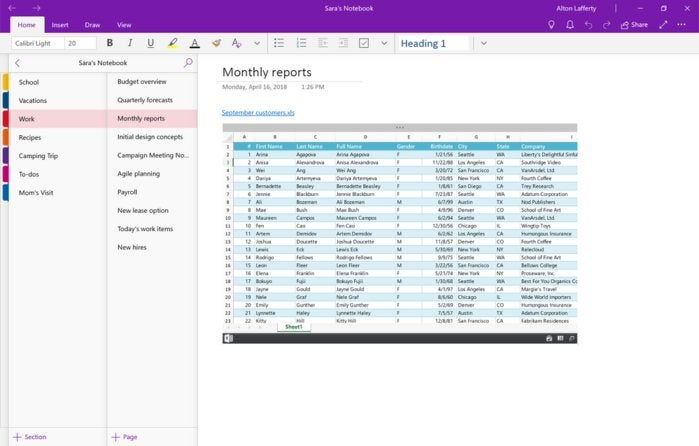 For business professionals working in the Microsoft Office suite, we recommend checking out their OneNote service. This digital notebook resembles EverNote in some ways but takes things to a whole new level with their sketchpad feature. Use a mouse or tablet to scribble down images or ideas during a meeting. As a collaborative team environment, you can share your text and drawings with other people in the company. They can even add to your illustration with more drawings or typed comments!
OneNote integrates with other Office suite applications, making it a perfect add-on for teams interested in syncing with Microsoft. 
Imagine a version of Microsoft word or Google Docs where team collaboration was prioritized. A place where you could embed folders conveniently within each document to drill up or down and find what you're looking for with minimal effort. This may sound like a small innovation but the impact of Notion's file structure on information access is a game changer. 
Notion's left-navigation menu makes it effortless to create dedicated workspaces and scope team member access as needed. Unlike traditional documents, each page can be used as a standard word processor but also as a home for subpages. These subpages can be leveraged in the same way to store text, images, and subpages ad infinitum. This proves to be far easier than a service like Google Docs where documents are more compartmentalized. 
Alongside classic word processing tools, Notion empowers their users with additional features like kanban boards, roadmaps, and calendars. Import excel files in CSV format and take advantage of an advanced feature set like column data types, conditional filters, and more. 
Bonus: Notion comes with desktop software on both Windows and Apple computers so you can use it even when you're offline. You can even load it natively on an iPad. Try the personal free version and you'll get a generous 1,000 content blocks at no cost. The personal pro version gives you unlimited file uploads and workspace guests.
Anyone who's been in the conversion copywriting game for a while should be aware of AirStory, a small but mighty app by copy guru Joanna Wiebe. This app is designed to make life easier for copywriters during their initial research phases. Rather than having several tabs open at once, copying important bits of text over into a separate document and then toggling back, AirStory allows users to highlight the text and move right along. 
Let's say that you are writing a landing page for a client and they need you to produce some copy that resonates with their audience. Joanna recommends that you identify what she calls the voice of customer in order to find the right words. You might go through existing customer dialogues, public reviews, or any other place where people have spoken about their problem and the solution. 
As you collect bits of text that are important to you, AirStory lets you tag and categorize them. This makes it easier to sift through that text later when you're ready to look for patterns. You might label the highlighted portions according to things like customer segment or demographic. This method is much easier than trying to keep track of all of this in a separate document or spreadsheet.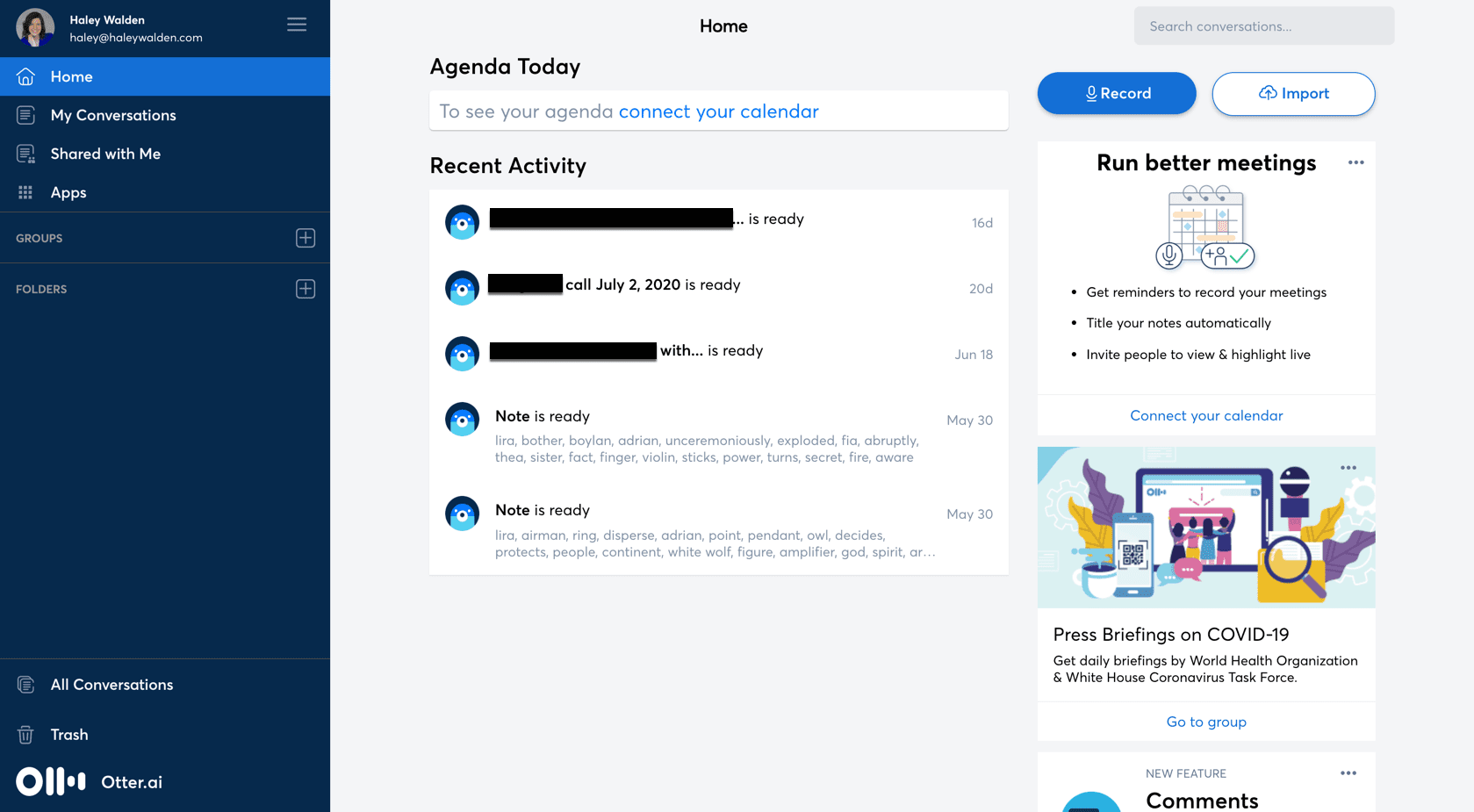 If your job requires that you take notes while speaking with clients or colleagues, Otter Voice might be the perfect tool for you to explore. Their app records your dialogues and translates from voice to text, so you can focus on the conversation at hand. If you're someone who records meetings and listens back to them later to take notes, Otter will save you time as well because you can simply scan the captured text and extract the parts that you need. 
Voice to text is already fairly common, but what really makes Otter stand out is its artificially intelligent voice-recognition feature. As you're speaking with someone, Otter can differentiate between the people speaking. When you assign that voice a name, it will generate a manuscript where the text is split up based on who was speaking. So rather than a giant block of anonymous text, you end up with something resembling a written interview format. 
When a conversation is done, Otter will scan the text and produce word clouds that represent the most common talking points. This can help you to pull out the key expressions and include those in future communications. 
Integrate with any of your preferred meeting tools including Zoom, Google, Dropbox, Microsoft products, and more. You can use the app directly from your destkop, iPhone or android device manager. 
Want to get members of your team together for lunch or some special outing? If you've tried before and it felt like herding cats, don't take it personally. It can be hard to get everybody to agree on a single time. To solve this problem, Doodle has created a unique piece of software that generates scheduling polls. So you can stay productive and focused on more important things.
When you generate a poll with Doodle, you'll begin by identifying the range of times on a given day (or set of days). With these parameters in place, the app gives you a dedicated link that you can share out to everyone who's invited. When they click the link and open the page, Doodle lets them select the times that would work best for them. This scheduling page works with all major calendar apps. You can load it on your desktop and cross-platform on iOS or Android, making it highly accessible regardless of where people are at. 
As the votes come in, Doodle will look for an overlapping time and date that everyone agrees upon. When that condition is met, an automated email goes out to all of the invitees confirming the scheduled meeting type. Doodle also has special functionality in place for scenarios where the team isn't able to reach consensus. 
Best productivity apps for business communication
You might be wondering whether a live messaging tool can really keep you more productive. After all, what could be more distracting than texting with your coworkers in a private environment? While it's true that chat rooms are potentially problematic, Slack actually provides a lot of resources to keep your team focused and productive. 
By setting up unique channels for each of your teams, you can use Slack to focus your conversations to specific topics. With its file sharing and hosting capabilities, small documents can be passed to each other on the fly. Voice and video calls are also supported.
Integrations with third party apps can help to centralize updates and improve visibility of important events for that team. For example, a customer support team might opt into slack notifications whenever a customer delivers a low NPS score. These optics make it easier for someone to stake their claim and follow up with that customer to offer high-touch support.
The app's cross platform availability on both Windows and MacOS helps it to rank as one of the best productivity apps on the market.
Though originally intended for gamers, Discord has quickly grown into a pet favorite amongst forward-thinking businesses. This trend has especially picked up during the Covid-19 pandemic as workplaces become increasingly remote. Dislocation creates a feeling of isolation that's bad for mental health. Discord makes casual messaging easier, improving employee morale and improving productive as a result.
The feature that makes Discord standout from something like Slack is their Voice Channel, which acts as a 24/7 meeting room. Rather than forcing a user to launch and close meetings, Discord innovated by creating the virtual equivalent to a coffee room. So if you need a break, you never know when someone else might be in a voice channel. Drop in, say hello, and if you're getting distracted then you can leave at any time without disrupting the room for others.
This app can be used on Windows and Mac devices.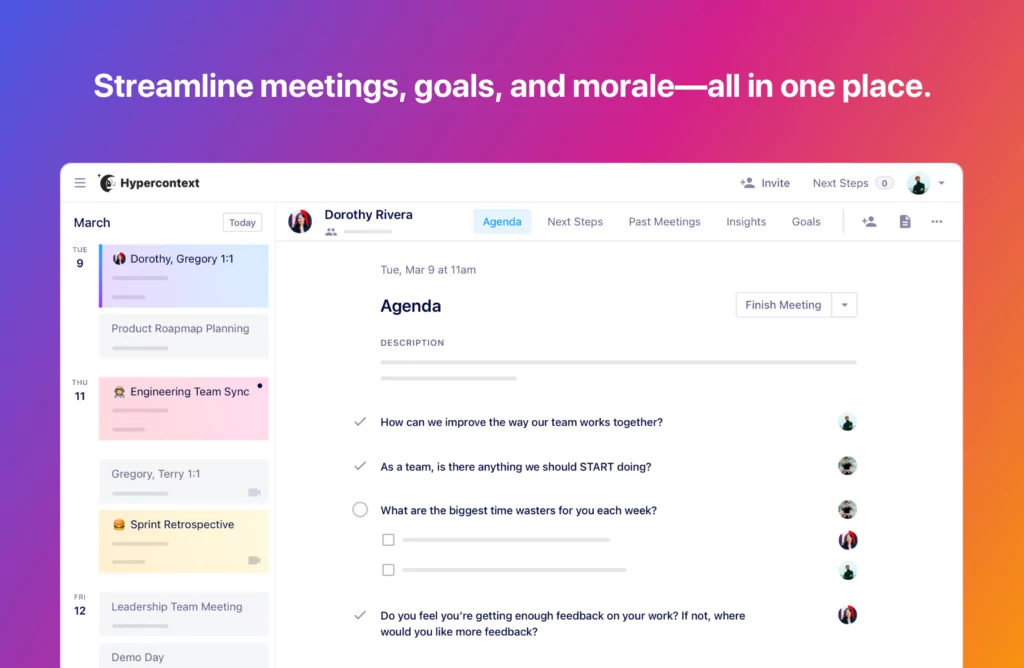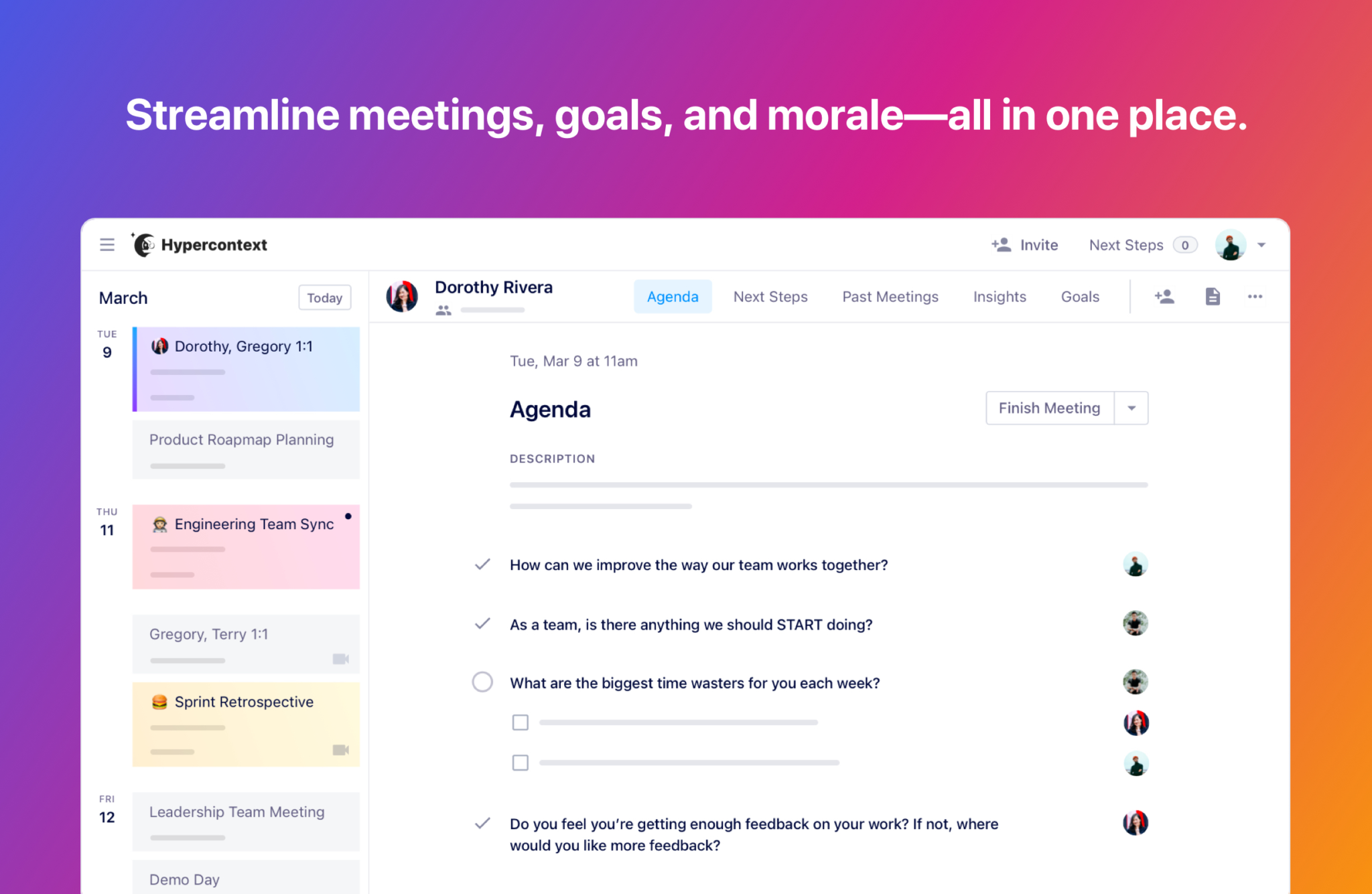 Not all communication should be asynchronous. When it comes to one-on-ones, team meetings, and staying aligned on goals, Hypercontext is an incredibly helpful tool.
Hypercontext is a solution that empowers leaders and their teams to be high-performing by combining quarterly goals, weekly meetings, and engagement measures in one place. The tool allows you to build shared agendas for one-on-one, team, and cross-functional meetings, access hundreds of tailored conversation starters, assign action items, and hold everyone accountable.
Hypercontext is a dedicated space for employees and managers to exchange feedback, document decisions, and track goals, all while driving engagement up across the company.
The best productivity app for password management
In an era where our privacy and personal finances are guarded by little less than an email and password, it's very important to take precautions. Using the same password for long periods of time or sharing them across services is not advised. If your login credentials for your bank are the same one you use for a lower security site, a compromised database could put you in serious danger for identity theft. 
LastPass helps mitigate the risk significantly by auto-generating long, complex passwords and storing them securely under a master account. This ensures that every site you're on has a unique password from the others. With the Chrome extension installed, LastPass will let you autofill the passwords so that you don't have to go through the hassle of opening up a spreadsheet and manually copying them over. 
Aside from the convenience of generating, storing, and accessing passwords, LastPass also allows you to share access to an account without exposing the password. So if you need to grant someone access to an account temporarily, you can use LastPass to do that and they will never see the actual password. Within your LastPass vault, you can organize your passwords into folders, making it easier to scan through them at a glance and make updates when needed. You'll even have the option to store and retrieve other sensitive data like credit cards. 
You might not have been thinking of password workflows as a source of lost time, but once you install LastPass and start using it, you'll recognize that it's one of the best productivity apps you have in your arsenal!
Best email automation software 
Email has remained one of the primary channels for customer communication in the current digital landscape. So for companies that want to maintain and developer relationships with their audience, email automation is essential. Without a service like MailChimp, it would be almost impossible to scale up outbound emails or keep track of their performance. 
Any time someone joins your email list, MailChimp provides solutions for funneling them into the appropriate campaigns. So if they visit your site and join the newsletter, they will be placed in one campaign. But you may have a separate email series designed for people who abandoned your e-commerce shopping cart. You don't want find themselves receiving the same messages that a paying customer does. Automation from a service like MailChimp ensures that your emails arrive in the right place and at the right time.
Want to send out personalized emails en masse, but save on some of the costs associated with heavy duty services like MailChimp? EmailOctopus offers an affordable, lightweight workaround with most of the important features that you need. You can create one-off campaigns and upload an email list, create custom designs and schedule its release date. Once an email has been sent, wait a few days and you'll have access to core analytics like send, open, and clickthrough rates. 
Wrap Up
We hope you've enjoyed exploring this overview of what we consider to be the best productivity apps of 2021. What are some of your personal favorites? Let us know in the comment section!