The rise in remote learning has challenged and transformed our global education infrastructure this year, driving teachers and instructors to find effective ways to host lessons online. Despite Zoom's dominance in virtual education at schools and universities, the software leaves a lot to be desired. Zoom was never designed to serve the special requirements of teachers and students.
Here at Appointlet, we host many kinds of educational organizations, from private tutors to K-12 and University programs. Schools use our software to schedule everything from parent teacher conferences to college advising sessions. But we wanted to extend a hand directly to our educators who are trying to redesign their lesson plans around the remote learning environment. Screen sharing isn't always enough for a successful class. Sometimes you need more. And we wanted to help you find that tool.
After evaluating the options that exist for educational video conferencing, we settled on Lessonspace. Hundreds of thousands of teachers around the world use the browser-based video and whiteboard tool to conduct their online lessons. We are confident that their lesson hosting platform will deliver everything a teacher needs in order to be successful during live sessions.
Hosting online lessons with Lessonspace
When students schedule a Lessonspace meeting with you, they'll receive a confirmation email with a "join meeting" link. This means all they have to do is click a button to attend class. Plus you can set up reminders to ensure they don't forget to show.
Just like Zoom and other web conferencing tools, you can use Lessonspace to host video meetings with one or multiple guests. But unlike Zoom, the conference rooms come with special resources that make it easy to collaborate and problem solve together.
Collaborative features like whiteboards and shared editors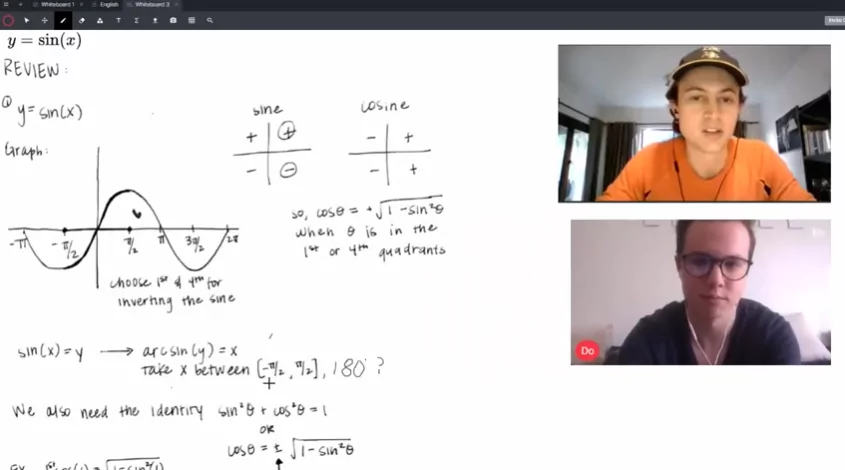 Lessonspace provides more than just a whiteboard to draw your ideas out. Each room comes with a large drag-and-drop database of imagery to pull from. In the image above, a math tutor is describing a technical problem using pre-rendered imagery. So while you do have the option of drawing out concepts manually, these image resources can save you a lot of time. Filter through the images by subject to find what you're looking for quickly.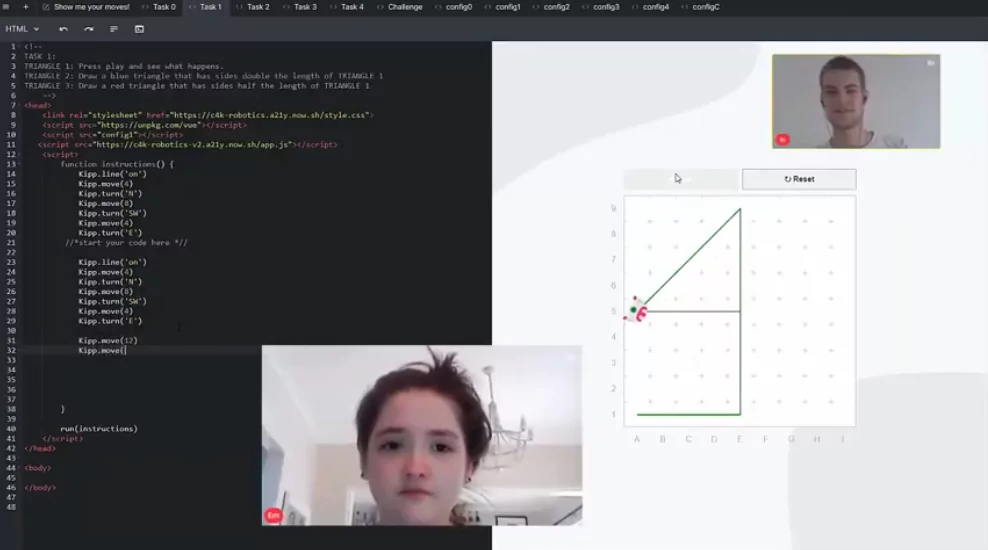 Lessonspace lets participants collaborate on computer programming problems and watch the results displayed in real time. For language and writing students, you will find an advanced text editor similar to Microsoft Word or Google Docs that lets you prepare essays and other forms of written content.
Even if you're working with younger students or hosting classes with a group of children, Lessonspace can be a great option. You don't have to use the whiteboard features. Try out the video screenshare mode and get an experience closer to a standard zoom call, but with better teaching resources.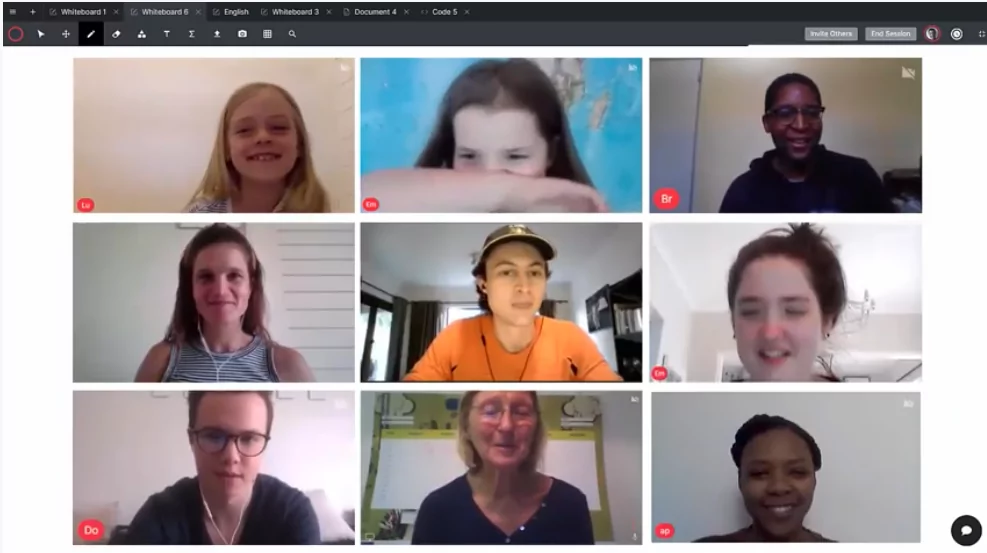 Classrooms that stick around after the class is over
Unlike Zoom, where each meeting disappears when it's over, the lesson space you create for a student will persist and retain all of the content within it. This means that any notes you take together are stored with a unique URL and they can access it any time. When they're preparing for a test or brushing up on a concept, the whiteboards will be there as a student learning resource.
Our goal at Appointlet is to help you make sure students know where and when to show up. Lessonspace aims to make sure that once a student does show up, the retain access to their educational materials. Here is a list of features to summarize the perks of using their service:
One-click connect web conferencing. 
Teach 1-on-1 or 1-to-many students in a live online class.
Access hundreds of free subject-specific resources from the Resource Drawer
Upload PDFs, import pictures, share homework.
Create graphs, equations, draw and annotate.
Make lesson plans, notes and keep track of students progress.
Recording and playback of online lessons.
In the next section we're going to focus on how to set up this solution for your business.
Configuring your web conference in Appointlet
Why go back and forth coordinating times with students when you could send a single link and let them choose a time that works for both of you?
If you don't already have an Appointlet account, please visit our website to sign up. We provide resources to guide you through account setup, including the creation of member profiles. In our system, Members will refer to the people in your account that are hosting lessons and classes. If you're using this as a solo instructor, you will have just one member profile.
Log into your Appointlet account and opening the Meeting Type editor. Then navigate to the Location section. In this tutorial we will select "No Location Specified" so that we can add a custom web conferencing link.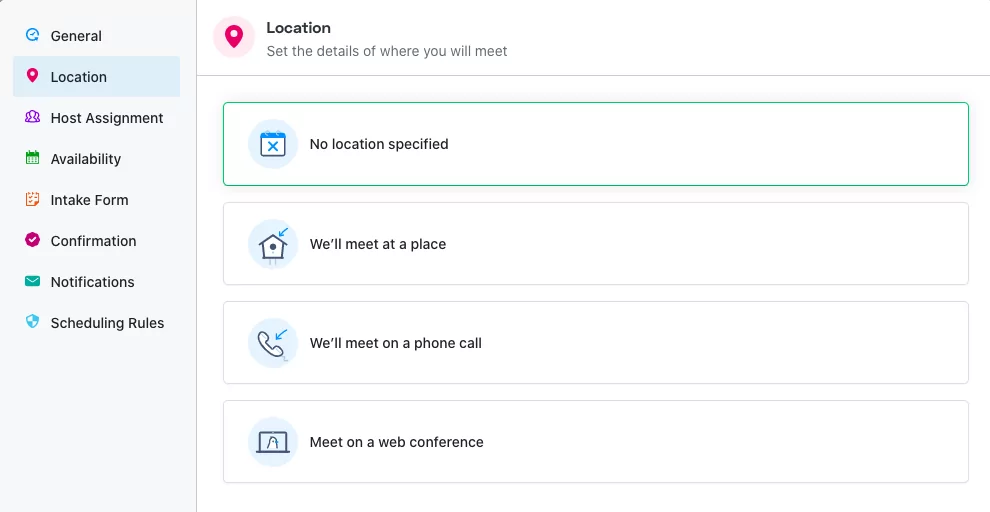 Next, open the Notifications tab. This is where you will share your LessonSpace meeting URL so students can access it directly from their scheduling confirmation page and email notifications. Write a message in the Meeting Instructions area indicating that the meeting will take place using the link, and paste your URL.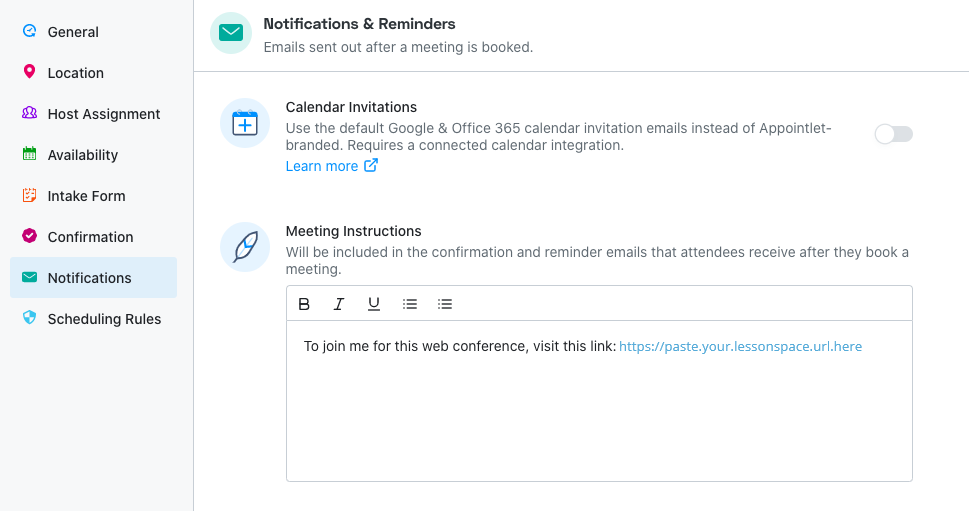 From here, all you need to do is share your scheduling page with your students and they will receive all the information they need to access the meeting.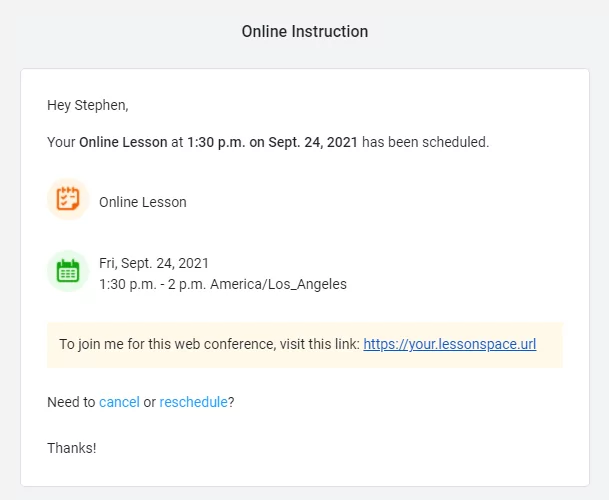 If you already have a Lessonspace account and need a refresher on how to access the link to your Space, see this article.
We recommend using this static meeting room URL as an entry point for all students. It will serve as a waiting room or primary classroom, depending on your needs. Lessonspace makes it easy to create a second space and transfer the student into it when you're ready. This same technique will work if you're managing a class with multiple students.
Save the web conference URL and then save your member profile as well. This will ensure that updates take effect for all future bookings. Now when students schedule a time with you, they'll get an email invitation that takes them directly to your Space.
As you implement new solutions like this, we always recommend checking in with students to see how they feel. You can do that manually during your sessions or set up automation to collect that feedback via email.