Looking for new ways to engage your audience and grow your mailing list? Whether signups are slow or campaigns have been underperforming, one of the best ways to boost subscriptions is with a customer-first approach.
Too many websites ask visitors for contact info without offering anything in return. Don't be one of those websites. If you want people to share their email with you, be prepared to offer up some clear value in exchange. Remember, the more value you offer up front, the more information you can request over time.
Using gated content to attract subscribers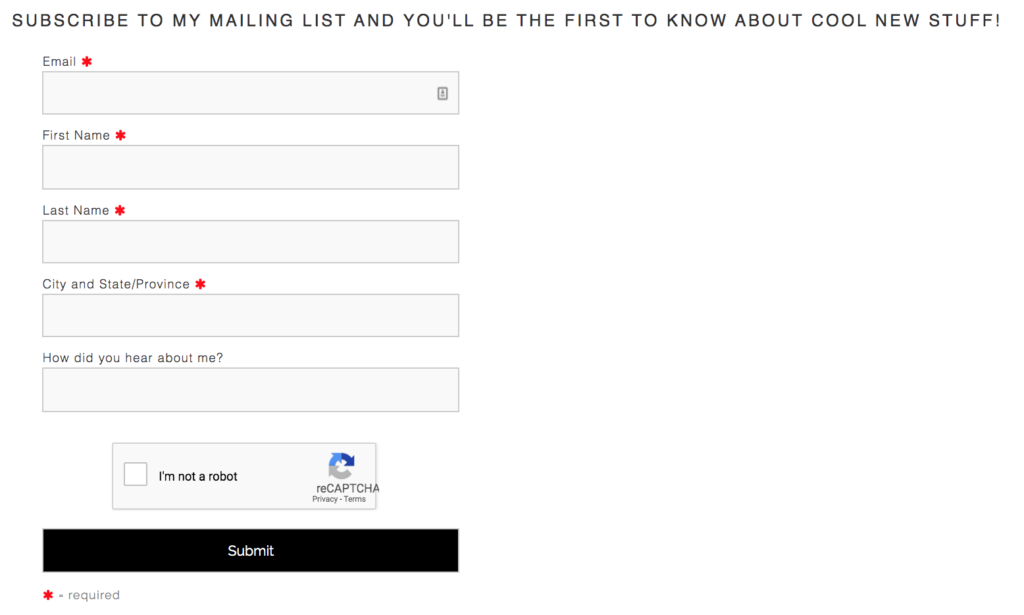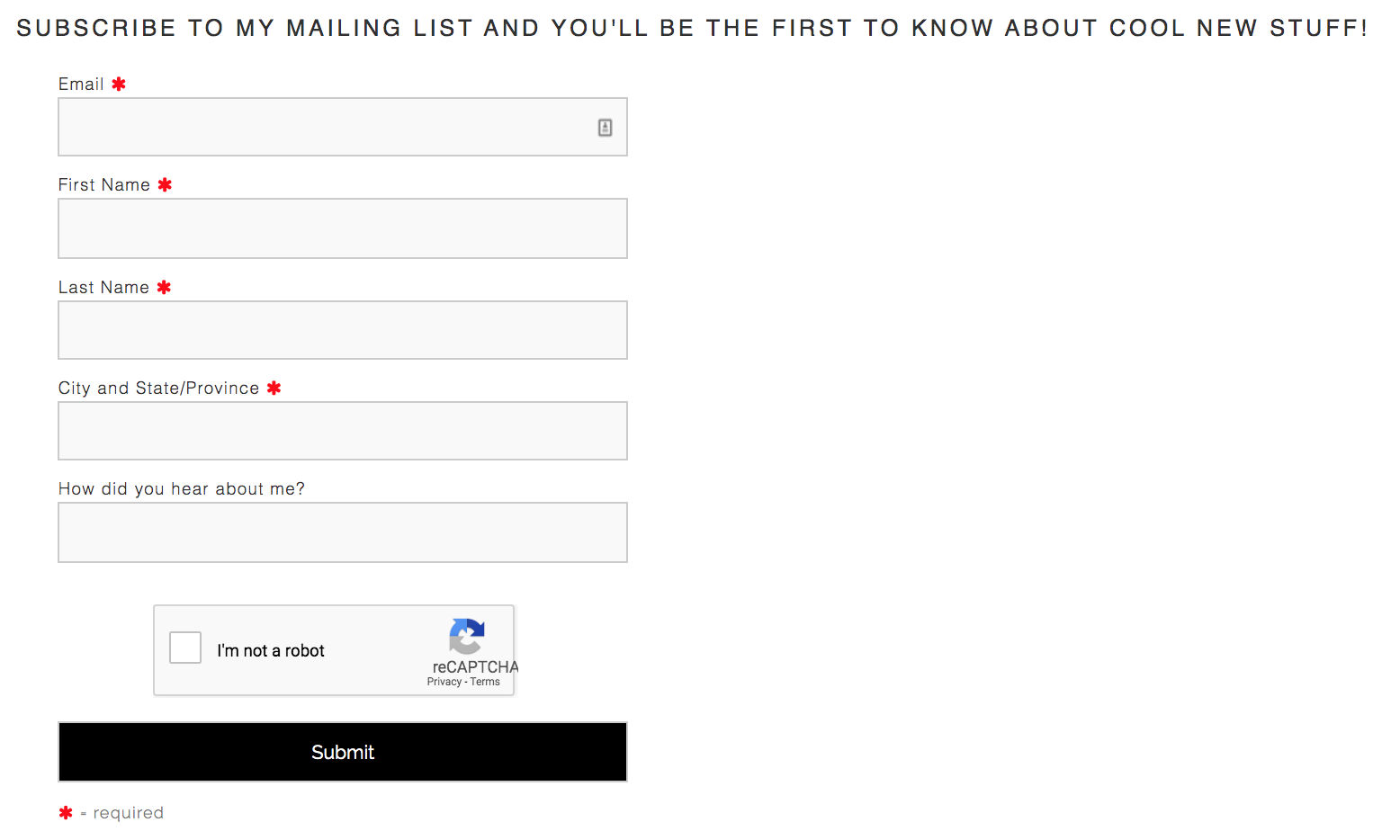 We've all seen a generic web form like the one above. The header reads "subscribe to my mailing list" and it promises updates on "cool new stuff". Visitors have no idea what to expect, so there's little reason to subscribe. This passive approach to marketing is not likely to yield the kind of results that you're looking for.
Many successful companies solve this issue by producing quality digital content and sharing it online for free. It acts as digital marketing material, attracting people to their site and encouraging new subscriptions in exchange for access. Hubspot uses gated content in precisely this way. Their ebooks and definitive guides are written with SEO training to rank at the top of search engine results. People coming from Google are eager to fill out Hubspot's subscription form, just to access the free educational resources. For example, there's no doubt that HubSpot's content marketing strategy is one of the leading examples in the marketing space.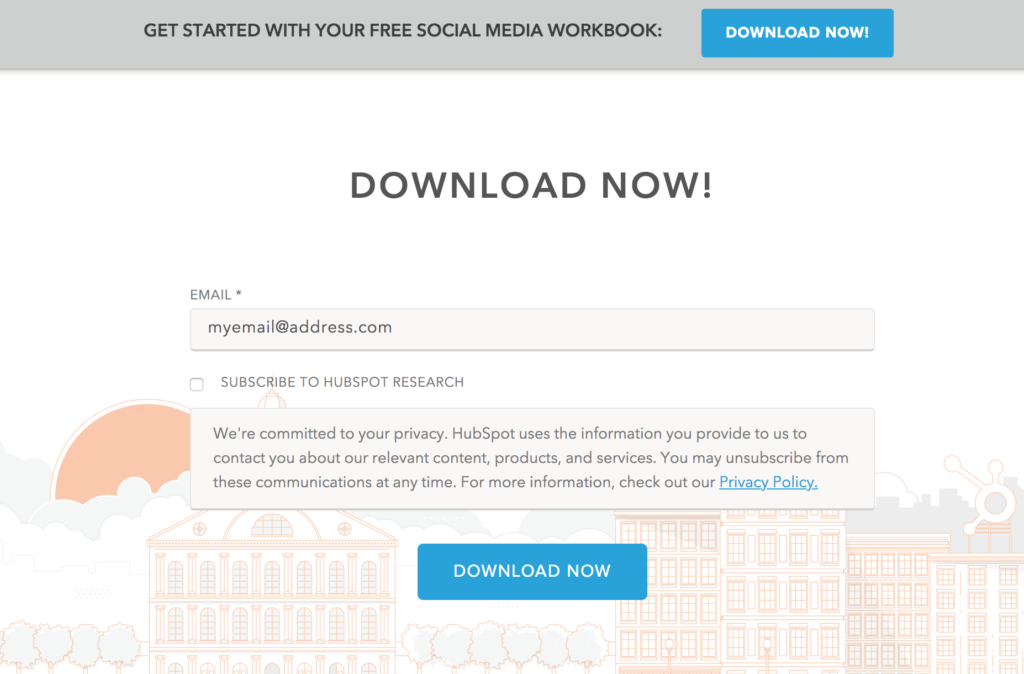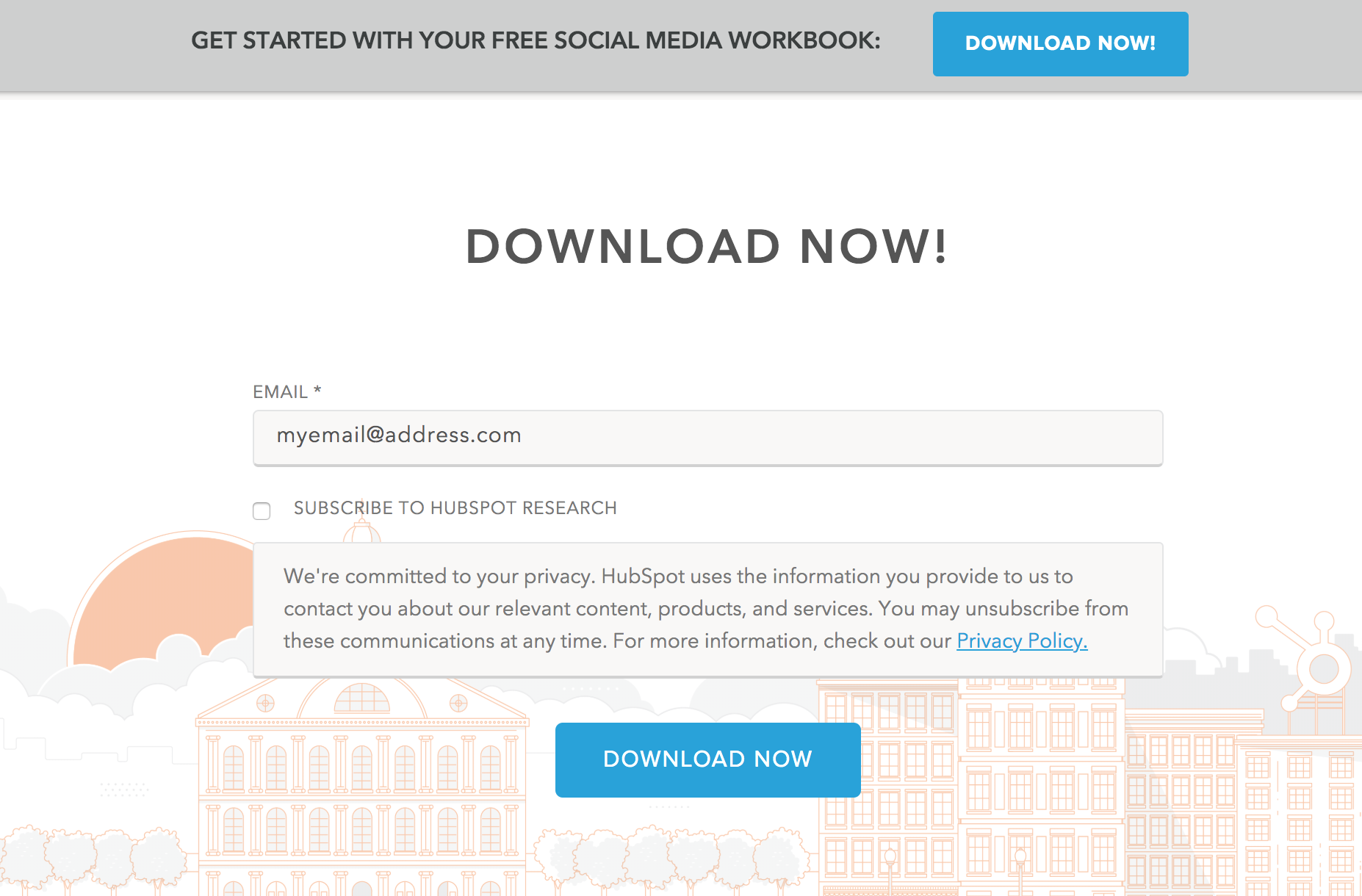 Again, the key to growing your list is delivering real value. Hubspot has invested heavily in data-driven articles with real industry knowledge, because that's what their audience wants. A lot of this content is considered evergreen, meaning that it could live on the website for years and continue to bring a steady flow of traffic. In this way, the material both attracts people to the site and also engages them through subscription.
Sales demos can drive subscriptions
We've covered the value of gated marketing content, but I want to point out a second approach to web forms that many companies neglect. This high touch sales demo technique can have measurable, positive impact on your subscription rate, but will require that you offer some form of direct personal connection to your visitors. This is almost always handled by free consultations and sales demos.
Does your company have a dedicated sales team? If yes, how are they currently scheduling demos and consultations? If you have a registration form on your website, does that form data currently get passed into a mailing list or CRM? If the answer was yes to all three, then you're looking good!
If you're not familiar with online scheduling, we've created this landing page of a sales demo at a make-believe company so you can try it yourself.
Many companies land somewhere in the middle, between having no public registration available for sales demos and having a fully integrated data flow into an email list management service.
If you are still in the process of setting up a sales demo registration form, we recommend you start by identifying your ideal customer persona. What are the key indicators that your product will be a good fit for your lead? It's standard to request a name, email and phone number on your registration form. What other key information can you request, to help determine the lead's qualification for a sales call?
For example, a small to medium sized software business might ask to know the applicant's company size, to evaluate product market fit. They might not be ready to accommodate massive enterprise operations, so a company size of 1,000+ could be disqualified. Your company should identify its key lead qualification metrics and use the booking form to collect it from applicants.
By offering your time in exchange for the visitor's information, you make a clear value proposition. That generosity is likely to attract a range of applicants, some of whom will not be qualified. Fortunately, you can turn on manual confirmation, allowing your sales team to choose which calls they accept or decline.
Additionally, all of your booking data can be configured to flow directly into your mailing list. This way you can retain contact with everyone who reaches out. Even if a lead is initially disqualified by the sales team, they can stay engaged with newsletters, promotional offers, etc. They also have the option to unsubscribe at any time.
Connecting Appointlet to Mailchimp with Zapier
Setting up a scheduler and connecting it to an mail list manager is actually quite simple. The solution we offer in this article uses a booking page hosted by Appointlet, a free mailing list from Mailchimp, and a free Zapier account.
Note: If you use an alternative mailing list manager, check Zapier's collection to see if the application is supported.
Here is a quick step-by-step overview of how the solution is configured:
Step 1) Sign up for a free trial of Appointlet. Configure your account so that the booking page displays your correct availability.
Step 2) Use Appointlet's embed script to share a "book now" button on your website.
Note: You can collect all form data via the booking page we provide. However, if you prefer to collect some info in advance, you can pass that data into appointlet to pre-populate the form.
Step 3) Sign up for a free Mailchimp account if you don't have one already. Create a new campaign and test with at least one subscriber to confirm that it's working.
Step 4) Sign up for a free Zapier account and use it to connect Appointlet to Mailchimp. You can set up a simple two-step zap as shown in the following screenshot: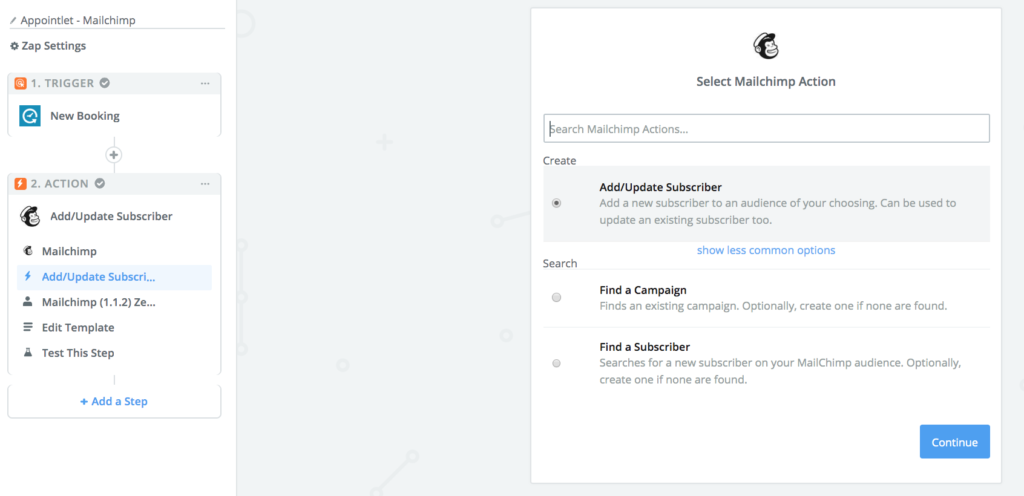 When someone books a time on your website, Zapier will pass the booking data to Mailchimp with instructions to Create (Add/Update) a Subscriber in your list of choice. Once you turn this Zap on, the data transfer will be automated and you can watch the mailing list grow. In case you were wondering, here is what the mailing list interface looks like over at Mailchimp: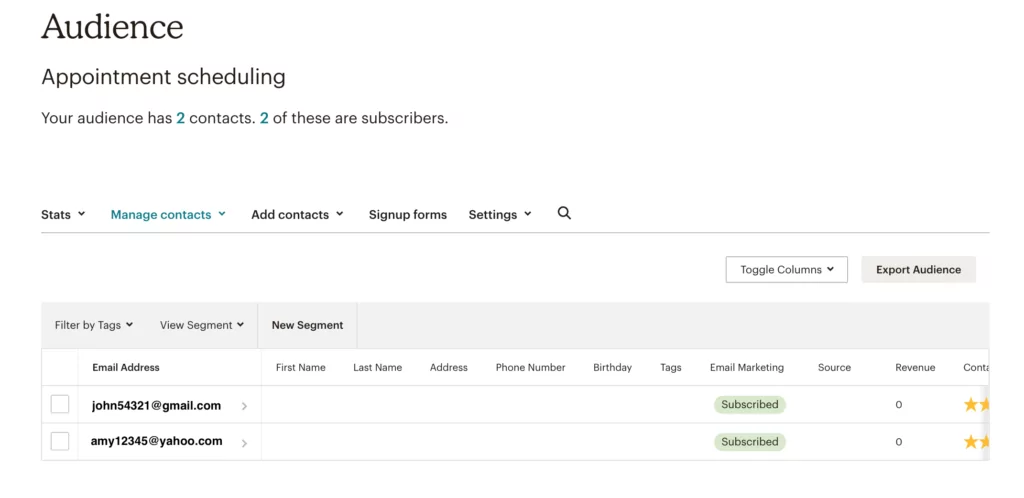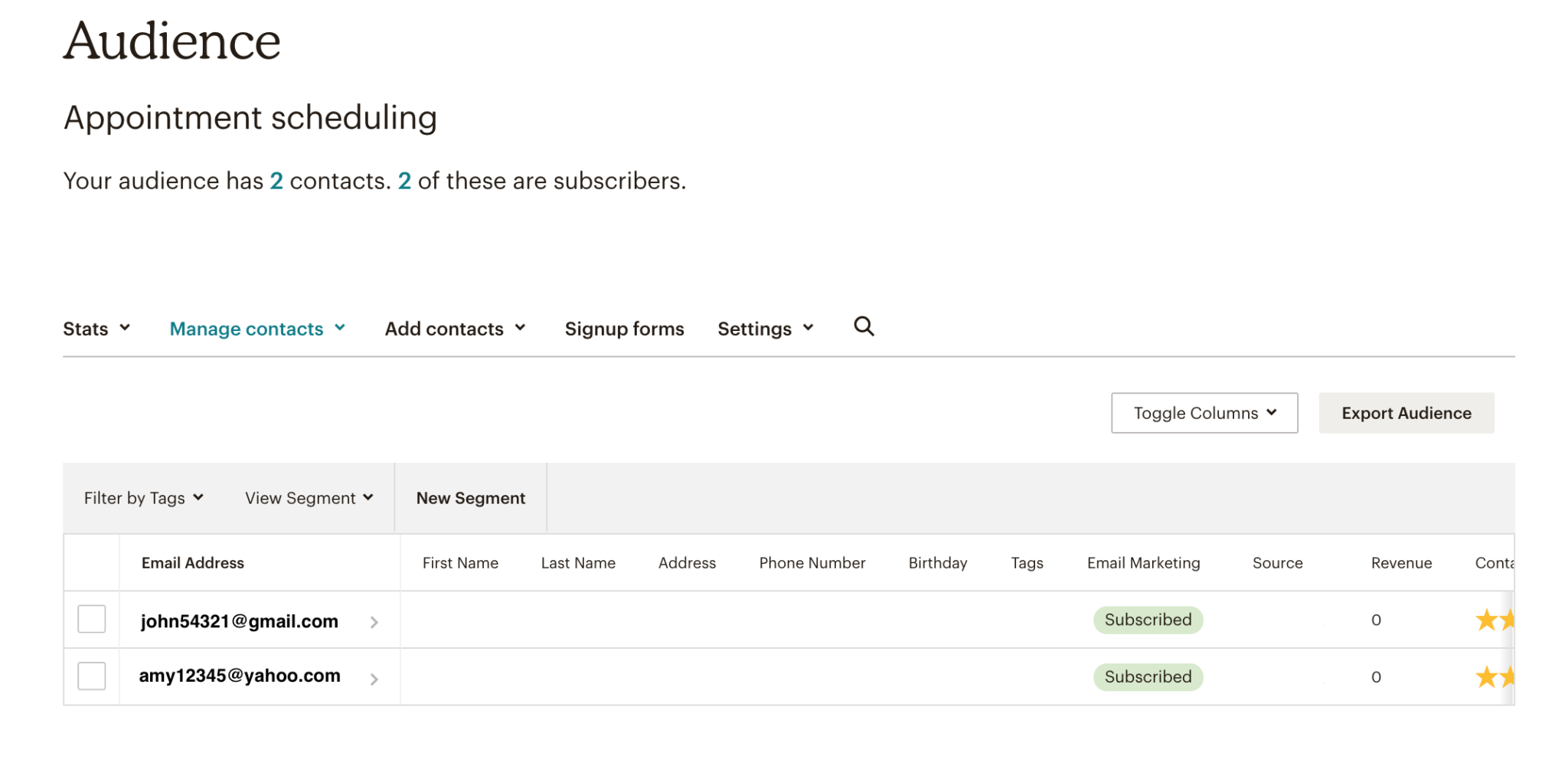 Eyeballs + Engagement = Success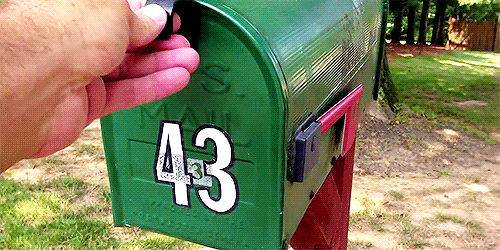 Now that you have some good techniques for growing your mailing list, make sure that the email campaigns themselves are worth reading! Run A/B tests on your email titles and measure their performance. Keep trying things out and see what sticks. Ask yourself, "If this showed up in my inbox, would I open it?"
You can count on high quality email campaign content delivering a return. A study from 2018 showed that 98.4% of people checked their email at least once per day and 33% checked it constantly. Having enjoyed a strong, positive first impression from your ebooks or sales demos, subscribers are more likely to listen when you send them a message.
Interested in the idea but still want to learn more? Check out this article on How to Connect Zapier to Appointlet or visit our website directly.