Time management tools are essential if you want to stay productive in the modern workplace. There's always another article to read, social page to scroll, and text message to send. But the right kind of software can help keep you on track despite all the surrounding distractions.
Even business related activities can turn into unnecessary busy work. According to a report by Harvard Business Review, an average employee spends 28% of the workday reading and answering emails. How essential are all of those emails?
With the growing presence of artificial intelligence, it's become easier than ever to manage meetings, emails, organize tasks, projects, and a whole lot more. All of these are possible with highly efficient schedule and project management apps.
This article lists the top 8 time tracking tools so you can streamline workflow and focus on what's important – generating revenue. Before getting to the list, here are a few useful insights on the best task management options!
What Are The Best Time Management Tools?
With so many time management apps on the internet, picking one can be downright challenging. To help you out of this dilemma, this article gives you a checklist of the features that make the best time tracking tools.
An effective time management tool will definitely have:
A real-time tracking feature, comparable to a built-in stop watch.
Similar features to a project management tool, such as task lists, chatting, and comments sections.
Automation features to help with scheduling meetings and sending out monthly emails, etc.
Integration with other useful platforms and productivity tools.
Browser extensions may be available for quick access to core features
Compatible with multiple devices and fosters other functionalities like multitasking.
This is just a short list of the features you can expect to find in the ideal time management tool. But at the end of the day, you'll have to be the judge of what works for you.
The best time management software is ultimately about finding the app that fits your specific needs. It depends on factors like your device, pricing, work size, supporting platforms, integrations, and so forth. Have a look!
Things To Consider While Choosing Time Management Apps
Work Size
One of the primary factors to consider when choosing the best time management app is your scope of work.
For example, freelance contractors can make decisions based entirely on what works for them. Since time management is closely related to how they get paid, contractors might prefer an app that includes billable time and reporting features.
Teams can vary in size and those differences can make a big impact. For example, are you a small business with a few team members? If so then you may be operating on a tight budget and need to patch together the best time management strategy you can, using whatever tools you can find.
Or you may be building out operations management at an enterprise company with a nearly unlimited budget. In that case, you could try niching down and finding a more expensive but fine-tuned solution for your team.
Devices and Platforms
The type of work you do says a lot about the type of devices you and your team will tend to use. If your job needs you to work away from the office at most hours, you might rely heavily on a smartphone for communications.
The good news is, there's no shortage of time management mobile apps for iOS and Android. In fact, most mobile devices include a native calendar and stopwatch apps, both of which are valid ways to improve time management!
On the other hand, mobile apps can run up against problems like ease of use. Some mobile apps have a limited feature set compared to their web app counterparts. So if you can do some time management work from the office, choose a tool that works best on a desktop to gain access to even more options.
Subscription based cloud services have become the new gold standard for time management tools. But if you're looking for software that can be installed locally on your company's network, be sure to check for availability on Windows and Mac.
Integrations
Small apps like a stopwatch or time keeper may be fine for simple time tracking. But the more robust time management tools typically offer integrations with other apps. This can be helpful in scenarios where your personal time tracking outcomes need to be plugged in to a greater team management tools. For example, time tracking apps that integrate with Zapier can send productivity data to Trello, Asana, and so forth.
Alternatively, you might decide to connect your time tracking to client information using CRM software. This can improve workflow around invoicing, emails, and other customer tasks.
Features and Functionality
So what are the features you look for in an ideal time management app?
That's the main focus of the article, so we won't spoil things to quickly here. But let's just say, you should definitely look for things like the option to generate reports, time invoicing, syncing with your calendar apps, and have time zone support. Apart from these, the app has to be easy enough to use for you and your team members. The core features of your time management tool should align with the other important tasks in your business.
Budget
You probably know what your budget is, more or less. Depending on your business type, you'll probably need to establish a limit for what you can spend on software. Make sure the option you choose aligns with what the team can afford, based on a monthly or annual cost plan. Most tools offer a few of their features for free – they might prove to be more than enough!
Best Time Management Tools 2021 – Quick Overview
Toggl for tracking time, scheduling, and managing projects at the same place. Best overall time and project management app for businesses and freelancers.
Trello for managing important tasks in the best visual manner. Best time management tool for task management.
Appointlet for smart scheduling and integrations, including payment collection. Best time management tool for scheduling meetings and calendar integrations.
Asana for streamlining teamwork, managing projects, and analyzing progress. Best time management app for team collaboration and automated project management.
Evernote for creating ideas and notes with texts, images, and documents. Best time management tool for personal work organization and note-making.
Google Calendar for adding calendar events manually and automatically, with images and tags. Best scheduling tool for managing events and meetings.
Todoist for to-do lists, delegating tasks, and organizing schedules. Best tool for creating task lists and team collaboration.
Slack for discussions, management, integrations, and communication. Best project management and team collaboration tool
SocialPilot for social media management and social media analytics. Best time management tool for marketing agencies and marketing consulting firms that want to cut down their time and efforts by easy social scheduling.
Best Time Management Apps Reviews
Toggl
While integrating multiple apps helps streamline workflow, getting all of those features in one software is definitely easier. Toggl offers multiple ways for teams collaboration, scheduling tasks, keeping an overview on projects, time tracking, and more in one place.
Thanks to its products like Toggl Track and Toggl Plan, you can track your campaigns, monitor workflow, and unite the team. It is certainly like a marketer's dream management app.
Another feature that makes it stand out is the Pomodoro technique. This is one of the best productivity tools that also help you time projects. Now, if you are working on a billable project, you can enable this feature on Toggl Track and make invoicing an easy task.
Apart from that, its amazing features let you connect with other useful tools, including Slack, GitHub, Trello, and Google Calendar. Moreover, the Google Chrome and Firefox extensions are like frosting on the cake.
Overall, Toggl is a pretty helpful tool with an easy interface. You can use it with macOS, Windows, iOS, and Android.
Pricing: $9 per user/month for Teams and $15 per user/month for Business
Trello
Trello is your go-to tool to track your team's work closely. From assigning projects and working with deadlines to having a quick view of the progress, it is ideal for project managers.
It is a visually attractive project management tool that neatly arranges all the ongoing and current tasks on a dashboard. You can create countless task lists, share images and files, updates through comments, and organize lists by priority.
The best thing about Trello is its countless integration options. You can connect it with apps like Clockify and Toggl Track to track time on the board itself.
With color backgrounds, taskbars, and profiles displaying each team member's to-do lists, Trello is one of the best visual task management platforms. Plus, it comes with a whole lot of attractive, ready-to-use templates you cannot resist.
Its descriptive cards, drag and drop options, and simple interface make the tool extremely easy to use. Besides, it is available on all devices and systems, including iOS, Android, macOS, and Windows.
You can also enjoy a 14-day, no-credit-card free trial to check out how well Trello aligns with your time management goals. However, if you are looking for a complete project management tool that allows you to have complete control over large and complex projects, customize workflows as per your needs, and have real-time project discussions, you can try a tool similar to Trello, such as ProofHub.
Pricing: 12.50/month for Business class and 17.50/month for Enterprise
Appointlet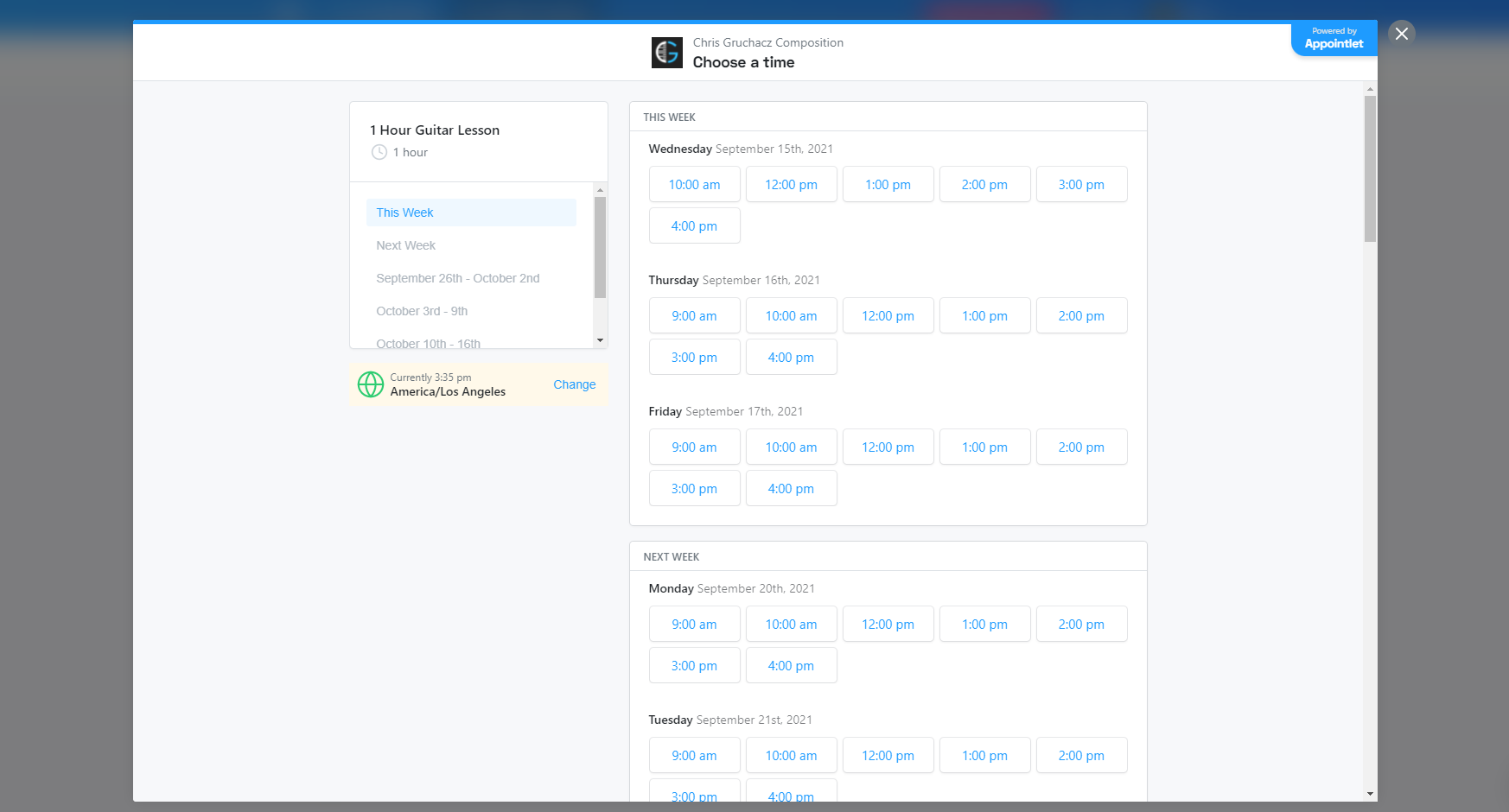 What does appointment scheduling have to do with time management?
According to Adobe's survey, professionals spend 3.1 hours per day checking and responding to emails. That makes it almost 15.5 hours/week and 20 weeks a year! That's a pretty shocking figure. A big part of this inefficiency is due to unnecessary back and forth emails.
Appointlet's automation features can significantly reduce the time spent on checking emails. It is one of the best time management tools for getting things done efficiently. It's also a great way to cheer up overwhelmed staff that are tired of dealing with messy scheduling workflows. 
It's simple. You just need to customize your booking page and appointment schedule as per your free time. Next, you can embed it to your landing pages, social media, website, and other platforms for your stakeholders to access.
Now whenever any clients or partners wish to fix a meeting, they will directly book it on the page. You no longer need to stop your work to respond to their emails just to set up a time to meet.
Apart from saving time, it makes life easier for you with a direct integration to Office 365 and Google Calendar, ensuring you don't get overbooked. You can also connect it with platforms like Stripe and Paypal for accepting payments.
If you want to give it a try for free, check out the free trial for 15 days with a no-credit-card-required policy.
Pricing: $8/month per member
Asana
If team collaboration and project management were to come together in one place, Asana is what that would look like. It is one of the easiest tools to bring your team together and improve operations.
The app lets you create task lists for assigning tasks, so each individual is instantly aware of their duties. Besides, you can create timelines and roadmaps to ensure work rolls out smoothly, with no tasks overlapping.
Asana also offers work boards, so each individual knows about the work-in-progress, to-do list, and completed tasks.
Along with managing the regular workflow, Asana also lets marketers and project managers like you track progress. With smart analytics, you can ensure timely achievement of goals, hitting milestones, and developing growth strategies when needed.
And if you want to integrate the app with other tools, don't worry about that because it offers over 100 integrations. From Microsoft Teams and Slack to Google Sheets, Drive, and Mail, they've got you covered. Plus, it works with iOS, Android, web, and Chrome, so you can get tasks done wherever you are.
One standout feature of Asana is its Focus Mode. With this, you can concentrate on one important task, avoiding procrastination or getting overwhelmed with multitasking.
Overall, Asana offers many features and advanced project management capabilities, but its learning curve is a bit high. You can also consider simple Asana alternatives such as SmartTask, nTask, etc.
Pricing: $13.49 per user/month for Premium and $30.49 per user/month for Business
Evernote
Evernote has become synonymous with online notetaking for some people. Whether you want to plan your marketing campaigns, projects, or personal agendas, Evernote seems to cover it all.
It might not be the most aesthetic tool out there, but it is certainly one of the most efficient ones. Evernote lets you craft plans and ideas with text, images, URLs, and files, all in one place. Think of it as your minimalist online journal, holding all of your plans in an organized place.
From creating project plans in a tabular form to adding voice notes, clippings, and more, the app really makes your workday a breeze.
What makes it stand out is its advanced features, including handwriting support, ink-to-text conversion, and scanning documents. Additionally, its web clipper lets you pick images and text excerpts from online documents and save them in your notes.
Pricing: $7.99 per user/month for Premium and $14.99 per user/month for Business
Google Calendar
This app really needs no introduction. Google Calendar is your go-to calendar app for anyone who uses Gmail. From setting personal dates to business meetings, the tool has everything you need to stay organized.
It's easy to connect Google Calendar with any of the other Google apps, but you can also integrate with Outlook, Trello, Slack, Todoist, and other tools. The app's available on desktop as well as any Apple and Android devices, so you don't have to worry about accessibility.
One of the best things about this time management tool is the ability to create events with attractive images. Now you'll instantly know what's next just by looking at the picture. Besides, you can tag locations, timings, and even people for every event.
Share details about the event with others with a single click. Once your team members are connected to the event, Google Calendar will sends everyone reminders.
Google Calendar is part of the free Gmail suite. For the professional Google Calendar plans, you can get a 15 days free trial and then choose one of the paid subscriptions.
Pricing: $1.68 per user/month for Business Starter, $9.04 per user/month for Business Standard, and $16.95 per user/month for Business Plus
Todoist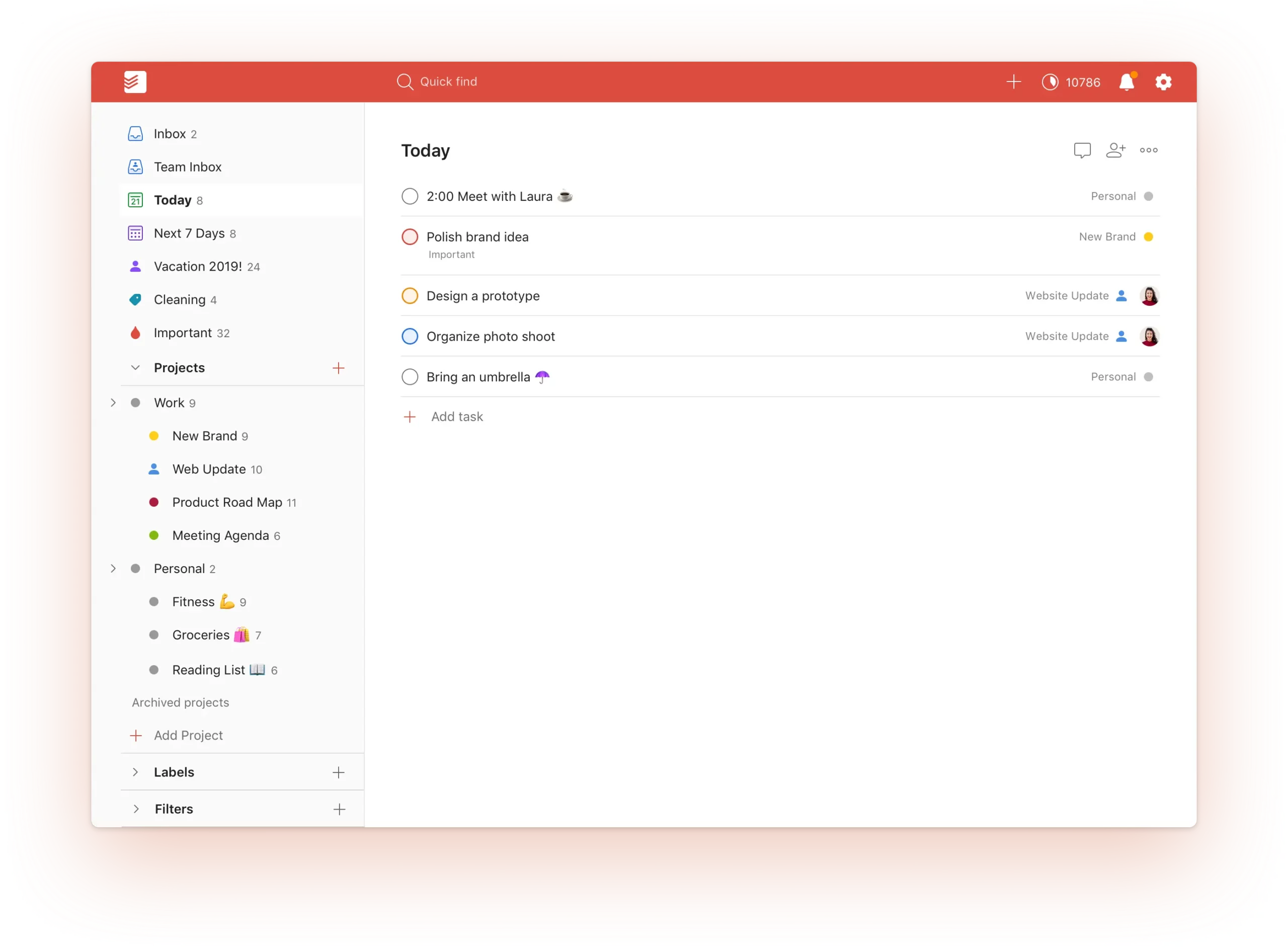 Is your mind constantly filled with tasks that need to be done? If so, get ready to lighten your mental load. From personal to professional chores, Todoist has you covered.
Todoist lets you organize all your ideas and workday chores neatly. Set reminders, prioritize tasks, and add all project-related information in a personalized manner. Besides, the app offers boards and themes to display all your information attractively. You can also pick one from the tons of templates available on the platform and start adding tasks.
While preparing to-do lists is one part, the most exciting feature is delegating tasks to others. Yes, the app lets you collaborate with your team and work with ease. You and your peers can comment on the tasks, so all the team members stay updated with the progress.
What's more, you can integrate it with calendars, mail, files, and more. This brings all your work to one platform and enhances the workflow.
Another exciting feature is tracking activities and analyzing the progress. Todoist offers visual productivity analysis options to track your team's work on the go.
Pricing: $4 per user/month for Pro and $6 per user/month for Business
Slack
We used to hang out with each other in the office. Now with an increasingly remote workforce, we hang out on Slack. And to be honest, even before quarantine hit there were tens of thousands of teams using this chat software to stay in touch throughout the day. Management can go all haywire without the proper communication, and that is what Slack is here for.
This popular communication tool offers a dedicated place for discussing tasks with the team. You can create multiple channels to manage projects separately and avoid any clutter. Considered one of the best business apps for real time chat as a team, Slack lets you send direct messages and connect on voice or video calls. It really is a one-stop solution for all work-related talk.
Apart from the basic conversations, it lets you conduct feedback, polls, share files, and other helpful tools to make the necessary decisions. The tool also lets you search anything and everything discussed in the past and find everything in the chat history.
You can keep clients and partners in the loop by connecting with them on a dedicated channel. Slack means all your work communication organized on one platform. Or if you need to send data into slack for alerts, you can do that with over 2000 integrations, including Google Calendar, Daily Bots, and project management tools like Clubhouse.
Pricing: $2.67 per user/month for Pro and $5 per user/month for Business
Nifty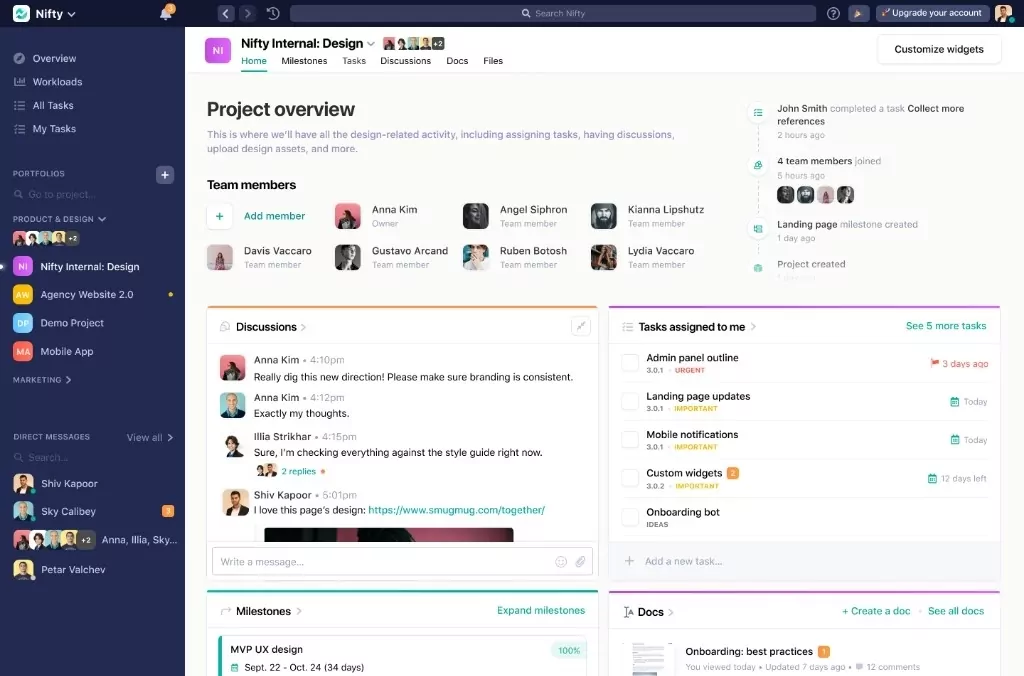 With Nifty, you manage projects and not tools. Chat, Tasks, Docs, Calendar, and Team Meetings can all be managed in one simple yet powerful app. You can also create a clear plan of action for your projects and automate your progress tracking. 
Setting goals and timelines have never been easier. You can set visual timelines for your big picture goals and build team alignment by automating progress as tasks are completed. Collaborating on tasks is also a breeze with Nifty. It's easy to flexibly organize, prioritize, and manage daily work with a high level of detail using Kanban, List, Calendar, and Swimlane views. 
Empowering members is another important feature of Nifty. You can establish a knowledge hub where members can share ideas, finalize specifications and gather feedback in real-time with chats and one-click Zoom meetings. 
Create beautiful docs, notes, and wikis for your projects and share them with anyone. Nifty also features a useful integration with Google Docs. Balancing workloads can be a problem on teams, and Nifty allows you to do so easily with automated progress reporting across all your projects and team activities to ensure operational clarity. 
Pricing: $5 per member/month for Starter, $10 per member/month for Pro and $16 per member/month for Business. There are also Free and Enterprise plans. 
SocialPilot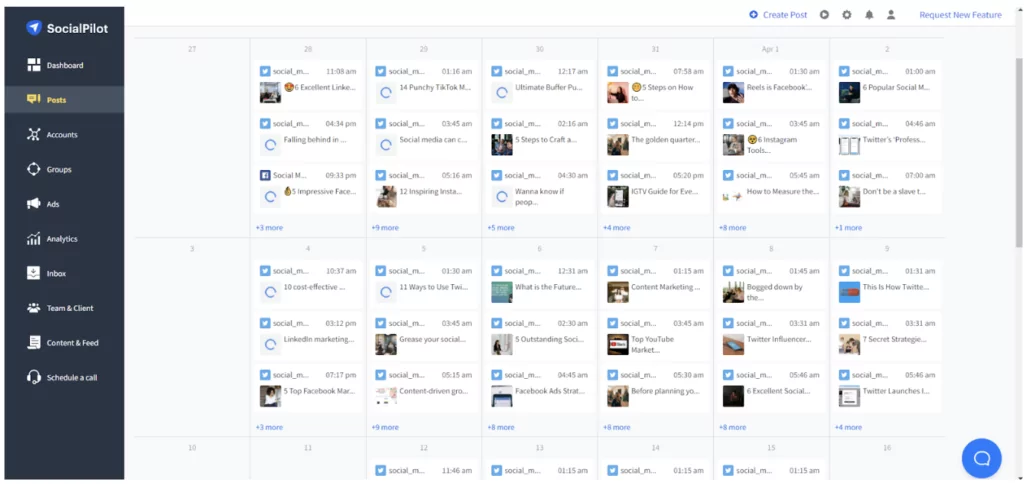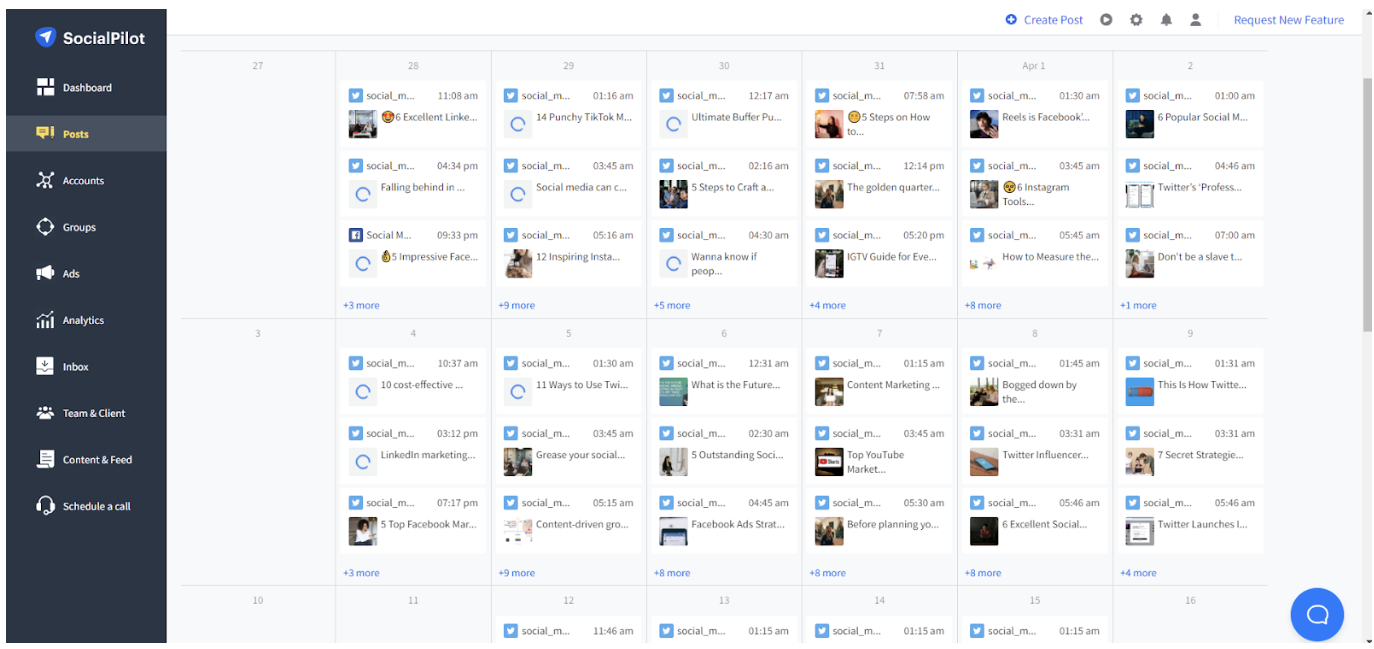 Resorting to a manual posting strategy can lead to time and resource theft. That's because manual posting would require you to be on your toes at all times to post at apt time zones for garnering global engagement. 
And here's how SocialPilot proves to be a mighty game changer! It is one of the best social media management tools that let you schedule a month's worth in just a few minutes to 7+ popular social media platforms. 
If you're running low on ideas to maintain your social media streaks, then fret not. SocialPilot also lets you curate unlimited trending and topical content for free. You can collaborate with your teammates and clients across the globe to streamline the overall social media marketing efforts with multiple collaboration features. 
It further levels up your game on social media by fetching crucial performance and engagement metrics. You can download or share these insightful analytics reports directly from the platform. 
Apart from these, SocialPilot is the ultimate social media management tool for busy marketers who want quick results with little effort. 
Pricing: $50/month for Small Team, $100 for Studio, and $150 for Agency.
Frequently Asked Questions
The global revenue of task management apps is projected to reach a whopping $4.33 billion by 2023. While that reflects the high availability of this software, it increases the confusion of picking the best ones. Here are a few questions to help you choose the most suitable time management tool.
What Is the Best Time Management Tool for iPhone?
Google Calendar is without a doubt one of the best time management tools for iPhone. If you need to schedule meetings with other people, we recommend using Appointlet. Any bookings you get can be automatically sent into Google Calendar, plus with 2-way sync you're certain not to get overbooked.
What Should A Time Management Tool Do?
A solid time management tool helps streamline your workflow and eliminate time wasted on repetitive tasks. It allows you to automate daily activities and organize project management duties, so you can focus on more important decisions like strategy building. Good time management tools might also help improve existing communications.
How Does Time Management Help?
In essence, time management means you can get more done in a shorter period of time. This way you can redirect your attention to more important tasks at the company. You will achieve goals faster, collaborate with team members more effectively, and be able to focus on your company's future.
What Is The Best Time Management Tool For Android?
Toggl is one of the best time management tools for Android. You can download the free Toggl Track app from the Play Store and track your time on the go. It helps you ensure that you deliver work within the deadline and always stay in line with your goals.
Is There A Good Time Management Tool for Windows?
Most of the top time management tools are available for Windows, iOS, Android, and macOS. Some of the top ones include Appointlet, Toggl, Todoist, Trello, and Asana. Each of these apps helps avoid lag and streamline workflow by automating scheduling meetings, task management, communication, and more.
Streamline Workflow with the Best Time Management Tool
While time management skills are essential to ensure a flawless workflow, you can probably scrape by without one for a while. The thing is, a good time management tool can make your job significantly easier.
With the right apps set up, you can automate repetitive tasks and focus on crucial objectives and decision-making. Besides, these platforms streamline workflow, eliminate lag, and make sure your team members give their best instead of procrastinating.
By creating work boards and timesheets for all your projects, you can ensure maximum productivity at work. Plus, with these tools available on all Apple, Windows, and Android devices, getting things done becomes easier.
Do you use any of these time management tools? We'd love to hear your stories and time management tips. Drop them in the comments!