If you book a lot of meetings for work but don't have a scheduling tool in place, you've probably already hit some of the inevitable roadblocks.
We know how it goes. The endless back and forth email chains, calendar cross-checking, and group coordination become maddening after a while. Especially when you're trying to close deals and scheduling friction costs you real sales opportunities. Even if the scheduling part seems to go smoothly, informal agreements over email are easy for people to lose track of. This leads to last minute cancellations, rescheduling and no-shows.
Fortunately, a new set of powerful online scheduling tools have emerged over the past decade. They each do their best to solve the (all-too-human) problem of meeting folks at a specific place and time. Among these apps you'll find solutions and feature sets tailored to different types of company.
At their core, online scheduling apps are intended to help attendees choose an available time slot and receive automated reminders. Email notifications and calendar events are also sent to the meeting host. This helps you to ensure that everyone shows up.
Interested in finding the right online scheduling tool for you? Read on to learn more about some of the best options and how to leverage them for your own success.
What are the best scheduling tools for hosting business meetings?
To find the best scheduling tool for your company, it's probably best we start by setting expectations for what the app will include. Rather than boring you with a list of features, I'm going to talk you through the experience you'll of signing up for your own account on a scheduling app. This way you can visualize yourself and prepare for the real thing.
When you sign up, the first thing you'll do is configure availability for meetings. All of the major scheduling apps have ability to generate links to a dedicated scheduling page. You can use these to share your availability with their future attendees. They will choose from a set of potential meeting times and on submitting their request, both parties receive email notifications. 
Most scheduling tools integrate with an email calendar service like Google or Office 365. This means that newly scheduled meetings will generate a unique calendar event. An integrated calendar also helps to ensure that hosts don't get double booked. With their busy times are removed, the scheduling page automatically show only the truly available slots.  
Web conferencing integrations are another common feature that you'll find. Connecting your Zoom account (or provider of choice) means that each scheduling meeting will have a unique, designated room ID. Some scheduling tools even integrate with CRMs and marketing software, allowing businesses to send booking data into the appropriate environments.
These are some core things to look out for when deciding on which scheduling tool to use. Ultimately, you need to find the app that meets your needs and is easy to use. In an effort to make the selection process simpler, we've jotted down this list of the 7 best online scheduling tools, including a detailed review of each one. 
Appointlet

for scheduling one-on-one or group meetings, online or in person

Setmore

for an enterprise solution that scales for large teams

Acuity

for its feature set and quirky sense of humor 

Calendly for its team collaboration tools and built-in calendar templates
Doodle

for a unique polling feature that other scheduling tools don't have 

Google Calendar

for its calendar view and event invitation features that connect with their email services

Hubspot Meetings

for a seamless scheduling experience on your website that collects leads on the Hubspot CRM.
Appointlet – Best free online scheduling tool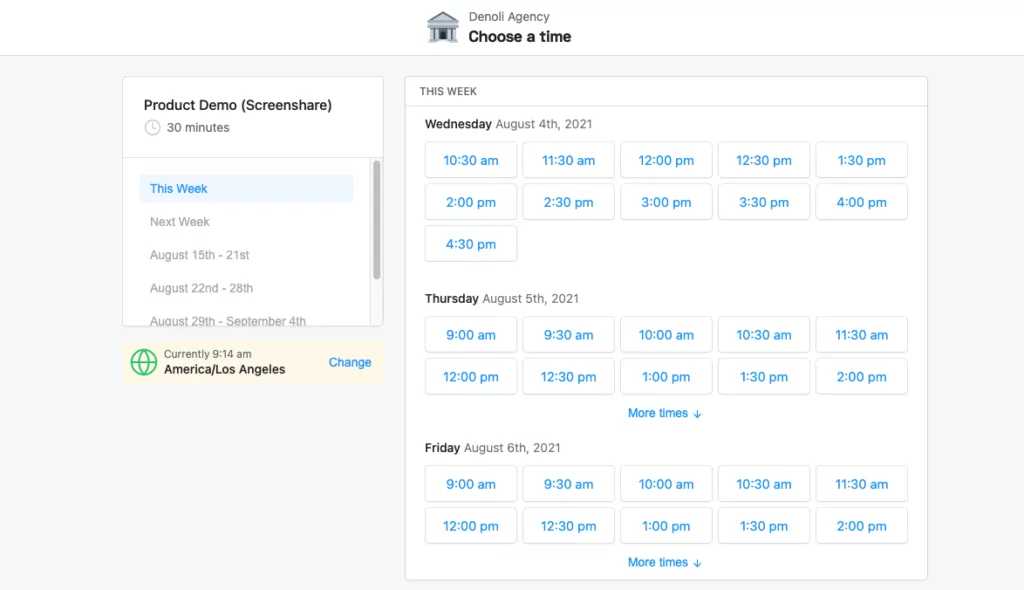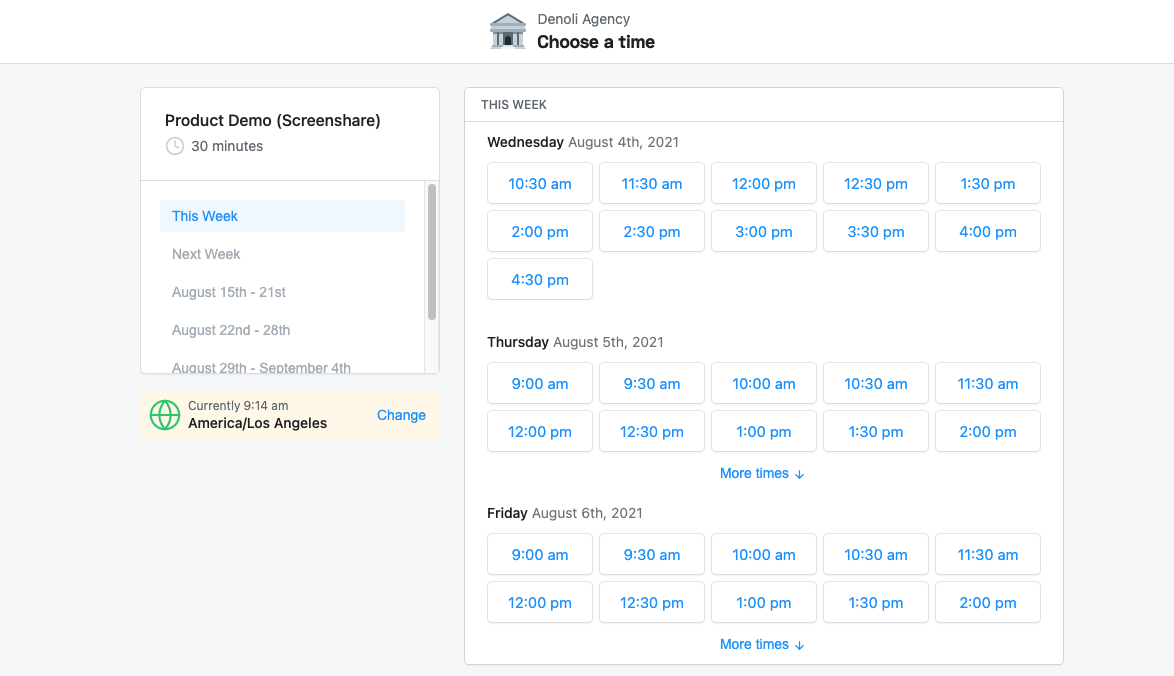 Appointlet is an easy-to-use meeting scheduling tool that has been on the market for close to a decade and comes with a comprehensive feature set. Companies use Appointlet to improve the scheduling experience for their leads and existing customers. The app also helps meeting hosts are able to scale their capacity without wasting time on back and forth coordination.
Unlike other scheduling tools that focus on serving the needs of a single niche, Appointlet offers a high degree of flexibility, so you can accommodate almost any meeting scenario. All you have to do is set up your meeting types and a dedicated scheduling page will be generated automatically. 
Appointlet lets you manage multiple teams under one roof, improving transparency during the customer handoff. And if you ever need to meet with multiple attendees, all you have to do is create group meeting types. This ensures that everyone gets access to the same event.
Attendees have an easier time with Appointlet. They can book meetings from their mobile device or computer. If they are in a different time zone, the browser's location will be automatically detected and so the availability is properly translated. This means that no matter where you are or what device you are using, the booking process stays streamlined.
The software supports the option for multiple team members to live under one roof, each with their own integrated email calendar and availability. They can co-host meetings or be placed in a round robin to pool their availability. This way when prospects pick a time an available member is automatically assigned to them.
Your booking page can be embedded on websites and landing pages and attached with emails. Once an appointment is booked via this page, it automatically gets added to your calendar.
Appointlet offers integration with a number of virtual meeting tools including Zoom, WebEx, Google Meet, Microsoft Teams, GoToMeeting, and Join.me. This makes it convenient to schedule and hold web conferences, especially in a remote work environment. Other integration options include Google Calendar, Microsoft Office 365, Stripe, Paypal and Zapier.
Pricing:
Freemium Trial – Complete access to all features for 15 Days
Basic Version – Free
Premium – $8/member/month
Setmore – Best enterprise scheduling app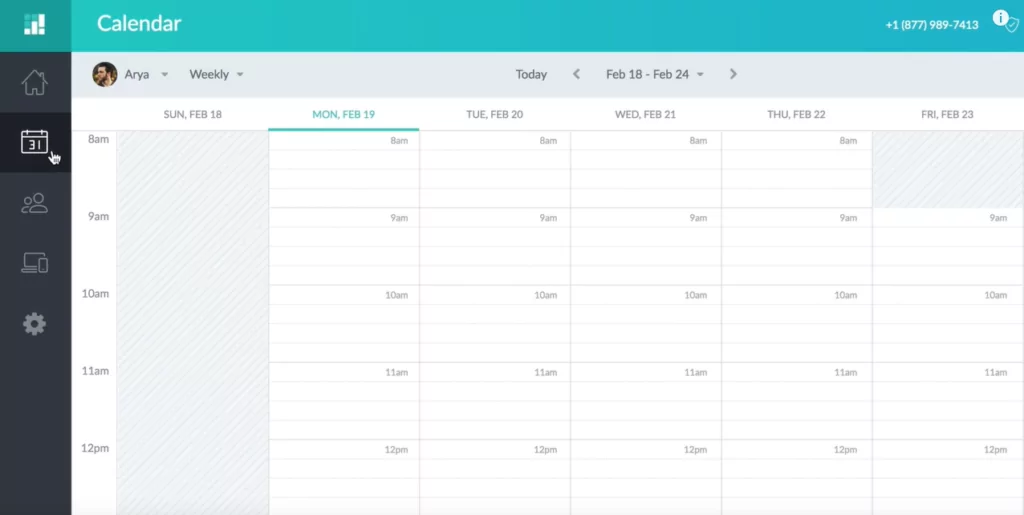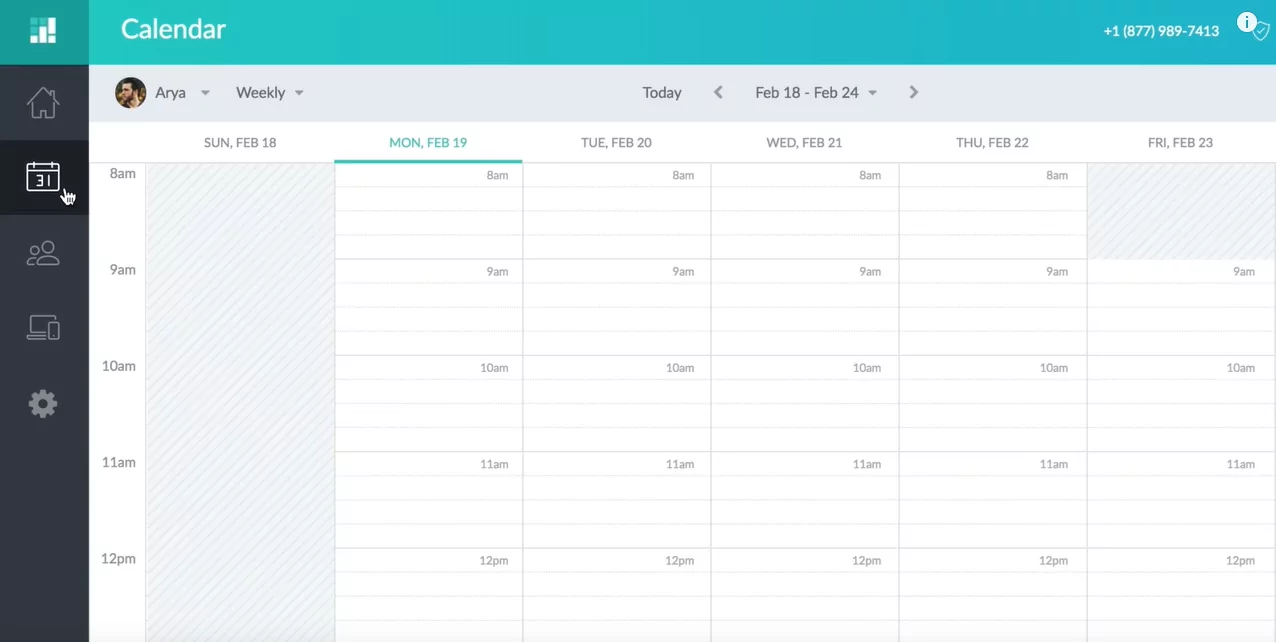 Setmore is another excellent online scheduling tool that handles online bookings, automated reminders, payment processing, and more. The software has a desktop version along with an Android and an iOS app, making it a convenient on-the-go appointment booking tool.
Like Appointlet, Setmore also allows you to create customized booking pages and add them to websites, landing pages, social media, or emails. You can also collect payments through a debit/credit card or online payment processors like Square or Stripe.
The software sends out instant email notifications to the prospects and the appointments are added to your calendar at once. Once the meeting is scheduled, automated reminders can be set up for all meeting participants via email or SMS messages. You may also customize the messages with prospect information to increase relevancy and decrease the number of no-shows.
The recurring appointments feature allows you to specify certain time slots for regular customers or VIPs so that they don't have to book meetings again and again. You may also do the same for teams and groups of customers for webinars or training sessions.
Setmore uses APIs to integrate with third-party software include social media apps, email marketing software, and CRMs like Salesforce. You also have the option of connecting with the mojor video conferencing apps, and other online calendars such as Google Calendar and Office 365.
Pricing:
Basic Version – Free
Premium – $9/month per user billed annually
Pro – $5/month per user billed annually
Acuity – Best scheduling option for Squarespace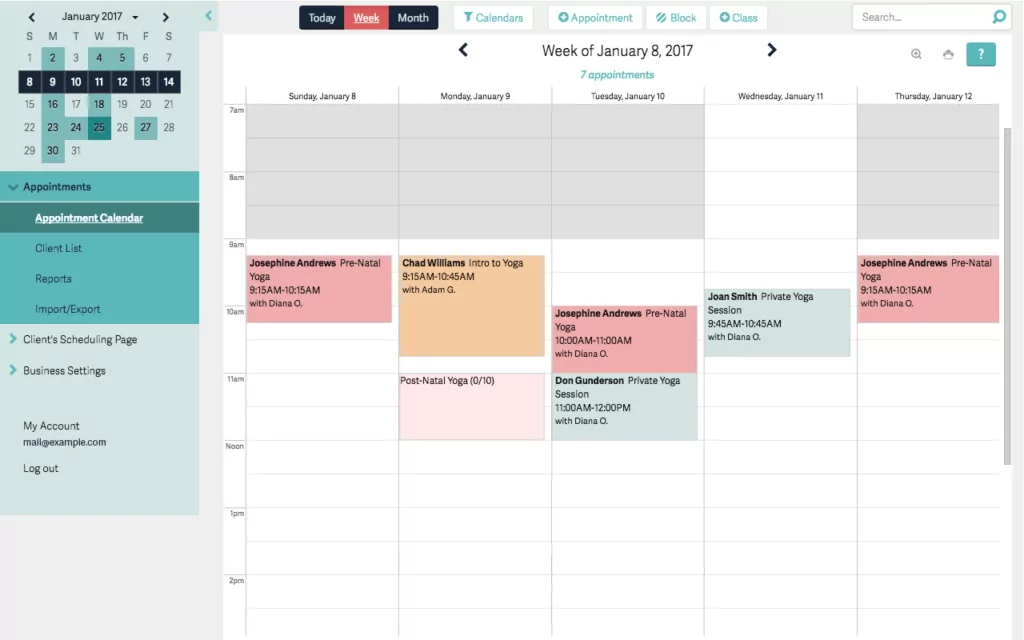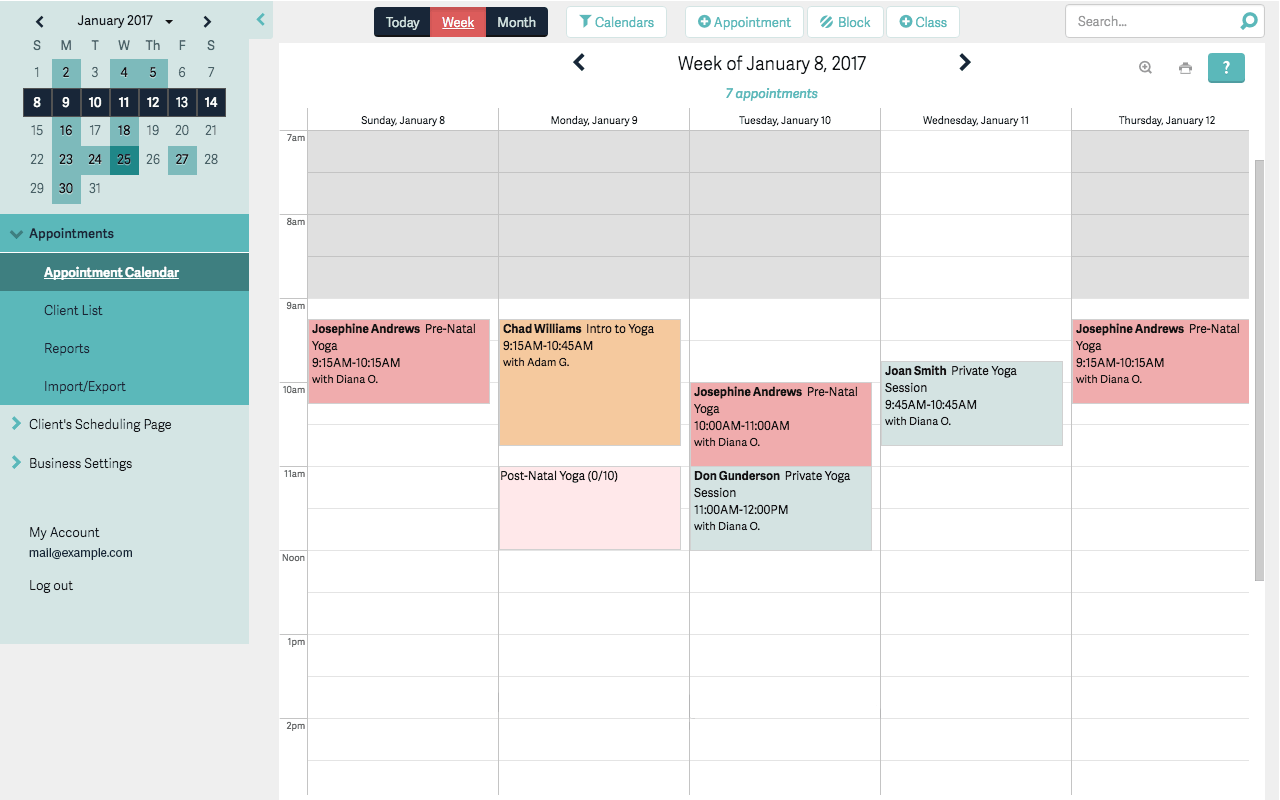 Acuity is an online scheduling assistant that automates appointment booking and calendar management. They were acquired by SquareSpace and positioned as the tool that website owners use when they want a built-in widget for scheduling. With Acuity, you can manage the availability of multiple people at multiple locations. 
Like their competitors, you will create a custom scheduling page and share that with clients to let them view your real-time availability. As they share information on your intake form, that data is automatically saved and stored in your records.
The software auto-adjusts appointments according to different time zones, letting clients easily cancel and reschedule. Automated reminders for these appointments are sent to keep clients aware of the meeting. All of this data is automatically synced with your calendar and you get notified about new bookings instantly.
The software integrates with other third-party calendar apps as well. Some of these include Google Calendar, iCloud, Outlook.com, Exchange, and Office 365. You may connect it with Zoom, Google Meet, and GoToMeeting for virtual meetings, and for invoicing and accounting, you may integrate with QuickBooks or Freshbooks.
You can also accept online payments through Acuity as it integrates with multiple payment providers and gateways such as Stripe, PayPal, Square, etc. 
Pricing:
Free Trial – 7 Days
Emerging – $14/month billed annually
Growing – $23/month billed annually
Powerhouse- $45/month billed annually
Enterprise – Custom Pricing
Calendly – Popular lightweight scheduling tool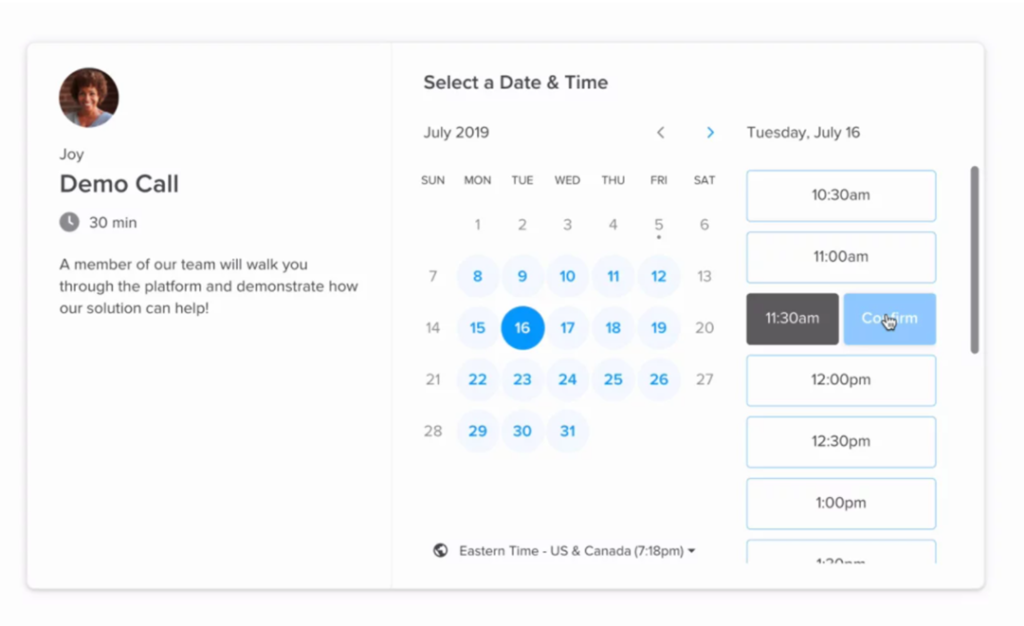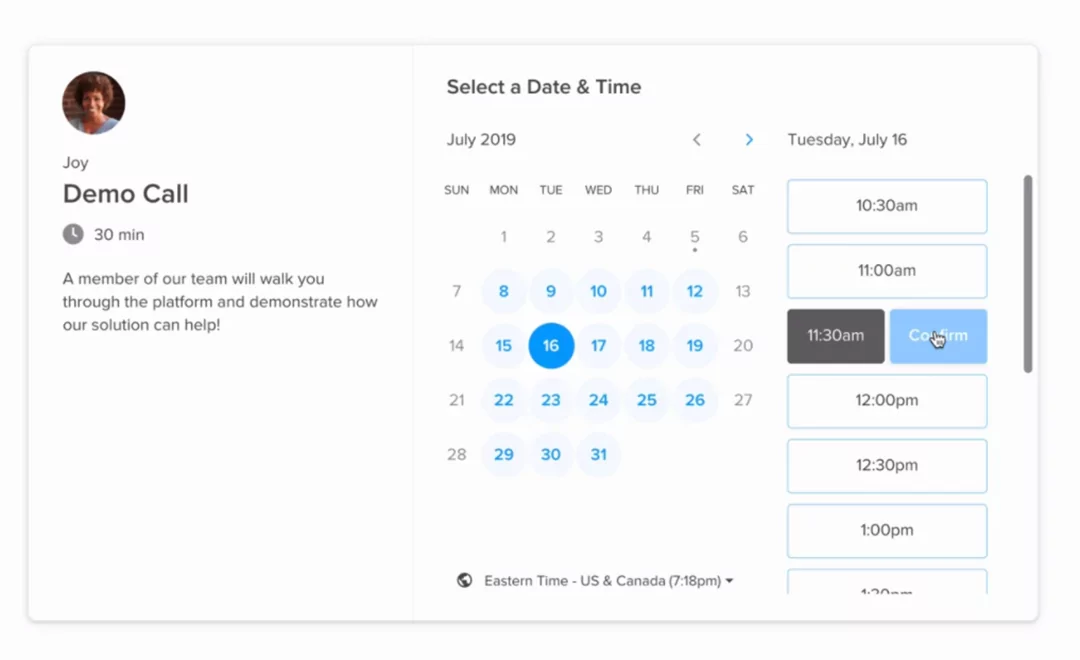 Calendly is an all-in-one tool for scheduling meetings professionally and efficiently. This one is pretty famous across the globe due to its user-friendly interface and a big list of features.
Like its competitors, Calendly allows you to easily create meetings and share the invitation link with other participants. You may add all details of the event, such as the purpose, venue, and participants and let the invitees select their preferred meeting time. Once a slot is confirmed, the event automatically gets added to your calendar.
The software takes care of any reminders, follow-ups, or rescheduling operations after that and keeps you updated on your calendar. This also helps decrease meeting cancellations and the number of no-shows as rescheduling is super-easy, and all participants can do so on their terms.
With Calendly, you can start creating team meetings with the help of templates. These templates allow standardized meetings to be created quickly and with a high level of uniformity and control.
You can nurture client relationships by managing interactions with them via Calendly. Integrate it with all your favorite tools to improve on client relationships and manage everything from one place.
Pricing:
Free Trial – Free access to Professional Plan for 14 days
Basic Version – Free
Premium – $8/month billed annually
Pro – $12/month billed annually
Enterprise – Custom Pricing
Doodle – Best scheduling tool for voting on a time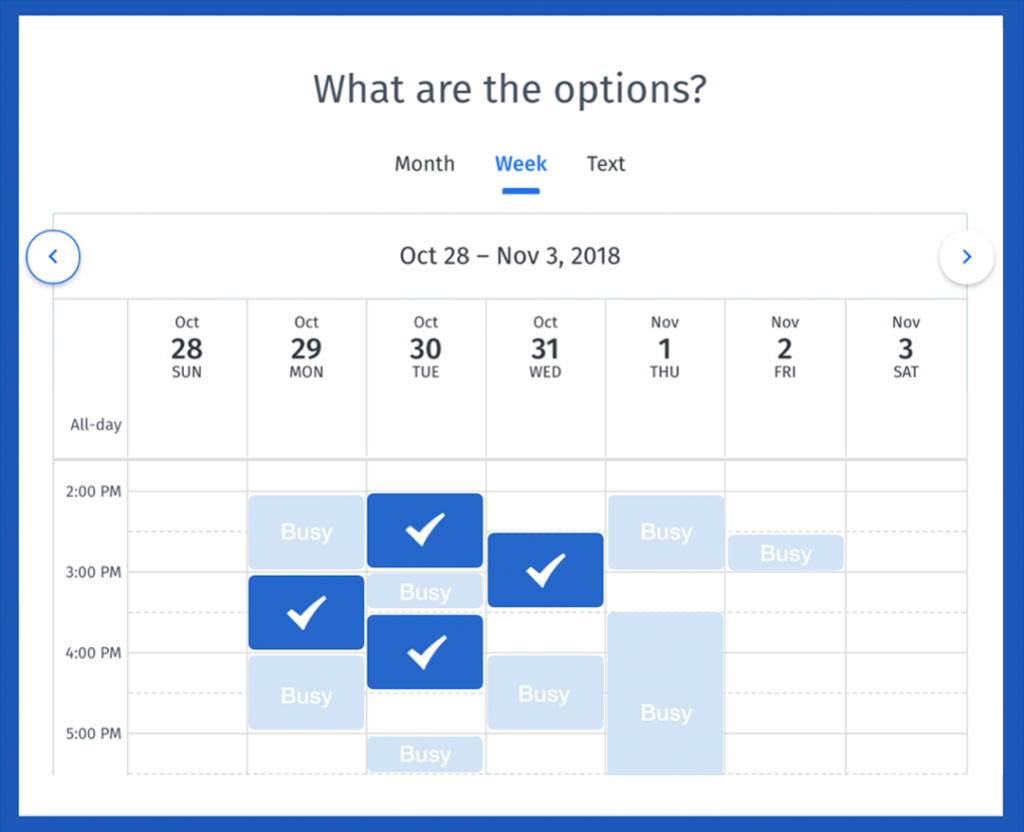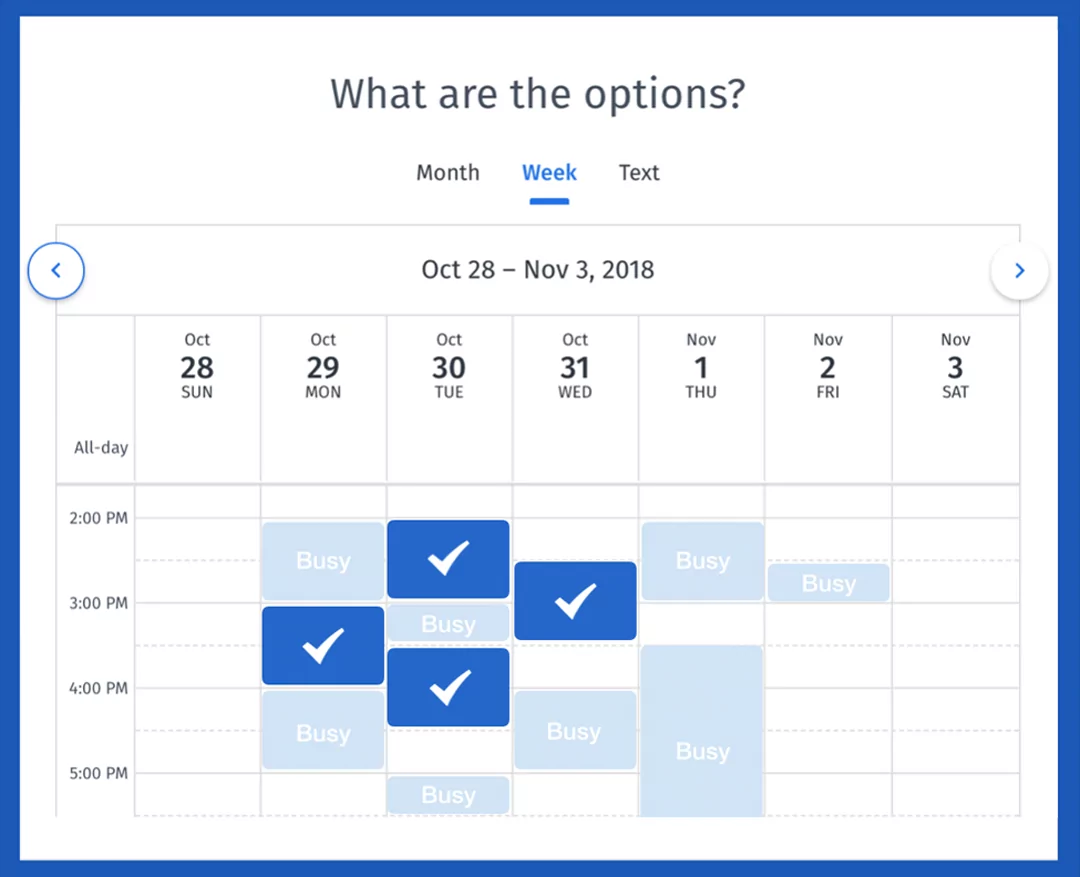 Doodle is an online scheduling and productivity app that makes appointment booking fast and efficient. You can create and share your calendar with multiple parties and allow them to book a time in just a few clicks. The tool works equally well for both large and small businesses.
What makes Doodle unique is the option to create polls. This feature helps attendees coordinate with each other to find the best time to meet. Users vote for their preferred times and can select other slots as 'free if need be'. Doodle manages the logic on the backend and tries to select the best possible time for everyone.
With Doodle, you can create a single booking page that is fully customized. This bookings page can be shared with anyone who wants to book a time with you, and they can easily do so in a matter of minutes.
Once they pick a time and an event is locked on the calendar, you can set up automatic reminders for all parties. This greatly decreases the number of no-shows, and you are able to put your valuable time to maximum use. You can specify the time slots you are available in, and only that part will be visible to the parties booking the appointments. You can choose the rest of the calendar to stay private. 
The software connects with almost all famous online calendar apps and syncs data across them. This allows it to discover all available slots no matter what calendar the other party uses. There aren't any time-zone hassles as the app automatically identifies the time zone of the guest and changes everything accordingly.
Pricing:
Free Trial – Free access to premium features for 14 days. No credit card required.
Basic Version – Free
Pro – $6.95/month per user billed annually
Team – $8.95/month per user billed annually
Enterprise – Custom Pricing
SavvyCal
SavvyCal is a multi-use scheduling app designed to prioritize easy collaboration and finding optimal times to meet. While the free plan is limited to meeting polls, users willing to pay $12 per month can also take advantage of individual and team scheduling links.
To get started, sign up for SavvyCal, and let the setup wizard guide you through connecting your favorite calendars and video conferencing apps. From there, you'll have a very intuitive and minimalist dashboard where you can quickly access your scheduling links and meeting polls, customize your default availability across all meeting types, and see your upcoming events.
If you've ever used Doodle to create a poll, you'll feel right at home with SavvyCal's polling functionality. Easily create a new meeting poll, name it and add any relevant information, and propose a few time slots from your calendar. Then, send the link to all participants and invite them to vote on meeting times that work for them. 
One thing I appreciated about SavvyCal compared to many other meeting poll apps is that it offers the option for invitees to automatically overlay their calendars within the polling page, which lets them quickly choose from available slots without worrying about double-booking themselves. No more toggling back and forth between the poll and your personal calendar.
And if you're on a paid plan, you'll also have access to SavvyCal's scheduling links, which turn this polling app into a minimalist mix of Calendly and Doodle. You can easily create different scheduling links with custom meeting lengths and location, and even set unique availability hours for each meeting type if you wish. These scheduling links can be multi-use (if you have an ongoing meeting type) or single-use if you have a one-off meeting you need to schedule. Once you've created a scheduling link, you can share it with your invitees and let them book a time with you that works for them.
Google Calendar – Best calendar-centric scheduling tool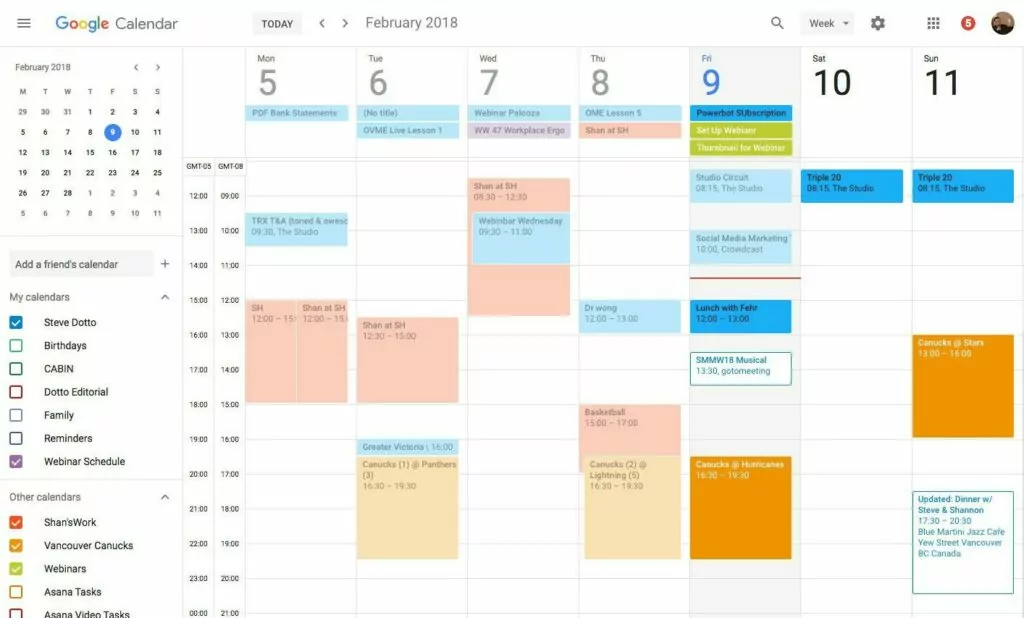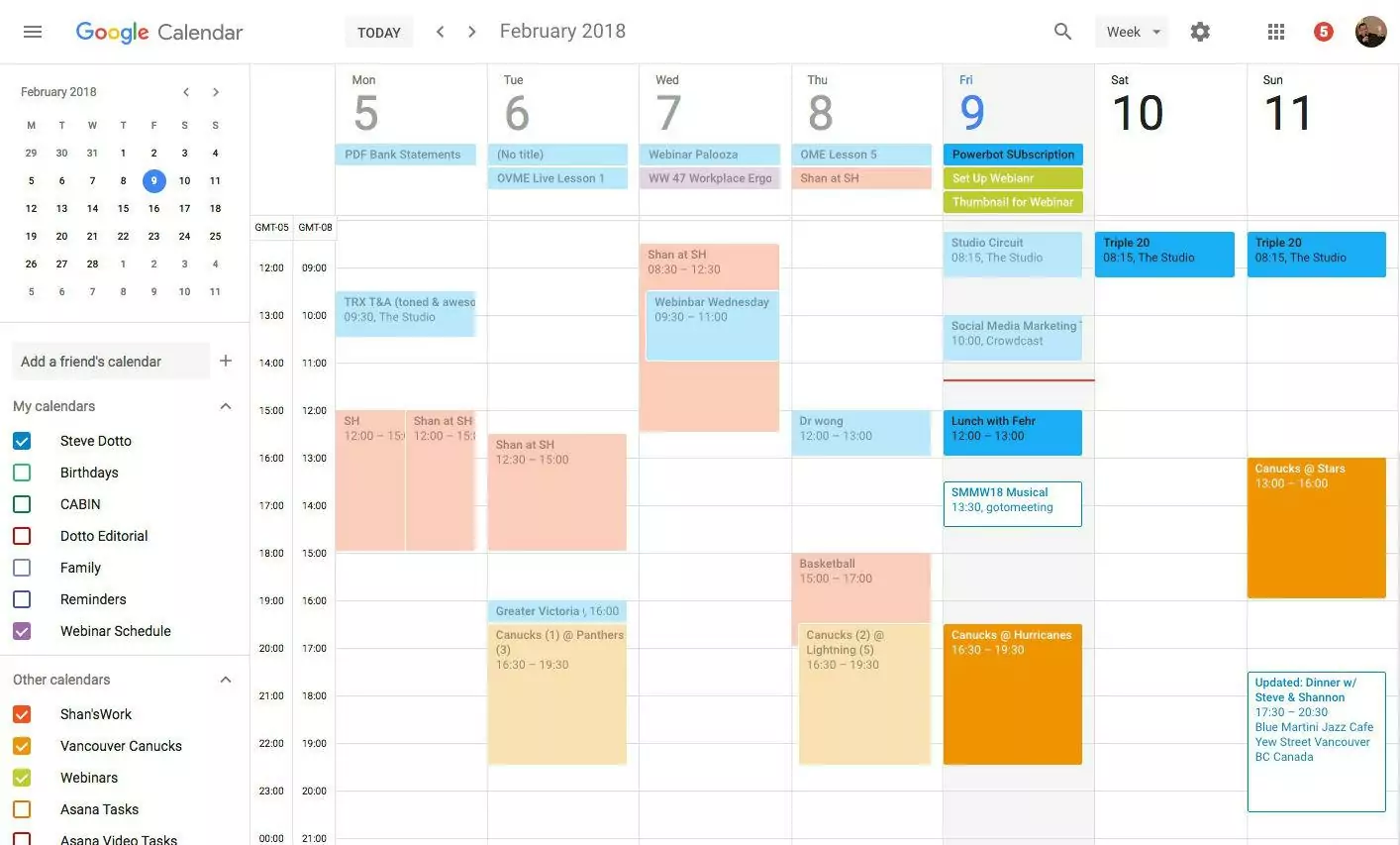 Google Calendar is arguably the most powerful online calendar tool on this list. That being said, it doesn't meet a lot of the criteria we've established for a scheduling tool. Millions of people do use it for scheduling meetings online, so it's worth mentioning, and we'll try to make some of the biggest differences clear. 
With Google Calendar, you can keep track of your day to day activities using a traditional calendar layout. People use the app to schedule meetings/events and invite friends, family, or co-workers to join. It automatically synchronizes with other people's Google Calendar accounts, so that updates for one person show up for everyone.
Scheduling meetings with Google Calendar takes only a few clicks. You can invite participants to these meetings, and once they confirm, the time slot gets locked on the calendar. Besides appointments, you can set reminders for different holidays, birthdays, religious events, TV show releases, sports events, and so forth. Funny enough, they even include a weather forecast on the calendar as an external plug-in, which can help you to plan upcoming, in-person events.
Within a single Google Calendar account, there's an option to generate multiple sub-calendars and share them with your team. Permission controls let you decided who has access to make changes or book slots on your behalf. This is most common when a meeting host needs to coordinate with a secretary or share their availability with management.
Interestingly enough, all of the other scheduling tools listed in this article integrate with Google Calendar. That's because their scheduling tool is not very robust and scales poorly for teams. So if you're already scheduling meetings with Google calendar but want to take it to the next level, we recommend supplementing with a dedicated scheduling app.
Pricing: 
Basic Version – Free
Google Apps for Business – $5/month per user
Hubspot Meetings – Simple but effective scheduling app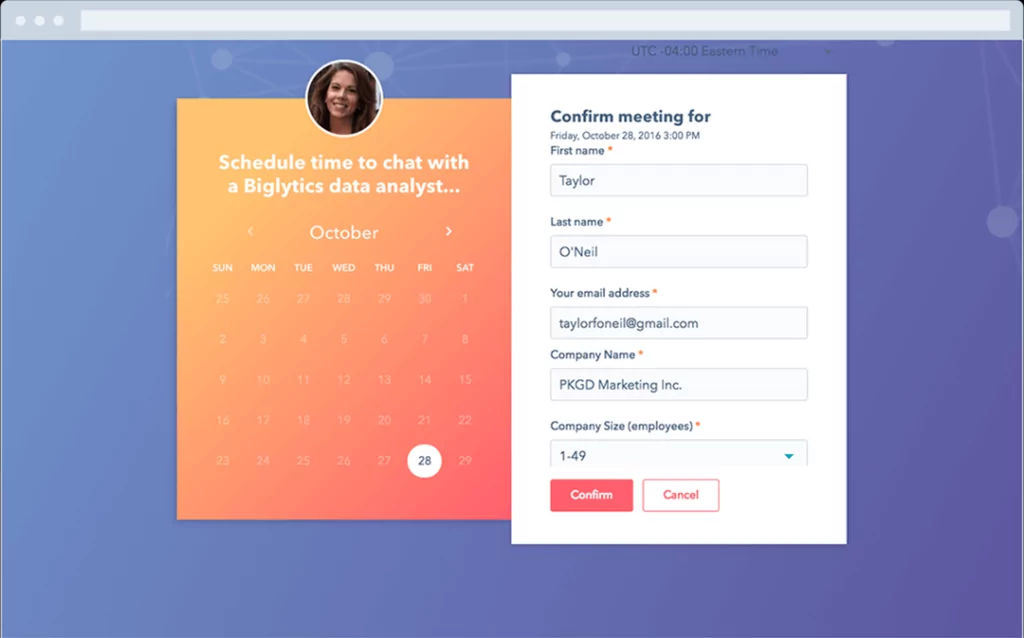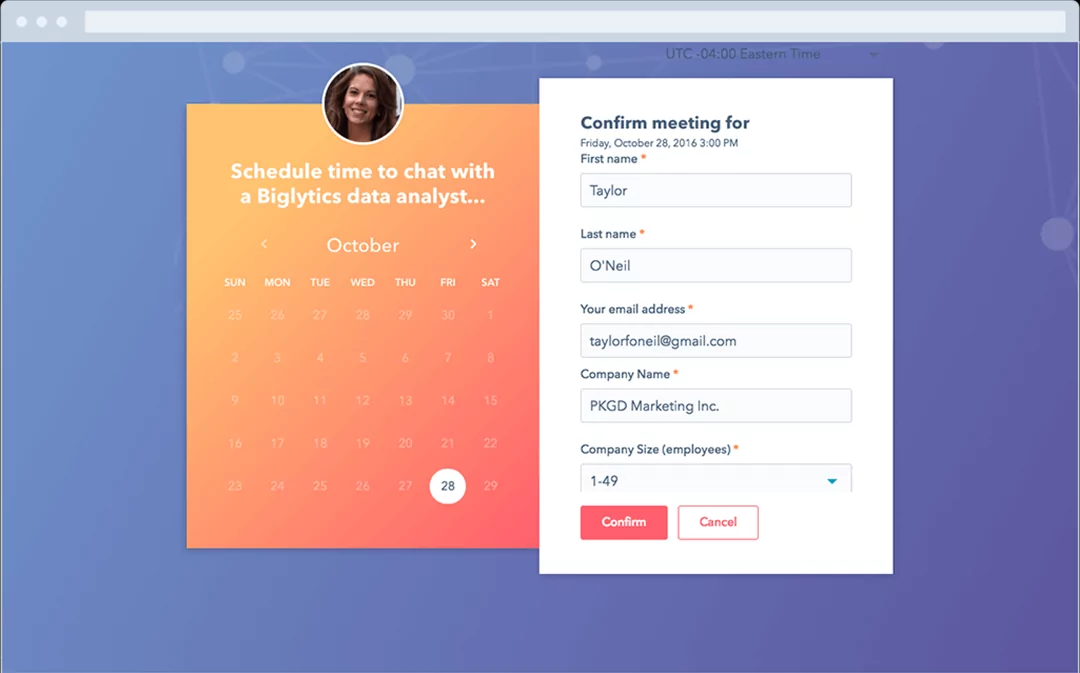 Hubspot Meetings is a meeting scheduler tool provided to Hubspot account holders. It's typically used in tandem with a Hubspot website, similar to the way Acuity is loaded as a widget in Squarespace. This makes the process of booking appointments from your website fast and hassle-free. It syncs with Google and Office 365 calendars and allows your prospects to book meetings with you in your free time slots.
The tool automatically checks your most up-to-date availability with the connected calendar and makes those slots available for booking. You can easily embed the booking calendar on your website or other landing pages, and the prospects can directly book appointments there. If you're already in touch with them via email, you may also share the calendar there to eliminate any unnecessary steps in between.
With Hubspot Meetings, you can send group meeting links to allow prospects to schedule appointments with more than one person in your company. You may also set up a round-robin link that lets prospects book a time with the rep whose availability suits their schedule.
Since Hubspot Meetings is a part of the complete marketing hub by Hubspot, it integrates well with the Hubspot CRM to collect customer data and help build your database. If you're already a Hubspot user, you can then harness this information later to nurture the leads and make them convert. Use various integrations with external data tools, such as Hubspot to BigQuery integration, to keep all your Hubspot information in one place and run advanced marketing analytics.
Pricing: 
Basic Version – Free
Hubspot Marketing Hub – starting from $45/month billed annually 
FAQs
Now that we've outlined the major players in the scheduling tool arena it's up to you to decide which one suits you best. As you probably noticed, they tend to be similar to each other. One of the best ways to find your best fit is by signing up for one of their free trials. You can typically get 15 days of free premium service, to test everything out and see what you like. 
If you are still confused about selecting the right online scheduling app, here are a few FAQs that might be of help.
What are the most important things a scheduling tool does?
A scheduling tool helps create and manage schedules more efficiently with the help of automation. It allows multiple parties to collaborate on a calendar, book appointments, schedule meetings, send event reminders, and manage their day in a way that improves productivity. You can also share your calendar with your clients and let them book appointments with you via a scheduling tool.
What are the business benefits of using a scheduling tool?
Scheduling tools take away the hassle of setting up and managing meetings manually. With a dedicated app, you can coordinate without all the back and forth confirmation emails. It will also streamline your daily workflow, help with prioritization of tasks, and give managers more oversight.
Can I use a scheduling tool from my iPhone or Android?
Yes, attendees can use a scheduling page from their iPhone or Android device. However, since the interface is complex, it's usually best for the host to set up their pages from a desktop computer. Some scheduling tools that have a mobile app that lets you access your scheduling links quickly, so you can share via email and text messages.
How do customers book time with a scheduling tool?
You can share a link to the scheduling page via email and SMS or embed the scheduling page on your website. Embedding is typically easy to do because the app will provide an HTML code snippet that you simply drop onto the appropriate page. Customers will see then be able to select an available time slot and book a time with you. This event is automatically added to your calendar and customer information will be saved. 
Do scheduling tools help reduce no-shows?
Scheduling tools can be a great help in reducing no-shows at important meetings. You can set up automated reminders so that each participant is notified of their approaching meeting. If someone is unavailable and wants to reschedule the meeting, they may also do so easily with the scheduling tool.
It is okay not to be hyper-productive all the time.
Now that you've got the inside scoop, we've just got one last thing to add. Call it a public service announcement.
Some of us get addicted to busyness at the expense of genuine productivity. With a scheduling tool in place, you may find that you have more free time. So make sure that you make the most of it. Enjoy a moment to rest between work tasks and your meetings may go better as a result.
Using a scheduling tool can be part of a greater effort to find the right work-life balance. Just be sure that you test out the scheduling app thoroughly before sending it to your audience. If you've found one that has everything you need and fits your budget, you may find yourself using it for years to come, as many of our own customers do.
Let us know which one you end up selecting in the comments below!