As someone who specializes in appointment scheduling software, I can't help but notice how many companies are still using clumsy methods to book their meetings. It's easier than ever to streamline the process. People simply pick a time and fill out your intake form. Best of all, scheduling apps are designed to send appointment confirmation emails and reminders.
Sending confirmation messages for client appointments not only helps reduce no-shows but also makes your clients feel valued as they know that you care about their time and want the meeting to happen exactly as planned.
Read on to find out how you can make your appointment confirmations more effective with brilliantly crafted emails and text messages.
Why is an appointment confirmation so important? 
Sending an appointment confirmation is important for a number of reasons. Each meeting you schedule has a certain monetary value attached to it. Whether that's in terms of the time you spend with them or the revenue they are expected to drive for your business. When you set aside time for a meeting, it's assumed that the person will show up. When they don't, you incur an opportunity cost for this wasted time.
The cost might not be substantial for one or two missed meetings, but if you stop sending confirmations altogether, the number of no shows can skyrocket and the associated cost will also rise accordingly.
Confirmation messages help to guard you against financial losses associated with no-shows. Your clients are able to double-check meeting details and make sure the info is correct. They also get a reminder of the scheduled meeting and can add it to their email calendar, so they get a notification as the meeting approaches. 
Here are a few other ways appointment confirmations can help.
A shared receipt of the agreed time and location
Your confirmation messages summarize details like the agreed location and time of an appointment. Any special meeting instructions can also be included. You may need them to prepare something in advance or want to guide them toward a specific room within your company's building. If you're selling trekking tours, for example, it is important for you to include all the necessary details about booking a tour to ensure a hassle-free experience for your customer. Experts at Bookatrekking.com say that by including all of the important details upfront, you'll help your clients feel more informed, ultimately leading to a more positive experience for all involved.
One of the biggest perks will be for virtual meetings, where the physical location is replaced by a link to your conference room. Instead of using a static link (which leads to problems like Zoom Bombing), the clients will get a unique meeting URL that applies to their appointment only. They can join the meeting with a single click, making it super easy for them to attend. 
You'll also have the option to include contact details, in case the attendee needs to get in touch. This could be the phone number or email of a receptionist or the meeting host themselves. 
Setting up automated reminder emails and text messages
Automated appointment reminders are easy to send and downright powerful once you have a working system. Sending them manually is a hassle and a lot of secretaries don't even both. They expect the attendee to take the initiative, which ultimately comes at a cost to the company. Your best bet is to use a business phone system like Nextiva that allows you to send text messages to remind customers of their appointments.
Scheduling software is designed to check the meeting host's availability and then present the appropriate options for people to choose from. As long as your host's email calendar is well maintained, there is very little room for human error. In the event that your attendee enters in the wrong information, apps like Appointlet will let you go in and edit their intake form responses after the fact. 
Let's look at a few more ways appointment confirmations could be helpful in improving meeting attendance.
Last-minute cancellations:

Sending confirmations with appropriate details lets your clients make any changes they want timely and avoid last-minute cancellations.

Appointment confirmation emails: Most people are in the habit of checking their emails regularly. Sending out confirmation messages at their preferred email addresses is always a great idea.
Appointment confirmation texts (SMS): SMS messages are an excellent way to augment your existing email notifications. Sending appointment confirmations as SMS messages can improve sms customer service and keep the details in front of them. 
Writing a clear subject line: The subject line of a message can be the deciding factor in whether someone open an email or not. Make sure your subject lines are clear and concise to improve your open rates.
Important details about the meeting:

Sometimes appointment booking forms can be long. The confirmation email typically includes their form responses so they can double-check that everything is correct.

Upfront cancellation policy:

Appointment confirmation messages should also have a clear and upfront cancellation policy. This ensures that the clients know how to cancel the appointment in advance.

Policy for no-shows:

If you have a refund policy for no-shows, putting this in your confirmation email can prevent arguments later on. 

Including a cell phone number for support: It's not a bad idea to include a phone number in the confirmation messages, so attendees can get in touch with any queries they might have. It can also be in the form of a digital Vcard. This article provides an overview of the best digital business card platforms.
Best Practices for Appointment Confirmation Emails & Messages
Appointment confirmation messages are most effective when they're short and precise. They only need to include the most relevant information. Identifying your company at the top of your email is common practice. It goes without saying that you should include the appointment date, time and location. The rest of the content is up to you.
Here are a few best practices you can follow for writing some good confirmation messages.
Accommodating last-minute cancellations
Sending confirmation messages with proper rescheduling or cancelling instructions helps to minimize last-minute cancellations. But if your policy was clearly outlined and someone still attempts to cancel at the last minute, you should collect details on why they didn't contact you sooner. Maybe they forgot about the meeting altogether, or something more important came up. By asking the right questions, you will be able to understand if the cancellation was their fault, or if something on your end can be improved. Either way, you will be able to get to the root of it and it could be avoided in the future.
Appointment confirmation emails
Sending confirmation emails the old-fashioned way works. But you can leverage this moment in the customer lifecycle strategically to get better results. You don't need any fancy designs or complicated solutions. The key is to keep your message short and simple. 
However, you still need to pay attention to securing your emails through a DMARC setup so your recipients will have an excellent experience with your company.
Appointment confirmation texts (SMS)
Average SMS open rates are close to 98%, almost three times more than email. This lets us know that SMS confirmations are even more effective emails. 
Unlike an email, the volume of text you can share in SMS messages is limited. Make sure that you include only the most important information. Sharing the appointment title, date, time and location should be enough. Some companies ask attendees to confirm that they received the message by replying directly.
You could argue that text message reminders are even more important than the confirmation. An SMS reminder message will ensure that they keep the meeting  in mind as it approaches. 
Writing a clear subject line
Unlike marketing emails, the subject line of your appointment confirmation doesn't need to be flashy. Something like "Meeting confirmed: Product Demo with Jane Doe" will help them identify who they're meeting with and what it's about. The email address of the sender will let them know which company it's in regards to. Later, if they need to check their appointment details, this format makes it easy to scan and locate the confirmation. 
Including important details about the meeting
Don't forget to include important details about the meeting in your confirmation messages. This helps both parties prepare for the meeting so that when they finally meet, they can talk business without wasting each other's time. Including this information is also important so that the clients can double-check that they booked the right meeting with the right people. 
Upfront cancellation policy
Creating and communicating a clear cancellation policy allows your clients to back out if they need to. With an automated scheduling tool, you can define the minimum notice required for cancelling. If the meeting has a certain attendance fee, you may impose a penalty for late cancellations just to discourage this practice. Also, make it very clear in the confirmation email how you would like them to cancel; it could be through a text message, email, phone call, or an automated link.
Policy for no-shows
Guarding against no-shows can lead to a significant increase in revenue. Consider adding a Terms and Conditions document to your scheduling flow. They can check the box to confirm they've read and approved the terms. This may include a penalty if the meeting is abandoned. That being said, if the client reaches out and can't show up due to severe circumstances, consider making a one-time exception to your rule. You'll be signaling that you care about them and this can improve brand loyalty.
Including a phone number for support
Some customers sign up for a meeting but have additional questions that they want answered before the meeting takes place. For this reason, it's not a bad idea to include a contact number for your company representative. If adding a phone number isn't possible, you could include a reply-to email address instead.
Appointment confirmation email templates
Many companies have transitioned to booking their appointments with an online scheduling solution. This makes it easy to automate the outbound email confirmations that people receive.
Appointlet lets you create customized booking pages that can be attached to your landing pages or shared in an email. When people pick a time and fill out your intake form, the booking data is stored securely in your account. All of the information is presented to the attendee at the end of the booking flow in a highly readable manner so the clients get everything at a glance and don't have to go through it again and again. Here's how confirmation messages look like in Appointlet.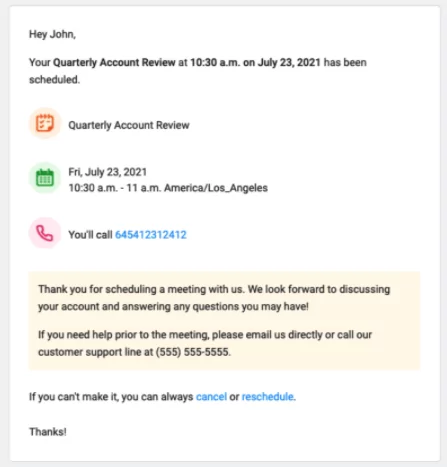 If you decide to schedule meetings manually and want to speed up the appointment confirmation process, try creating an email template and saving it as a draft. This will make it easy to edit and send off a new message as needed:
Hey [First Name],
Your [Meeting Title] at [Meeting Date and Time] has been scheduled.
Thank you for scheduling a meeting with us. We look forward to discussing your concerns and answering any questions you may have!
If you need help prior to the meeting, please email us directly or call our customer support line at [Phone Number].
If you can't make it, you can always cancel or reschedule.
Best Regards,
[Your Name]
FAQs
We've covered all the fundamentals of appointment confirmations in this article, but here are a few questions that people often have about best practices.
How do I automate my appointment confirmation emails?
You can automate your appointment confirmation emails with an appointment scheduling tool like Appointlet. During setup, you'll add any meeting instructions to the meeting template. Then you'll share that scheduling page with your clients and when they book an appointment, personalized confirmation email will go out automatically. 
What is the best tool for automating appointment confirmations?
It depends on your needs. Appointlet has been voted the best free online appointment scheduling app, with the option for premium features like automated reminder notifications. If you need a HIPAA certified solution, consider an enterprise solution like Setmore instead.
What are the most important things to cover in an appointment confirmation?
Appointment confirmation messages should be clear and to the point. Avoid using salesy language and include important meeting details like date, time and location. You may also want to include an 'Add to Calendar' option so that they could include the meeting in their schedule easily. Appointlet offers a Calendar Invitation feature that automatically adds the event to the attendee email calendar.
How do I stop no-shows and last-minute cancellations?
The best way to avoid no-shows and last-minute cancellations is with a clear policy up front. You'll also want to send appointment confirmation and reminder notifications to the attendee. These two improvements alone can have a big impact.
Can hosts receive an appointment confirmation as well?
Yes, it is important that both the hosts and the guests receive an appointment confirmation message once it is booked. Tools like Appointlet send confirmation messages to both parties. Hosts can use those notifications to better prepare for the meeting and make any necessary preparations in advance.
What should I avoid when writing an appointment confirmation?
Appointment confirmation messages should not include a sales pitch. Avoid adding unnecessary details that distract from the meeting details. Stick to the core focus of your email and you should be good to go.
Should I send a new appointment confirmation if we have to reschedule?
Yes, you should always send a new appointment confirmation when a meeting is rescheduled. This one should include the updated details along with your contact information. Appointlet sends rescheduling confirmations automatically, so you don't have to worry about it. 
What's the best SMS service for appointment confirmations?
ClickSend is one of the best tools to send SMS messages to your customers. You can integrate ClickSend with Appointlet to send fully customized confirmations, reminders, and follow-ups for upcoming appointments. The tool also allows you to receive replies and track the response rate. Keep in mind that SMS messages may come at an additional cost. They tend to be inexpensive when purchased in bulk.
Time is your most valuable asset; don't let it go to waste.
The biggest dilemma of the twenty-first century is that there is so much to do, yet so little time to do it. Don't let people waste your time with no-shows and missed appointments. Sending the right confirmation messages will help you save these valuable minutes, so use them to your benefit and get the most out of them.